From the beginnings of Madeworthy, we knew we wanted to include recipes from local restaurants. Fresh Family Recipes debuted in our third issue (January/February 2018) and has been a popular feature ever since. Below are the recipes featured in that issue. They are as delicious today as they were then!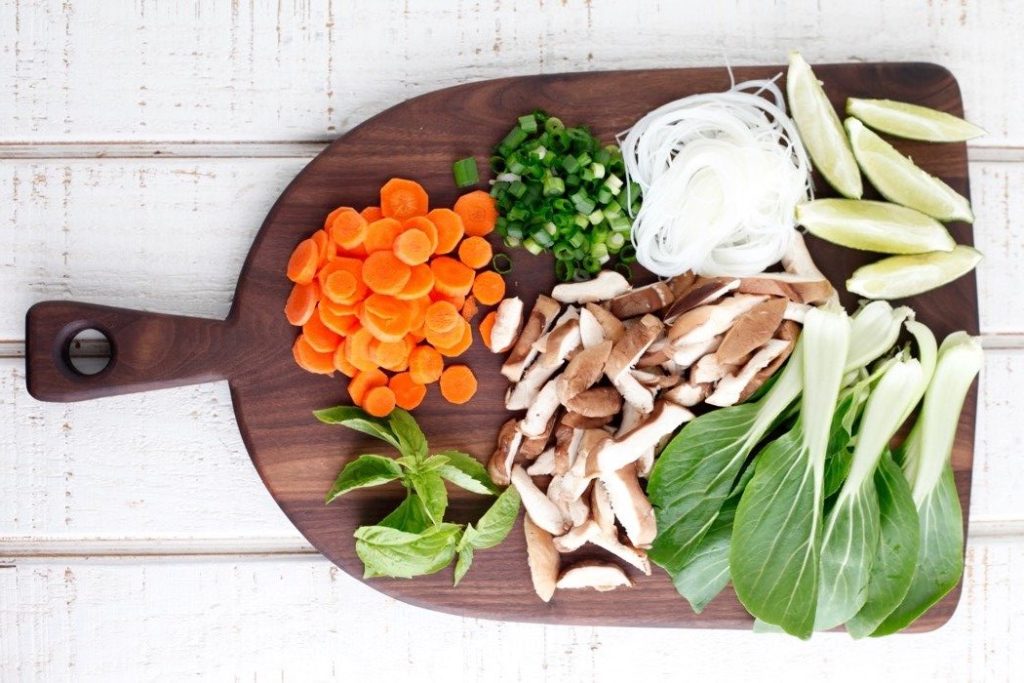 Vegetable Pho
Hao Tran, co-owner of The Table Market and one of the dumpling duo Hao & Dixya, offers this gorgeous and healthy vegetarian pho. The secret to a good pho is the broth, and this broth is sensational!
Ingredients
For the soup:
2 quarts vegetable broth
1 large onion, quartered
4-inch piece fresh ginger
2 cinnamon sticks
4 to 6 whole star anise
4 whole cloves
2 tablespoons soy sauce or tamari
Vegetables:
8 ounces rice noodles
1 pound extra firm tofu, drained, pressed, and cut into ½ -inch cubes
1 tablespoon vegetable oil
2 cups shiitake mushroom caps, sliced
1 cup julienned carrots
Any vegetable you like – bok choi, broccolini, cabbage, corn, squash, or whatever you have in the fridge!
Toppings:
lime wedges
hoisin sauce
sriracha sauce
soy sauce
jalapeño slices
fresh cilantro
scallions
fresh Thai basil
Directions
Pour vegetable broth into a large pot and place over high heat. Bring to a simmer.
While the broth heats up, place onion and ginger onto a baking sheet and place under the broiler. Cook until lightly charred on top, about 4 minutes, watching carefully to avoid burning. Rotate and cook until charred on opposite sides. Add onion and ginger to broth.
Roast the cinnamon, star anise, cloves over low heat in a cast iron skillet for a few minutes to release all the aromatic oils.  Add to the broth as well as the soy sauce or tamari. Allow to simmer for at least 30 minutes, adding a bit of water if the mixture reduces too much.
While the broth simmers, cook noodles according to package directions. Drain into a colander and rinse with cold water.
Coat the bottom of a large nonstick skillet with oil and place over medium heat. Add tofu cubes and cook about 10 minutes, flipping once or twice, until browned on multiple sides. Remove from heat and transfer to a paper towel.
When broth has simmered for at least 30 minutes, use a slotted spoon to remove onion, ginger, and spices. Add shiitakes and simmer until tender, about 4 minutes. Add carrots and other vegetables, if using, and simmer just until slightly tender, about 1 minute.
Divide noodles and tofu among bowls and ladle broth and veggies over top. Serve with toppings of choice (preferably all!).  Enjoy!
Texas Gulf Shrimp Tacos
This recipe from Central Market is both gorgeous to look at, easy to make, and delicious to boot!
Ingredients
For the tacos:
24 Texas Gulf shrimp, peeled and deveined
2 ½ tablespoons olive oil (divided use)
1 garlic clove, minced
½ teaspoon ground cumin
½ teaspoon chili powder
¼ teaspoon onion powder (optional)
¼ teaspoon kosher salt
juice of one lime (optional)
6 small flour or corn tortillas
For the avocado salsa:
1 tomato, seeded and chopped
1 avocado, seeded, peeled, and chunked
1 jalapeño, seeded and chopped
½ teaspoon salt
¼ teaspoon black pepper
juice of one lime
¼ cup fresh cilantro leaves, coarsely chopped
For the sour cream-cilantro sauce:
¼ cup sour cream
2 tablespoons fresh cilantro leaves, coarsely chopped
juice of one lime
Directions
Whisk together 1 ½ tablespoons of the olive oil, garlic, cumin, chili powder, onion powder (if using), and salt in a medium bowl. Add the shrimp and toss to coat. Cover and refrigerate for at least 10 minutes or up to 24 hours.
Heat a large skillet over medium-high heat and add the remaining 1 tablespoon of olive oil. Add the shrimp to the skillet and cook until pink and cooked through, usually no longer than 5 minutes. Remove from the heat and add the juice of 1 lime, if using.
Combine the ingredients for the avocado salsa in one bowl and the sour cream-cilantro sauce in another bowl. Set these aside.
To serve, toast the tortillas lightly in a dry skillet or over a grill. Spoon the avocado salsa onto a tortilla and top with 3 to 4 shrimp. Drizzle the sour cream-cilantro sauce over the shrimp and serve with lime wedges. Makes 6 tacos.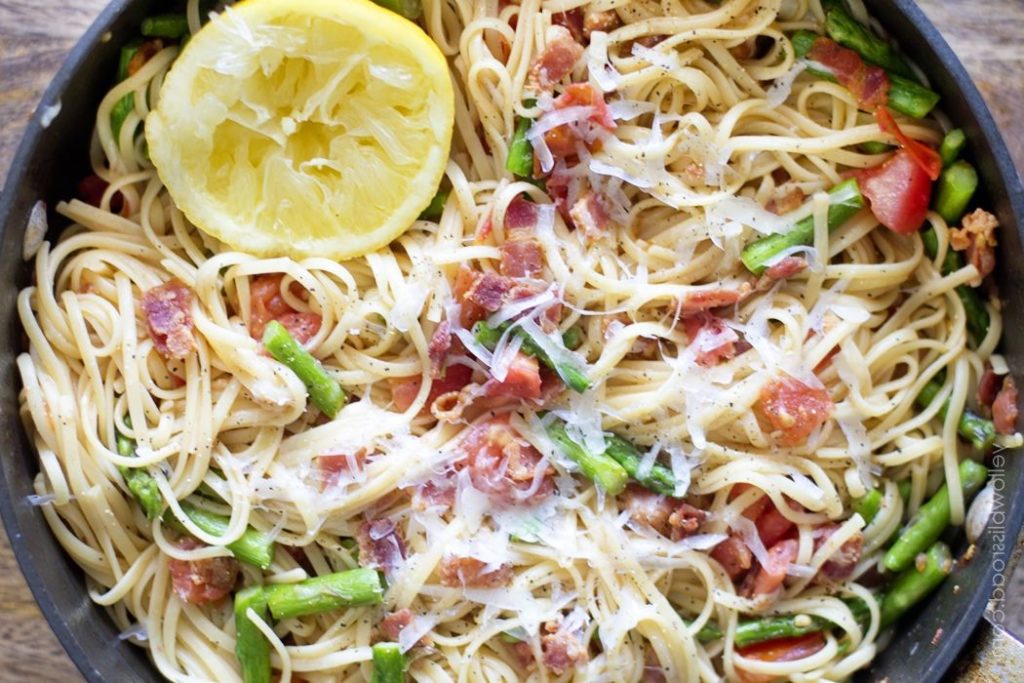 Spicy Pasta with Asparagus and Bacon
This recipe was created when Facebook asked Tanglewood Moms to take part in their celebration of International Women's Day in 2017. It's a quick and easy way to feed the family!
Ingredients
12 ounces fresh spaghetti or fettuccini (Central Market makes their own pastas, available in the cheese department!)
4 ounces uncured bacon, diced
1 shallot, minced
½ teaspoon red pepper flakes
1 bunch asparagus, woody stems removed and discarded, remaining stalks snapped into bite-sized pieces
Zest and juice of one large lemon
Salt and freshly ground pepper to taste
Directions
Cook pasta according to directions in a large pot of salted water.
While the water is coming to a boil, sauté the bacon in a large sauté pan or skillet over medium heat. You want to render out the fat and make the bacon nice and crispy. When the bacon is crispy, remove it to some paper towels to drain, and add the shallot, red pepper flakes, and asparagus to the pan. Sauté until the shallots are translucent and the asparagus is warmed through but still crispy.
Once the pasta is cooked, add the pasta to the pan, using about ¼ of a cup of the pasta water to help create a sauce. Add the lemon zest and juice and toss to combine. You can garnish this with fresh herbs or add freshly grated Parmigiano-Reggiano cheese. It's great cold, too! Serve 4 with a side salad.