The Fort Worth Public Library is here to help caregivers with babies with a new service and items to check out.

Baby Bags – bilingual kits that offer toys and books for the family and caregiving resources – are now available for checkout at the Fort Worth Public Library.  The collection includes nine different learning themes to choose from, from animals to words.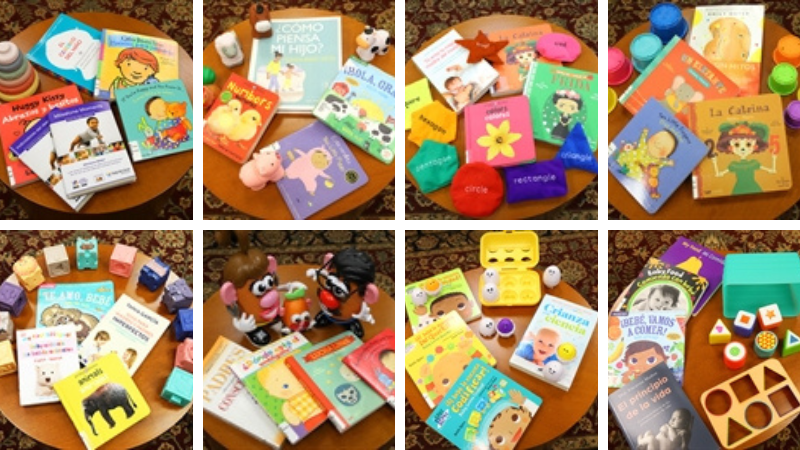 Our baby bags are:
bilingual kits (English and Spanish),
packaged in easy to carry back packs
include toys and books for the family
include parenting guides for the adults
Search our catalog today for "baby bag" and you'll find a variety of themes to keep your little one interested and entertained.
These kits help develop skills like sensory, fine motor, gross motor, logical, creative, emotional, and self-esteem.
All of our baby bag materials are bilingual (English/Spanish).  This is a great opportunity for families wanting to introduce their children to both languages at an early stage. Also, for caregivers who may only speak one of these languages, all the resources, activity ideas are accessible.
All baby bag materials are cleaned before being made available for check out.
Baby bags available to check out include:
Animals

Babies will learn about animals and build their fine motor skills with these colorful blocks.

My Body

Babies will learn about their body and have fun with the special toy included.

Colors

Babies will explore texture and color, building gross motor skills. Your little one will love to touch these beanbags!

Counting

Babies will learn simple number concepts with these great books. Your little one will love to touch, stack, and count these cups!

Emotions

Babies will learn about emotions and playing with others.

Farm

Babies will learn different farm animals and use their fine motor skills to put together each animal.

Food

Babies will learn about food and use early problem-solving skills to complete the puzzle.

STEM

Babies will practice early problem-solving skills. It is never too early to learn STEM skills!