Programs that help address the local issues around housing, health, and education will be able to scale, helping even more people through a multi-year grant from Bank of America. LVTRise and Harmony Community Development Corporation (CDC) have been named as the 2021 Bank of America Neighborhood Builders® awardees for their work in the Dallas-Ft. Worth community addressing these issues.

As a Neighborhood Builder, each organization receives a $200,000 grant over two years, comprehensive leadership training for the executive director and an emerging leader on topics ranging from increasing financial sustainability, human capital management and strategic storytelling, joins a network of peer organizations across the U.S., and gets the opportunity to access capital to expand their impact. The program continues to be the nation's largest investment into nonprofit leadership development.
"As communities continue to recover and navigate a changing landscape, nonprofits are still experiencing significant demands and are in need of resources to help meet critical local needs like food and shelter, social services, and safe streets," said Jennifer Chandler, president, Bank of America Dallas. "LVTRise and Harmony CDC are bridging important gaps for individuals and families to help them chart a path toward economic opportunity and stability."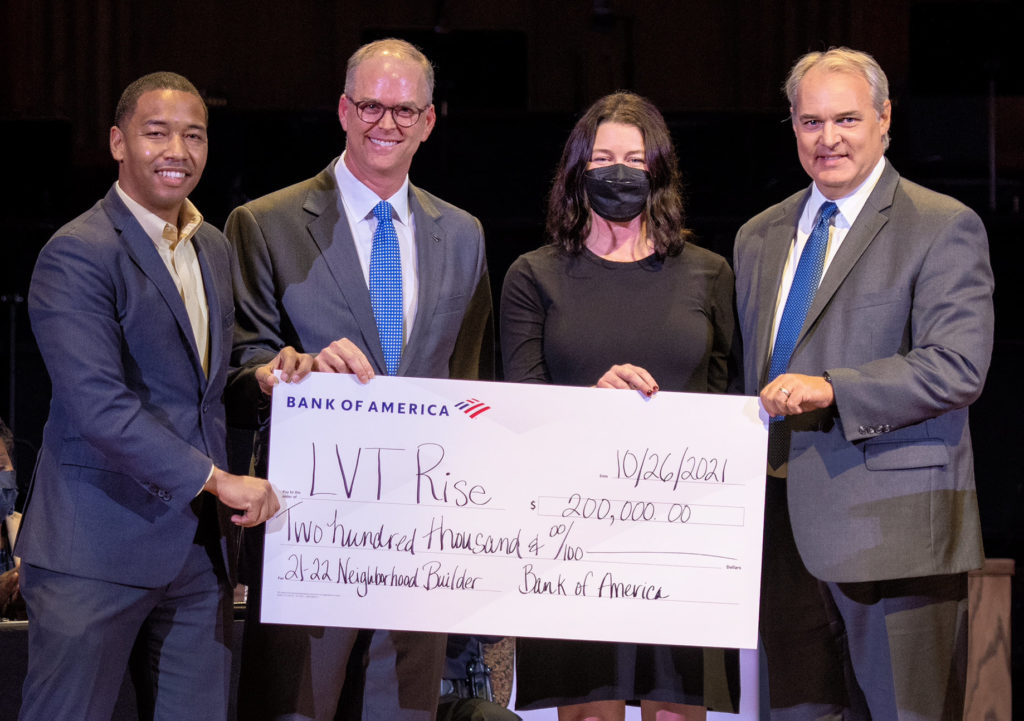 "Each year, it is a pleasure to recognize two deserving organizations with the Neighborhood Builder award. Our 2021 awardees, LVTRise and Harmony CDC, are working to make lasting change, and as Neighborhood Builders, we are thrilled to support their efforts to grow sustainably and strategically for greater positive impact in the community," said Mike Pavell, president, Bank of America Ft. Worth.
"Nothing is more foundational to life than safety, education, housing, and employment," said Willie Rankin, executive director of LVTRise. "Participating in the Neighborhood Builder program empowers LVTRise to learn more about these issues and how to better address them in our community. Since our creation three years ago, we've made great strides in improving the quality of life for people in the Las Vegas Trail area. Being a Neighborhood Builder will multiply our work moving forward."
"Collaboration and access, that's what Harmony CDC is about," said Mark Porter, executive director of Harmony CDC. "We serve 25,000 people annually in southern Dallas with food, rent relief, economic mobility, counseling and legal services, and more. The community we serve has some of the highest rates of poverty in Dallas — being selected as Neighborhood Builder is a blessing and will allow us to hire more staff and serve even more people."
Since 2004, Bank of America has invested over $280 million in 50 communities through Neighborhood Builders, partnering with more than 1,400 nonprofits and helping more than 2,800 nonprofit leaders strengthen their leadership skills. Here in Dallas-Ft. Worth, , 53 nonprofits have been selected as a Neighborhood Builder, with the bank investing $10,600,000 into these local organizations through the program since 2004.
The invitation-only program is highly competitive, and leading members of the community participated in a collaborative selection process to identify this year's awardees. Neighborhood Builders is just one example of how Bank of America deploys capital in communities, builds cross-sector partnerships, and promotes socioeconomic progress as part of its approach to responsible growth.