The Tarrant Area Food Bank (TAFB) is kicking off the upcoming 2023 holiday season with the launch of its annual Holidays of Hope Gift Catalog.

The 2023 Holidays of Hope Gift Catalog allows people to give gifts of hope to those facing hunger in their own community via this online gift guide. In this year's catalog, proceeds from purchased items will support both families facing hunger with holiday meals and benefit TAFB's Ready to Learn educational initiatives which provide critical nutrition resources, programs and services to families in need with children.
Skyrocketing costs, particularly for food, continue to bring uncertainty for many families as to where their next meal will come from. The high cost of groceries is more than enough to stretch household budgets to the breaking point for millions of families. Thousands of our neighbors are turning to food banks for support. Further, the Tarrant Area Food Bank is preparing for increased demands for emergency food this holiday season with a looming potential government shutdown on November 17th, just days before the holidays if Congress fails to pass a continuing resolution or appropriations bill to continue funding the government before the November 17th deadline, including critical nutrition programs important that aid food banks across the Feeding America Network like TAFB in meeting the need this holiday season.
Gifts made through the catalog will greatly support TAFB's mission this holiday season. "We know this year has been especially tough on our neighbors with children who are struggling to stretch their paychecks to cover their household's most basic needs due to skyrocketing costs and inflation," said Julie Butner, President and CEO of Tarrant Area Food Bank. "The Holidays of Hope Catalog offers a tangible way for people across our community to pitch in and provide a gift of holiday meals to our neighbors in need—in lieu of giving a more traditional holiday present to someone special in their life."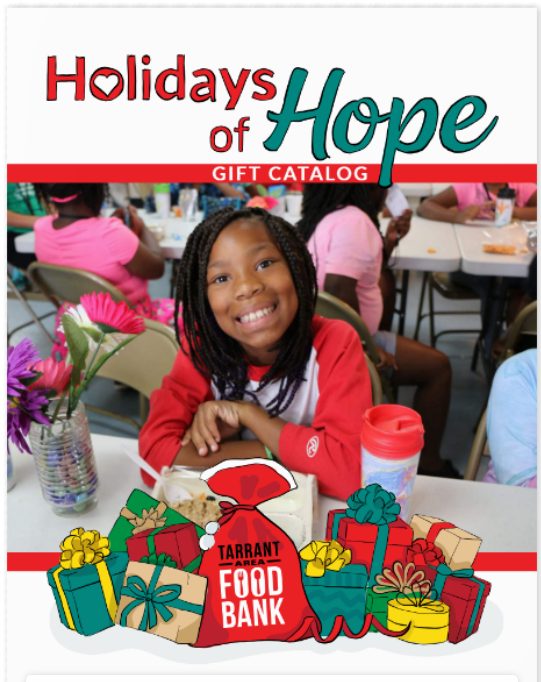 Gifts range from healthy food items such as beans, produce, and chicken to support families facing hunger this holiday season. Once a donation is made, the honoree will receive a special e-card, notifying them of their gift. TAFB is inviting individuals across its 13-county service area to give the gift of fresh, healthy food and educational programs to their community on behalf of someone special in their life. The digital catalog can be viewed at www.tafb.org/gifts.
TARRANT AREA FOOD BANK (TAFB):  Empowering our community to end hunger and improve health.  Through our network of over 450 partner agencies, TAFB provides access to over 1M nutritious meals weekly to children and adults facing hunger. This work resulted in access to 40 million nutritious meals in fiscal year 2022. Learn more at www.TAFB.org.