The Texas A&M AgriLife Extension team in Tarrant County partnered with the Fort Worth Stock Show and Rodeo to provide Tarrant County youth with an AgVenture on their campus in the three weeks leading up to the FWSS opening!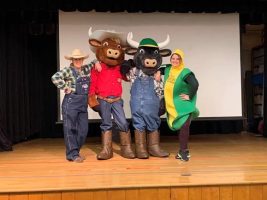 AgVentures follows Farmer Howdy on her farm as she explains the usefulness of every aspect of her farm. From bees to tomatoes, farmer Howdy shows students how agriculture influences and touches their lives daily. With the help of her friends, the Moos Brothers (Hoss & Elwood), and Cornelius Cobb, Farmer Howdy emphasizes the importance of eating healthy, and she helps answer the question; where does our food come from?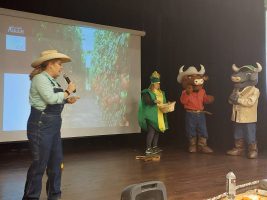 "The AgVenture program is an expansion of the outreach the Stock Show currently has to educate youngsters about the importance of agriculture and how it's the root of where food and fiber come from," said Stock Show President and General Manager Brad Barnes. "This program is a great supplement to the school tours that take place throughout the Stock Show and we're especially pleased to partner with Tarrant County Agri-life Extension in this effort."
The Fort Worth Stock Show & AgriLife Extension visited thirty schools in and around the Fort Worth area during a three-week period. They reached more than 6,000 kids with the AgVenture message.