Fort Worth Fashion Week: The Official Launch Party is the PARTY OF THE YEAR! We will be celebrating an unforgettable night!

Located at Seven Lounge Rooftop Sky Bar, the best rooftop sky view on West 7th, we are bringing the Las Vegas nightlife with state-of-the-art audio visual sound and captivating light shows. A party starting at sunset leading into the night – a full fashion experience hosted by special guest NBC 5 News Anchor Evan Anderson. This is a high fashion red carpet event full of flash photography, fashion, art, DJs, live dance entertainment, and live performances. We will have light bites and specialty drinks and cocktails including an exciting champagne toast and celebration confetti. This event will be 21+. Dress to impress. Open to the public but must RSVP on our website to be on the guest list www.fwfashionweek.com. Our live performances will start as soon as the doors open at 5pm. We have a full line up of 6 music artists (special performance by YOKYO, Lou Charle$, Ronnie Heart) and 3 DJs inside and outside the venue on the sky bar balcony that will feel like a music festival and have guests grooving and dancing all night.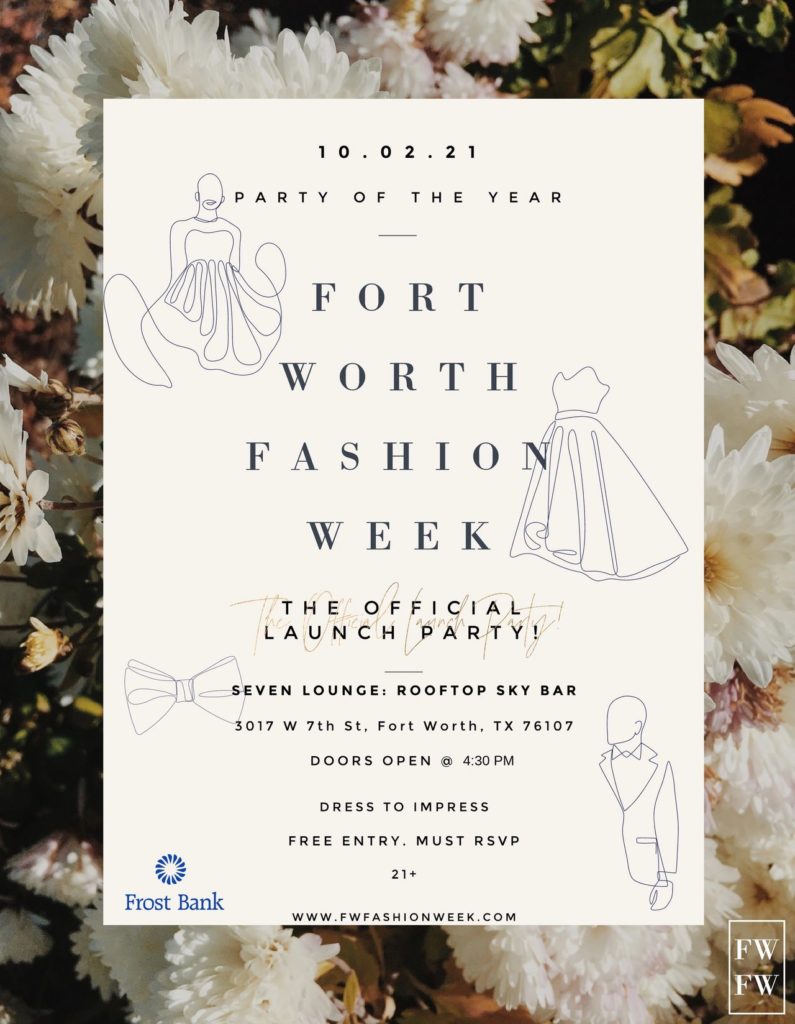 Sponsored by Frost Bank
P.S. There will be a secret surprise prize for whoever wins best dressed that evening. "What are you wearing?" #FWFW
For Fort Worth Fashion Week, after the launch, we are having our shows in February after New York Fashion Week. We will have a week of shows and have not yet announced the dates. We have different venues and designers for each day of the week. This also includes pop-ups, pre-parties, and after parties. We are already in progress for the shows early next year as we speak.
Fort Worth Fashion Week: The Official Launch Party (All the Deets)
Date: Saturday, October 2, 2021
Time: 5:00-9:00PM
Location: Seven Lounge Rooftop Sky Bar
3017 W 7th St, Fort Worth, TX 76107
Free entry when you RSVP on our website. Open to the public. 21+