For the Kids
Ft. Worth's Vaqueros & FWISD Team Up for Summer
The Vaqueros, Fort Worth's very own professional minor league soccer team, and Fort Worth ISD are teaming up to provide "The Summer of Soccer" to all local FWISD students. Fort Worth ISD students and faculty will receive FREE admission to all 2018 Vaqueros home games at historic Farrington Field, simply by showing their FWISD identification card at the entry gate. This partnership is part of an effort on the part of the Vaqueros FC to energize the fan base of football (soccer) in our area.
Soccer is the world's single most popular sport and yet, for various reasons, has suffered from a lack of exposure in the American market. By making the game, at a professional level, more accessible to young people, perhaps this wildly popular sport can gain a footing in our hometown. According to Michael Hitchcock, owner of the Vaqueros, the Vaqueros want to become a community staple. While the major sports teams in the area (you know who they are) certainly bring in local and traveling fans alike, the Vaqueros really are Fort Worth's local players. They are people you might meet in the carpool line or at the grocery store. Because the they live in Fort Worth, there is a stronger sense of community pride and involvement among the players and team management.
Dr. Lisa Langston, FWISD's interim Athletic Director, said the partnership between the club and the school district brings several benefits, including professional development and informational programs between FWISD coaches and the Vaqueros' coaching staff, soccer clinics for the district's middle school student athletes, and free admission to matches for FWISD employees and students. "I look at it as a positive for the Vaqueros, as well as Fort Worth ISD," Dr. Langston said. "It's an opportunity that's far reaching. With the World Cup this summer, soccer is going to be at the forefront [of people's minds]."
In addition to the admission benefit, the Vaqueros players and staff will conduct FREE soccer clinics, participate and support the FWISD reading programs, and conduct coaching education classes for Fort Worth ISD middle school and high school coaches.
"On behalf of the entire Fort Worth Vaqueros organization, 'Thank you' to Dr. Scribner, Dr. Langston and the Fort Worth ISD leadership for their vision and joining the Vaqueros in this innovative partnership," Hitchcock said. "We're excited to work with a great community partner in FWISD. We're looking forward to seeing FWISD students, coaches, teachers, and administrators in their schools and at Vaqueros' home games at Farrington Field. The Vaqueros are Fort Worth's soccer team!"
The Vaqueros compete in the National Premier Soccer League's Lone Star Conference where the team finished first during the regular season in 2017. In addition to the league matches, the Vaqueros are planning an international exhibition game and possibly a U.S. Open Cup match at Farrington Field.
"Our mission has always been to 'Grow the Beautiful Game in Fort Worth,' and we can't imagine having a bigger impact on the youth of Fort Worth than to allow FWISD students to watch our games for free," Vaqueros general manager Tobias Xavier Lopez said. "We have always taken pride in trying new and bold ways to promote the club, and we think this partnership will benefit the community in an unprecedented fashion."
The Vaqueros' home opener against Tyler FC is slated for Saturday, May 12, at 7:30 pm at Farrington Field. This is the Vaqueros' fifth season in Fort Worth. The season includes at least 5 home games at Farrington Field, with the playoffs to be decided according to the season's outcomes. To find a full schedule please go to their website at www.fortworthvaqueros.com.
This article originally appeared in the March/April issue of Madeworthy.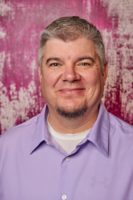 Originally from Oklahoma, David Geurkink is a recent transplant to Fort Worth. A former zookeeper with Fossil Rim and recently married to TWM's Lee Virden Geurkink, he is enjoying learning about all that his new city has to offer.