Two of the highlights of the art year in Fort Worth are Spring and Fall Gallery Night. This year, Fall Gallery Night is on September 9. We reached out to the presenting organization, the Fort Worth Art Dealers Association (FWADA), to get all the details.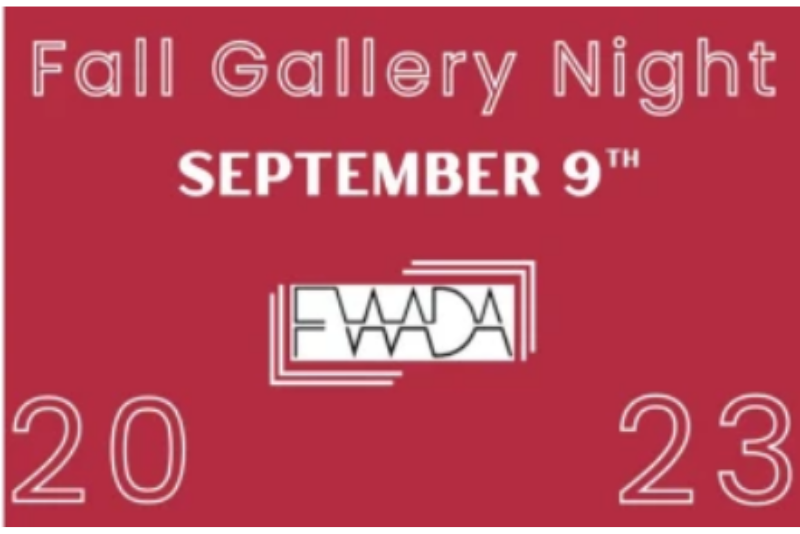 Tanglewood Moms: When was FWADA established and what happened to lead up to the organization?
Fort Worth Art Dealers Association: It was over 40 years ago… Bill and Pam Campbell, who started the organization, saw a need for an organization to help promote art, support galleries and artists, and link those two groups with local museums. It truly is a collaboration and not a competition. A high tide raises all ships.
TWM: What is Gallery Night?
FWADA: Gallery Night is a semi- annual event… a unique collaboration between museums, art dealers, university galleries, and Fort Worth businesses to showcase and support Fort Worth's thriving art community. It is also a fundraiser for FWADA; we are a nonprofit… [it] gives us the opportunity to put money back into the community for entry fees for high school art shows, university awards, art camp tuition, etc. We look for ways to help our community make art part of their lives. The official Gallery Night participants are those listed in the FWADA Gallery Night Guide.
TWM: Who is participating in Spring Gallery Night?
FWADA: We want all art enthusiasts to come out: collectors, artists, students, art lovers, or even those who just want to try something new. All are welcome.
TWM: How do you nurture the various galleries and provide support for them throughout the year?
FWADA: We meet regularly, collaborate, have Spring and Fall Gallery Nights… this provides so much exposure for members and participating galleries and businesses. We print 35,000 guides and average 150,000 social media reads for each event. We find that people often keep the Gallery Night guides and use them as gallery guides year around.
TWM: What are some issues that FWADA and local galleries and museums have that the community can help with?
FWADA: I think giving children avenues to see art, participate in creating it, and feel like it is something accessible to them, regardless of socioeconomic status, is a great goal.
TWM: We have heard that the biggest obstacle for local artists is studio space. Is FWADA or any of the local arts nonprofits looking to solve this problem?
FWADA: We offer a pop-up category in the guide for artists do to short "pop-up" shows at spaces that are not galleries. This allows for an option for artists that are not currently represented by galleries. We have seen everything from bank lobbies to warehouses transformed into amazing galleries for a night.
TWM: What are you looking forward to most in the upcoming Fall Gallery Night 2023? FWADA: For me, it's about the people and artwork. I will spend a great day at the Atrium Gallery at UNTHSC, with Soon Warren's gorgeous paintings, and I get to watch as people come in over and over and are transfixed by what they see. It's so fun to see people connect with art in person.  Also, many of the artists will be in the galleries on Fall Gallery Night. This is a unique opportunity for patrons to meet the artists, ask questions, and even see some demonstrations.
TWM: How can art collectors and patrons stay connected to FWADA?
FWADA: We are trying to be more active with Instagram updates and maximizing our website.
TWM: What are some ways that FWADA is looking to the future for building up the local art scene?
FWADA: We'd love to be able to expand the Gallery Night guides to have more participants. We would like to bring back our Selections Show, where we do a physical show with art from all members that stays up for about a month and we bring in experts for public panel discussions. An active art environment is good for the whole community. FWADA wants to support a welcoming environment for art enthusiasts and collectors.