Six days! Only six days until Fall Gallery Night and the pop-up gallery that Tanglewood Moms/Madeworthy is co-hosting at Waterside! In the last of our series spotlighting artists in our show, we talked with Sarah Murrin and Cheryl Hodge.

TWM: How and when did you start making art, and why do you continue to do so? Why is making art important to you?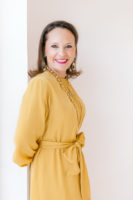 Sarah Murrin: My parents are collectors so I grew up with paintings and various ethnographic collections in the house. There were also hundreds of books about every kind of art you can imagine: from Arctic art to South American feather work to American Impressionists; Northwest coast carvings to Calder to Warhol. Our family vacations always included museum visits and auction houses. My senior thesis at UT Austin Plan II was on the the phenomena of art collecting. I interviewed many collectors around Texas, including Alfred Glassell about his African Gold Collection now at MFA Houston, and Perry Bass about the Sid Richardson collection. So I guess it's not surprising that I went into the art business after graduate school at SMU (MBA/MA in Art Management). I went to work for a gallery in NYC and in 1996 formed an art consulting company in Texas that specializes in placing fine art for private collectors and corporations. It wasn't until my family and I moved to the ranch a few years ago that I started to create my own art. There was more time to reflect while being surrounded by nature. All the ideas had been percolating over my lifetime, and I think the exposure to such variety inspired me to create. Instagram was also a new inspiration because it was fascinating to see what other artists from all over the world were making. I started with collage, mainly from art auction catalogs, and that slowly morphed into drawing and painting. My favorite medium is gouache, and I love to experiment with the paint, putting it the sun or mixing materials. My friend Amanda Allison, who taught art at TCU, says to always ask "what if" when you're experimenting with different mediums and techniques. I think that is where the true creativity comes from, when you don't try to stay in the lines so to speak.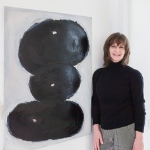 Cheryl Hodge: Good question! I'm not sure exactly when I started making art, but Mrs. Harrison's 5th grade art class comes to mind. Making art is always gratifying even when what's in your head is not coming out of your hand.
TWM: Who or what are some of your influences and has that changed as you've evolved artistically?
Sarah Murrin: The vibrant colors of illuminated manuscripts, various designs in textiles from around the world, graphic design, Japanese woodblock priming, the work of Arthur Wesley Dow, Bonnard, William Morris and his English workshop—all of these are things that influence me when I draw and paint.
Cheryl Hodge: I'm influenced by everything… the color of asphalt, the plastic containers my contacts come in, the packaging that comes with online orders, and most especially Tide bottles that have been run through an extruder – it all has the potential to become art. It's so cool.
TWM: What should we expect to see from you in the upcoming fall gallery night group show with the Fort Worth Women's Art Circle, and is there a piece you're most excited about or proud of? Tell us about it.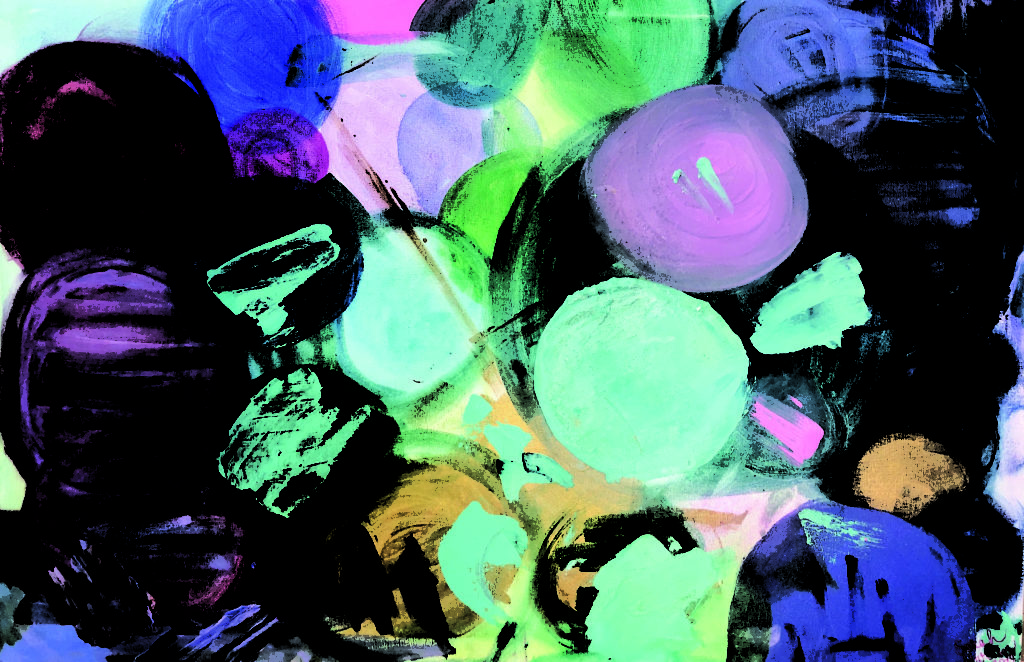 Sarah Murrin: I'll include some of new pieces that are very loose and watery, for lack of a better term, and some small pieces that are more dense and very layered. And some large scale collage.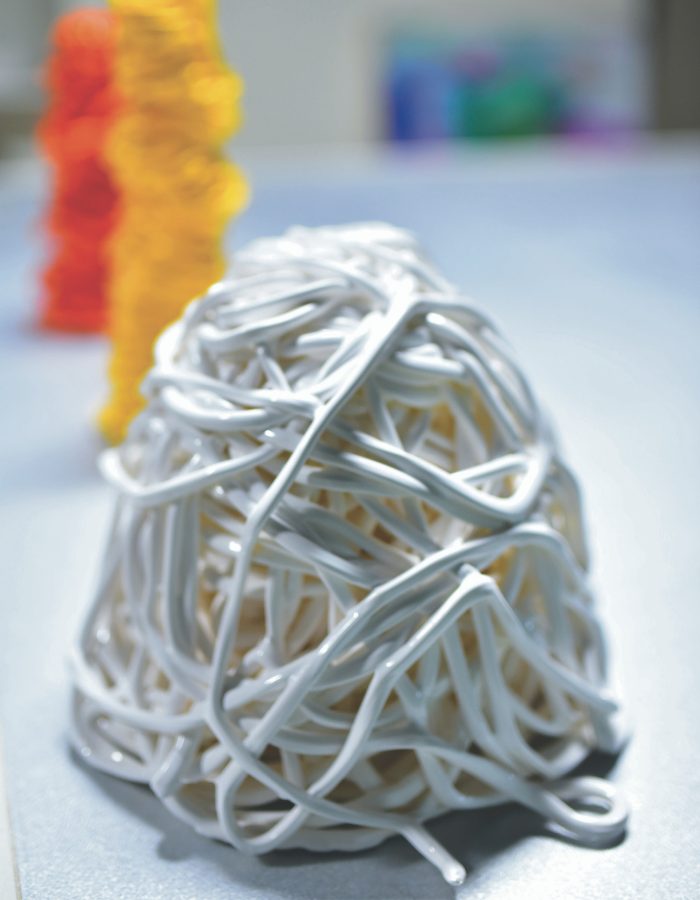 Cheryl Hodge: Hmm, I suppose I really like my recycled plastics. Remember that scene from The Graduate? "Plastics!"
TWM: Fort Worth has a rich history of supporting the arts and a strong presence in the global art world. Can you talk to us a little bit about what it's like to be a local artist here?
Sarah Murrin: When I visit various cities for my art consulting business, people always know Fort Worth for the our connection to the West and the Stockyards and for our premier, first class Art Museums. It's so unique to live in a city that prioritizes and makes accessible to the public art from all over the world and that stays current with artist from across the globe.
Cheryl Hodge: I'm actually better at buying art than I am at selling art. There are some fantastic artists in Fort Worth – Otis Jones to name one. I wish I had one of his pieces, he's so dang talented.
TWM: Tell us a little bit about your inclusion in the Fort Worth Women's Art Circle; what that means to you as a woman and as an artist.
Sarah Murrin: My husband's aunt, Lia Cuilty, was part of the original Fort Worth Circle, so I had always heard about those artists and the show that the Harry Ransom Center at UT Austin and the Modern put on about their work. What I love most about our group is the way we encourage and support each other's successes, the mentality that all boats rise when we work together. From our first impromptu lunch at the Modern, we each knew we were better together. It's all been a very natural progression. We feel simpatico — we are moms, painters, and we are thankful to God that we found each other.
Cheryl Hodge: It has been my good fortune to be included in this exceptional group of talented women – thank you Ginger Walker, love my new buddies. I guess my favorite thing about being included in the Fort Worth Women's Art Circle is that I get to sit back and absorb all of this marvelous creativity.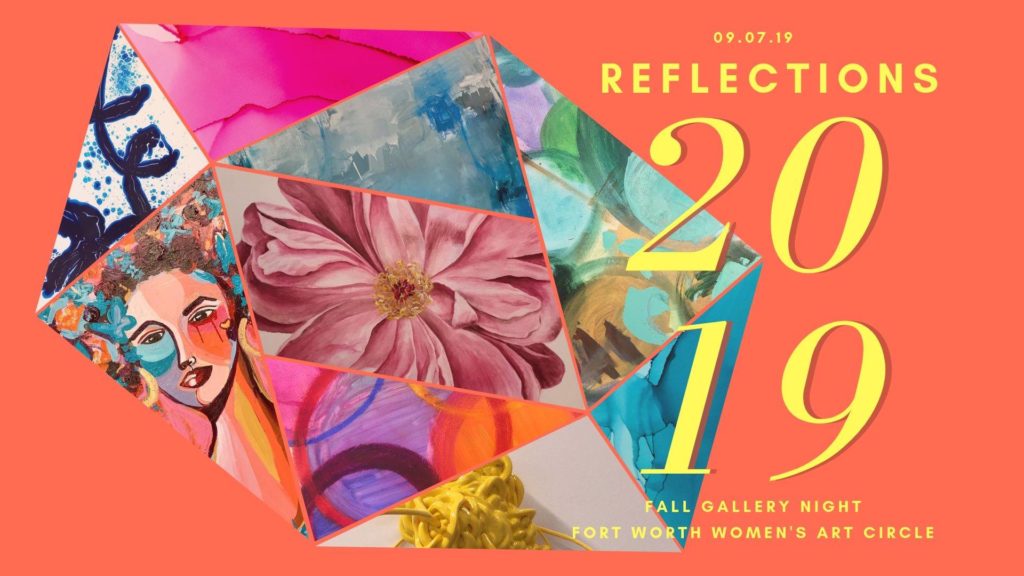 We cannot wait for Saturday, September 7, for Reflections! And we want to thank Waterside, Wild Acre Brewing Co, Orange Twist, and Clear Eye + Optical for hosting Reflections with us. To RSVP, click here.