Fort Worth Business
Jennifer's New Car Crush: The 2021 VW Atlas Cross Sport from Autobahn Fort Worth
Another issue of Madeworthy is on the stands, so you know what that means. It's time for the Madeworthy/Autobahn Fort Worth car review!
This time, I got to drive the 2021 Volkswagen Atlas Cross Sport. My experiences with Autobahn Fort Worth never disappoint, and this time proved to be no different.
Almost one year ago, I got to drive the Atlas Cross Sport's sibling, the 2020 Atlas. I loved this family car for so many reasons! (You can read about them here.) So here I am, a year later, getting to take the sporty little sibling out for a spin around the city.
I was so lucky that Vinson Garcia, a Volkswagen Certified Sales consultant, showed me all the Atlas Cross Sport can do. This includes the Cross Sport's Park Assist feature. Is your mind blown? Mine was!
As I pulled out of the Autobahn parking lot, I felt like a kid who just raided the candy store! There are so many features to this mid-size SUV, and I was in heaven. Interior amenities include leather seats, a heated steering wheel, heated and cooled power front seats, and dual-zone climate control. Obviously, it gets very hot here in Texas, but as we witnessed during Snowmageddon, it can also get very cold. Having a heated steering wheel AND air-conditioned seats (not at the same time, of course) is a game-changer for me!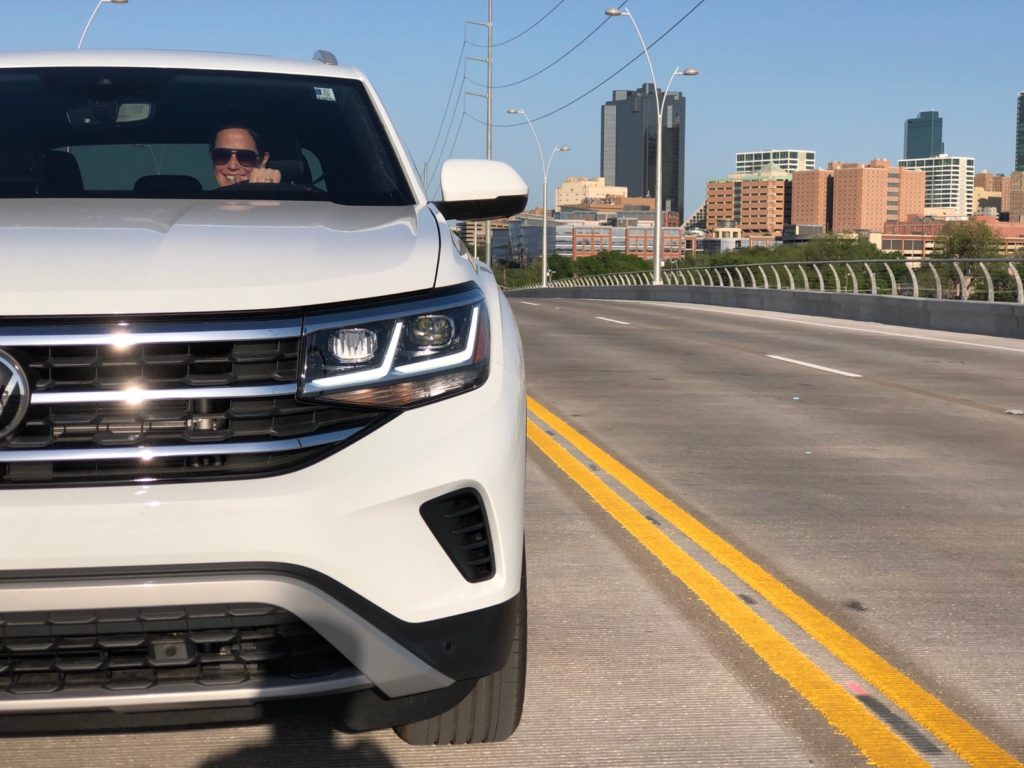 There are some great safety features in the Atlas Cross Sport. Lane assist, park distance control, adaptive cruise control, intelligent headlights, and an overhead camera all add to the sense of safety for your family. You can also get a panoramic sunroof as a stand-alone option. It's great for these gorgeous Texas spring days!
Let's talk about space. Do you need to tote around a few professional basketball players? Do you run a moving company as a side hustle? I don't, but if I did, I wouldn't worry about having enough room! There's almost three full inches more room than in the three-row Atlas, and the backseat folds down to create a cavernous storage area. Packing your bulk items from Costco or Sam's won't be a problem.
While it has a ton of usable space, the Atlas Cross Sport is lighter and a bit more compact than its big sibling, which helps to give it sportier manners. I was impressed with the tight turning radius. If you want to improve the throttle response, steering feel, and shift speeds, simply selecting Sport Mode makes it easy to change the way this fun SUV drives.
It's interesting to note that the VW Atlas Cross Sport shares a platform with the Audi Q7, which on average costs $20,000 more. In other words, you're getting all the benefits of the shared design, but at a fraction of the cost. I've driven my sister's Audi Q7 a few times, and I have to say, I would take the Volkswagen Atlas Cross Sport and never second-guess myself!
As I drove back to what I call "The Boulevard of Car Dreams," I had the panoramic moonroof fully open, the crystal-clear Fender speaker pumping out my jams, and a little sadness in my heart because it was time to return the Atlas Cross Sport. I'm confident that these cars will fly off the lot. One test drive, and you'll be hooked!
Thank you, Autobahn Volkswagen Fort Worth, for spoiling me with your kindness, your car knowledge, and your generosity. My family and I get to experience some of the best cars on the market today. I can't wait until the next issue!