I have a confession to make, friends.
I feel sad. I'll be okay, but it's going to take some time. You see, for one weekend, I had the privilege of driving one of the most amazing cars I've ever driven in my life. Actually, it's the most amazing car I have EVER driven in my life. Autobahn Fort Worth and Autobahn Porsche allowed me to test-drive the 2020 Porsche 911 Carrera S Cabriolet for a whole weekend so that I could share with you, our readers, my thoughts about this mechanical work of art.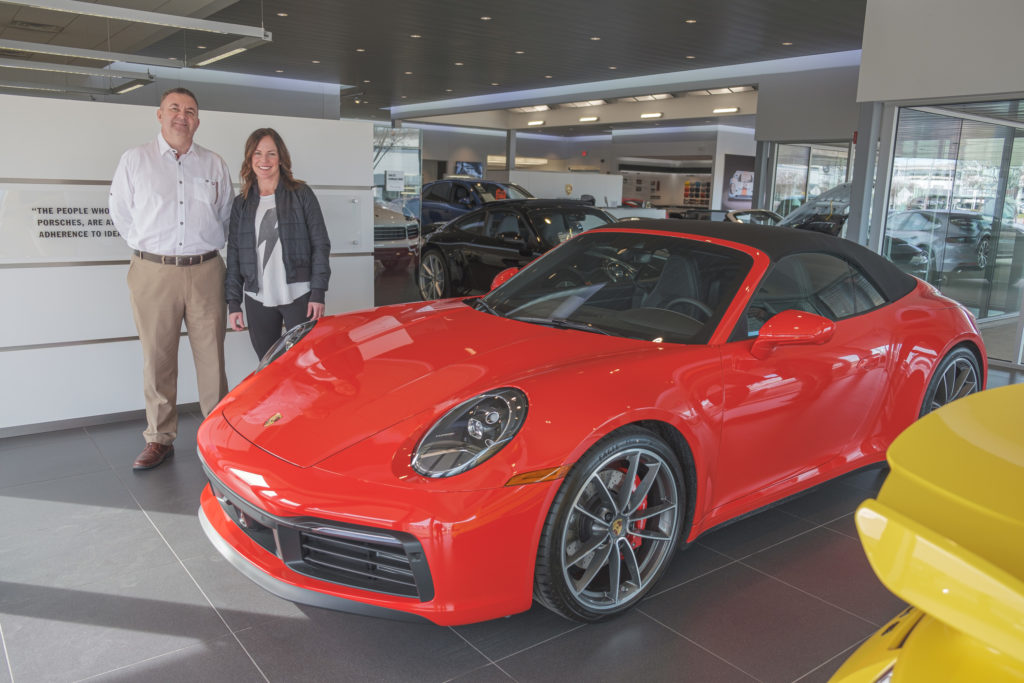 I don't really consider myself a savvy connoisseur of automobiles. I appreciate nice cars when I see them and think to myself: "Wow, that would be fun to drive!" But that's about as far as it goes.
Until now.
It can be pretty intimidating to walk into a dealership like Autobahn Porsche. I worried that I would stick out like a sore thumb, but that wasn't what happened at all. Zoran Gutic, Sales Manager for the Autobahn Porsche dealership, met me with a warm smile and a firm handshake, and I could tell he was excited about the car I was going to test drive. After getting a copy of my license, he walked me to my car, which was sitting on the showroom floor. I'm pretty sure my jaw dropped open wider than is publicly acceptable.  It was a bright and radiant red with black leather interior. And that new car smell! I hadn't smelled that smell in a long time. My heart started to race a bit – I was nervous because I had never driven a car at this price point with this much class and power. Zoran started the engine and drove it off the showroom floor into the parking lot where he gave me the rundown on all of the bells and whistles, making sure that I was completely comfortable driving this magnificent machine.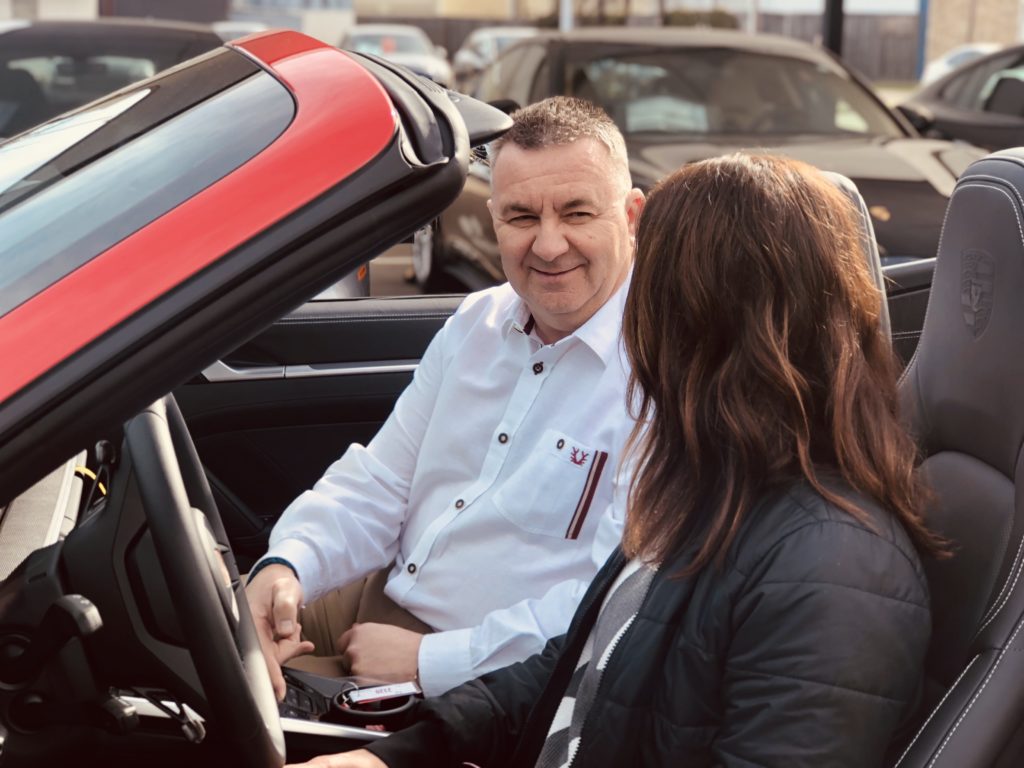 My friends, I thought I would be sitting there with Zoran for a long time because in my inexperienced mind, I thought an awesome car like this might have so many things I needed to understand just to get out of the parking lot. This wasn't the case at all! Porsche has created a completely user-friendly sports car. The tutorial lasted less than 15 minutes before he handed me the key and said goodbye. If Zoran was feeling the least bit apprehensive about letting me go, he never showed it. He seemed to have all the confidence in the world in me.
As I pulled out from the dealership (top down, of course!) onto White Settlement Road, I was giddy. THIS GIRL was about to experience driving in a way she had never experienced before! I couldn't wait to share the experience with my family.
Bear with me. I'm not a "car person." I am a 46-year-old woman who can appreciate the finer things and will do my best to articulate my experiences in a way you, gentle reader, can relate to. Let me begin with a description to help you visualize and engage mentally and emotionally with my experience driving this car that Tony Stark must have designed.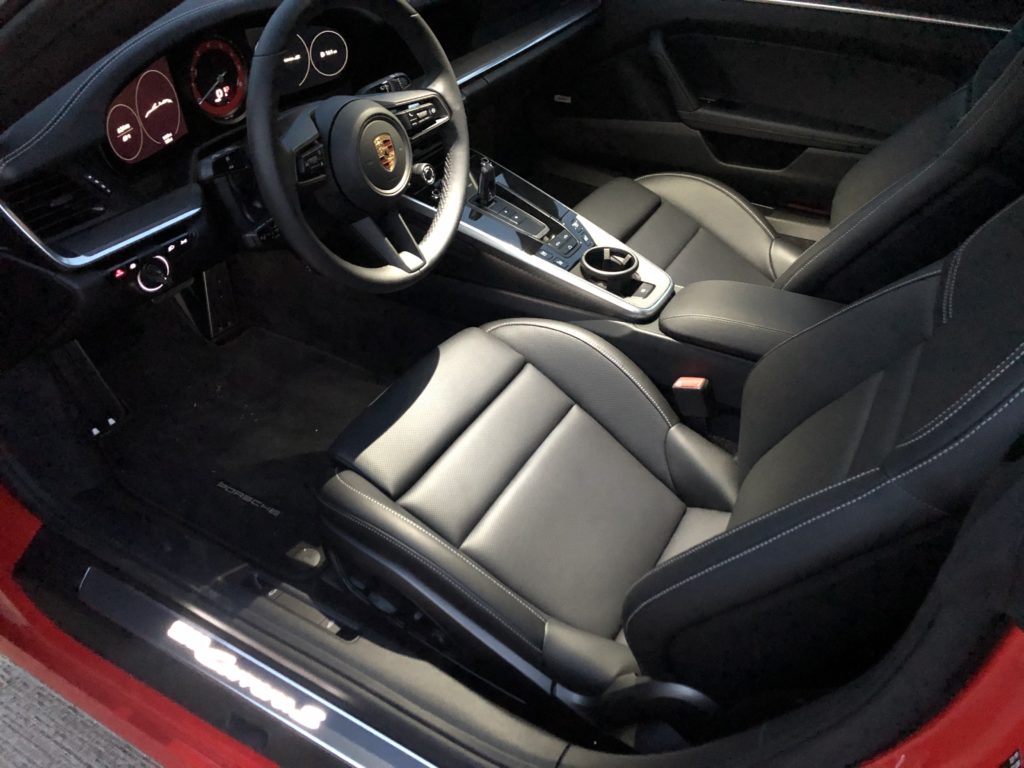 My left hand turns a knob to the right as my foot presses down on the brake. A gritty and magnificent rumble echoes behind me. I use my right pointer finger to simply flip the seemingly tiny gear shift down to put me into drive. I am ready to roll.
WAIT! Music! I must have MUSIC! What does a girl listen to on her first ride in a superhero sports car? Hip hop. Definitely hip hop. Actually, you could listen to any kind of music in this car, and they would ALL be appropriate, in my humble opinion. "The Distance," by Cake? Yes. It is PERFECT on the highway! Chris Stapleton, Beethoven, Khalid, the Beatles, Hillsong… all make the cut.
By holding down one button, the top and windows glide away in a matter of seconds. (This was the moment that reminded me the most of how Ironman got into his suit.) Truly brilliant engineering! With a gentle press of the gas pedal, I'm off, driving just under the speed limit. To keep my hair from looking like Albert Einstein on a bad hair day, I press the button to deploy a discrete windscreen located behind the driver's seat. The stereo system is truly epic. Even on the highway with the top down, I hear it perfectly.
I drive on with the sun above me, the wind kissing my cheeks, gripping the steering wheel probably a little tighter than I would in my own car. The response to every turn and brake is perfection. I feel completely safe and in control the whole time. At the risk of sounding dramatic, it is an utterly euphoric experience. And while the car is responsible for much of that euphoria, it's not the whole reason.
My girls, Avery (14) and Finley (12), love every moment they share with me in that car.
Now I understand why my husband's connection with his uncle was so special. His uncle drove him around town in his convertible MG.
Unlike my husband, who was allowed to work the stick shift in that old car, my girls got to operate the power roof switch, which made them feel more connected to the experience. Just lovely!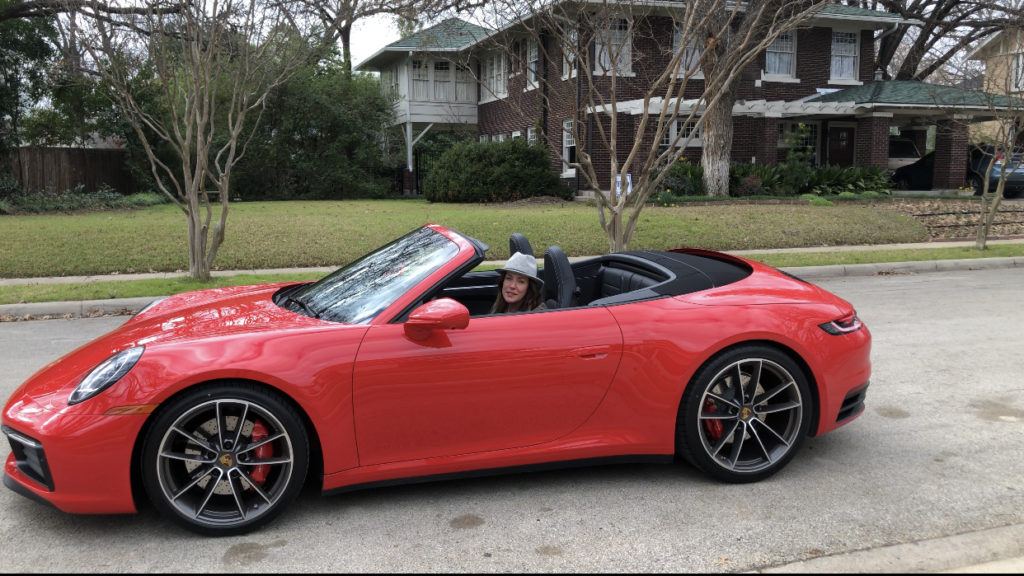 The backseat is small. This isn't a car to tote your family around town in. This is a car made for the pleasure of experiencing true craftsmanship and the passion from those who made it. We drove all around Fort Worth – Sundance Square and the Stockyards at night, University Park and Magnolia Street during the day. The experience kind of became a social experiment for us, too. It was fascinating to witness all the stares, looks of approval, thumbs up, or faces of pure shock and bewilderment as we drove by. I certainly don't get those responses in the car I currently own!
My husband, who is a huge European car enthusiast, was sadly out of town most of the weekend. But on Sunday, our last day with the car, we went to breakfast together, which reinforced my belief that this is a fantastic date car! With all its horsepower and precision engineering, the 2020 Porsche 911 Carrera Cabriolet is a romantic car to the core. It's cozy, keeping you close to your loved one, and it brings a smile with every punch of the gas.
Driving this amazing sports car captured my current state of mind into a driving experience. No lie, there were moments I even got emotional driving it. There was fear and self-doubt overshadowed by gratitude, blessing, and peace, which was intertwined with grace, hope, and faith. Being behind the wheel with the top down, the wind blowing, the sun shining, and my favorite tunes playing as loud as necessary helped me recognize that I was being given this amazing gift. I felt so much joy getting to drive that car. The talents of the artists and artisans who created this car combined to give me and my family an experience we will never forget.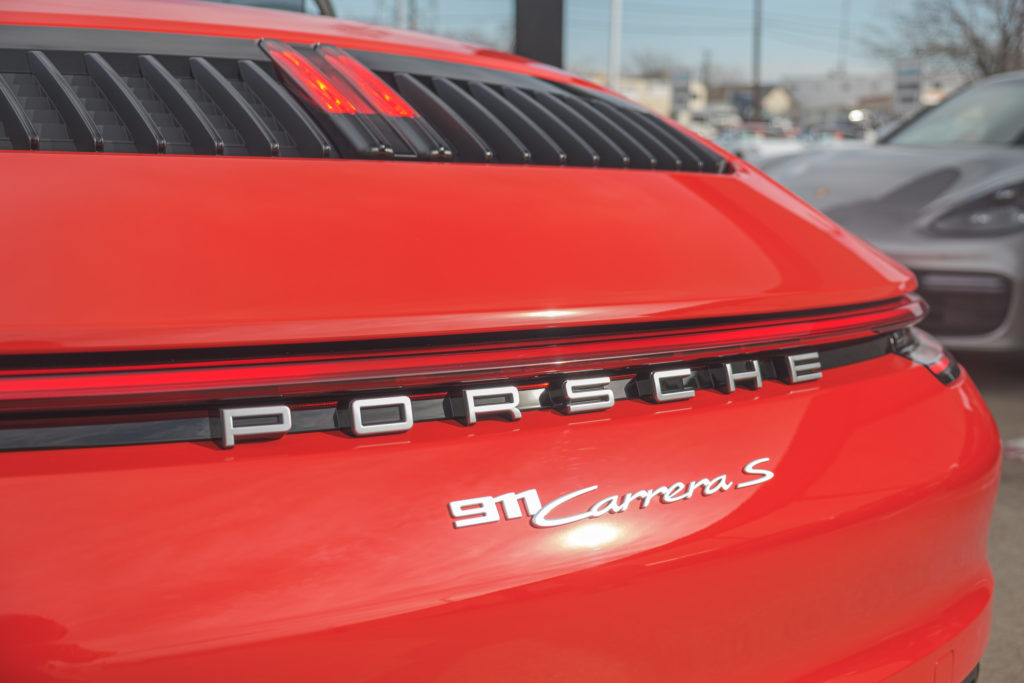 Dearest friends at Autobahn Porsche,
Thank you for trusting me with your car. I may not have articulated my experience the way I truly felt through the whole weekend, but sometimes, where words fail, driving speaks.
Yours forever,
Jennifer
Now go test-drive this car, Fort Worth! You will be smitten. Call me if you do, I desperately want to go for another ride!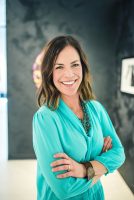 Jennifer Kieta is a native Texan, born and raised in Houston. She graduated from Texas Tech University and has lived in Fort Worth since 1996. After marrying her husband, Brian in 1998, Jennifer worked as a Child Life Specialist at Cook Children's Medical Center for 9 years before becoming a full-time mom to her two daughters. Her passion for helping people in healthcare transitioned into the fitness world in 2014. She now teaches spin and HIIT classes at Zyn22 and Pilates at Restore and Revive Wellness Center. December of 2017, Jennifer was diagnosed with breast cancer. Her journey through a double-mastectomy and being able to call herself a Survivor and Overcomer has allowed her to have an even greater passion for helping people embrace every day and take care of themselves one day at a time.