If Lao Tzu were a photographer, he may very well have espoused the same approach to landscape photography as Brian Hutson.
"I'll use natural light," Hutson recently told me. "When I walk upon a scene, sometimes I'll sit there a while until the light moves. The image or subject will reveal itself, and you don't have to move around."
Hutson's career as President of Photography for the communications agency Hutson Creative means tight deadlines and uncompromising standards. This year alone, he shot for Bishop Arts District, Ulterra, Clay Pigeon, Piattello Italian Kitchen, Eno's Pizza Tavern, and a large number of interior designers and real estate agencies. The job comes with fun perks too.
"Having the drone for aerial photography is one of my favorites," he said.
He recently launched his hi-tech toy, guiding it to shoot video of a 6,000-acre ranch. He said seeing the world from a bird's-eye view "felt like flying."
Talk to Hutson long enough, and you'll realize he loves people, buildings, and history. Vacations offer an excuse to explore historic districts and abandoned buildings.
"I look for industrial buildings," he said. "When I'm photographing, I try to learn the history of the city. Of course, I love to create a story in my mind. When you look at an old industrial site, you think of the people who worked there and the conditions. The old steel factories in Scranton, Pennsylvania, that was the backbone of America at the time."
High on his mind is the upcoming photography show, This is America. The collaboration between Art Tooth, Tanglewood Moms, and Regan Hall Art brings several prominent photographers together for Fall Gallery Night (September 8).
"I think a lot of great photographers are being included," Hutson said. "We all strive to do great things in our profession."
While he hasn't finalized which pieces he'll be showing, Hutson is mulling over his collection of quintessential American images. The fine art aspects of his work inform his PR shots and visa versa. Even after 14 years, Hutson is still amazed at the life he and his wife Beth Hutson have created together.
"I love my work," he said. "I'm blessed and thankful for it. I notice after relatives of mine would pass away we would try to find photos of us together. Nobody had any. That was sad. I want to be the person who captures memories for people and families. I was able to capture four generations of one family over the weeknd. I'm documenting those moments."
That opening image of Hutson, the one where he's waiting for light to trickle into just the right place, well, he knows how to hustle too. I had the pleasure of working with Hutson in his photojournalism role — another hat he wears. He's a master at his art. I would say the one thread that ties his work together is a dedication to documenting the world. He's very much aware that buildings crumble. And, unlike a photograph, even important memories fade with time.
This article is part of a monthly series of artist profiles made possible through a partnership between Tanglewood Moms and the artist-led nonprofit, Art Tooth.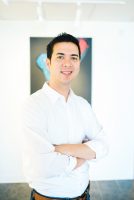 Edward Brown is a writing tutor and piano teacher. He is also an award-winning writer for the Fort Worth Weekly and volunteers for numerous Fort Worth nonprofits.