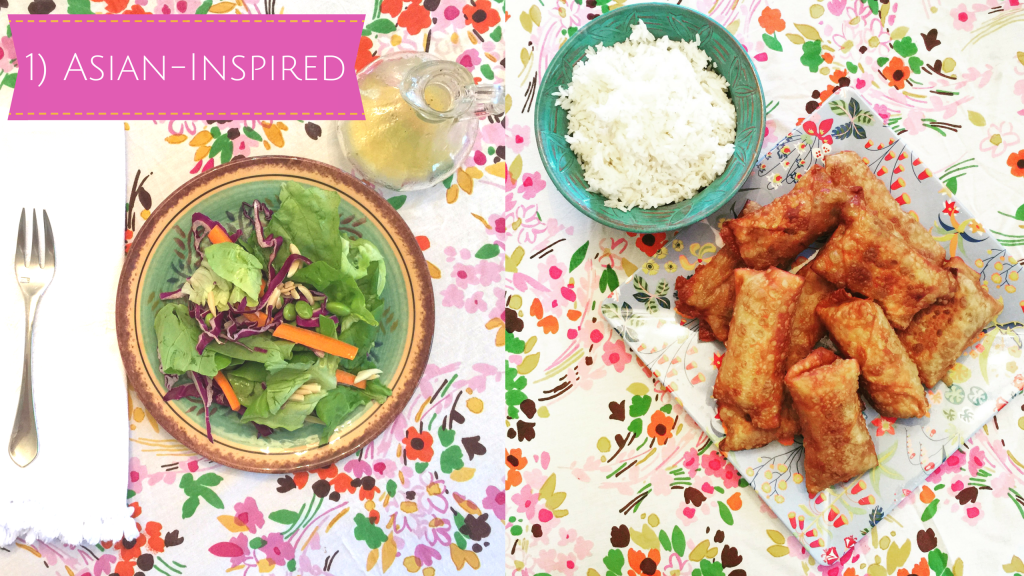 1) Asian-Inspired Dinner
I was doing my weekly shopping and found a package of spring roll wrappers. I've never attempted making them and thought it would be a great way to get more veggies into my kids' diet. It worked! The chopping is a bit time consuming, but the end result is pure yumminess. We made around 15 spring rolls. Some I made with 2 layers of wrappers, and some with 1 layer. Both methods worked! The 2 layered wrappers held together a bit better while wrapping. The salad was enough for all 6 of us and enough for my lunch the next day.
Spring rolls -Filling:
3 Tablespoons of cooking oil
1 teaspoon corn starch
1 teaspoon soy sauce
1 lg chicken breast finely chopped
1 lb of veggies finely chopped (mushrooms, carrots, water chestnuts, green onions)
2 Tablespoons soy sauce
1 package spring roll wrappers
Large handful of fresh cilantro leaves – add at time of wrapping
1. Heat oil in a large skillet or wok
2. In a mixing bowl mix 1 teaspoon of soy sauce and the cornstarch
3. Add chopped chicken and stir to coat
4. Sautée chicken until no longer pink and set aside.
5. Sautée veggies until soft
6. Mix chicken and 2 Tablespoons of soy sauce to veggies and simmer together for 2-3 minutes
7. Wrap the ingredients in the egg roll adding in the cilantro leaves now and fry in 1-1.5″ of vegetable oil. Fry until golden brown, turning once. We used a small cast iron skillet, but use whichever small pan you like and fry about 3 rolls at a time.
Here's a Youtube tutorial on how to wrap the spring roll:
Fresh Asian-inspired Green Salad with Citrus Sesame Dressing
Salad:
1 Head of Butter lettuce
2-3 Carrots, chop any way you like
1-2 Cup chopped purple cabbage
3/4 Cup frozen edamame brought to room temperature
1 Small bag of slivered almonds
Optional ingredients: Cilantro, Green Onion
Dressing:
1/2 Lemon – juiced
4 Tablespoons Rice Wine Vinegar
2 Tablespoon Sesame Oil
1 Tablespoon finely grated fresh ginger
Dash of Salt, Pepper and Sugar (about a 1/4 teaspoon of each)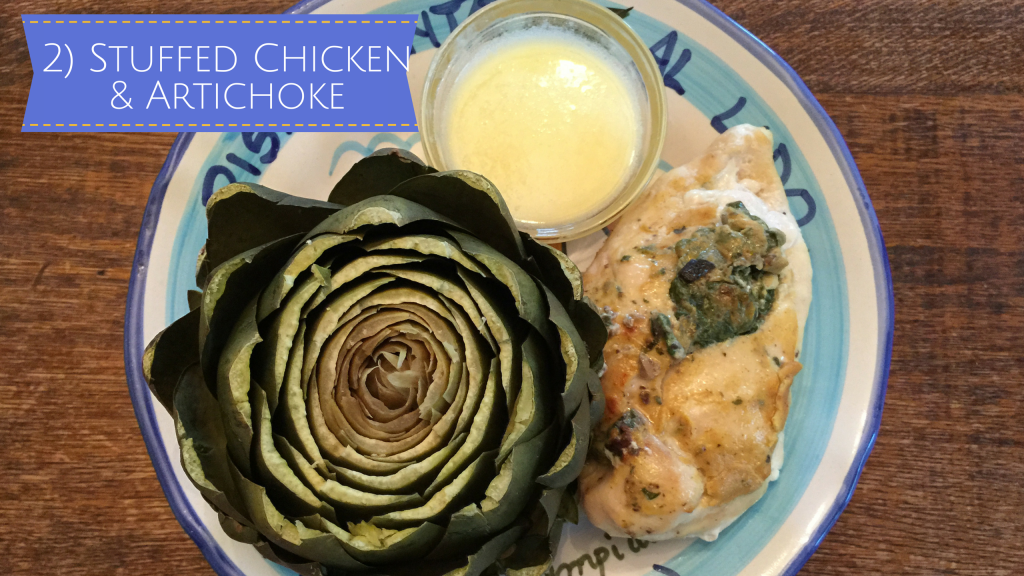 2) Mushroom Spinach Stuffed Chicken Breast
This one my husband made since we take turns in the kitchen. He's actually way better at preparing the main course and I stick to the sides preparation. A lot of times we tag team it, but full credit goes to Mr. Wise on this one. For the artichoke, simply steam and serve with garlic/lemon butter.
4 large mushrooms, finely chopped
1 bag of fresh spinach
6 ounces cream cheese, room temperature
1/2 Cup Green Onions
6 Chicken breasts
6 Tablespoons Dijon mustard
1 Tablespoon Butter
1. Preheat oven to 450°F.
2. Melt butter in medium pan over medium heat.
3. Add mushrooms and sauté until tender, about 5 minutes.
4. Cool slightly. Blend spinach, cream cheese and green onions in medium bowl.
5. Mix in mushrooms and add a small amount of salt and pepper.
6. Create pocket within the chicken breast and spread mixture within it.
7. Arrange chicken breasts on baking sheet. Spread 1 tablespoon Dijon mustard over each chicken breast.
8. Bake chicken until golden brown & thoroughly cooked, about 20-25 minutes.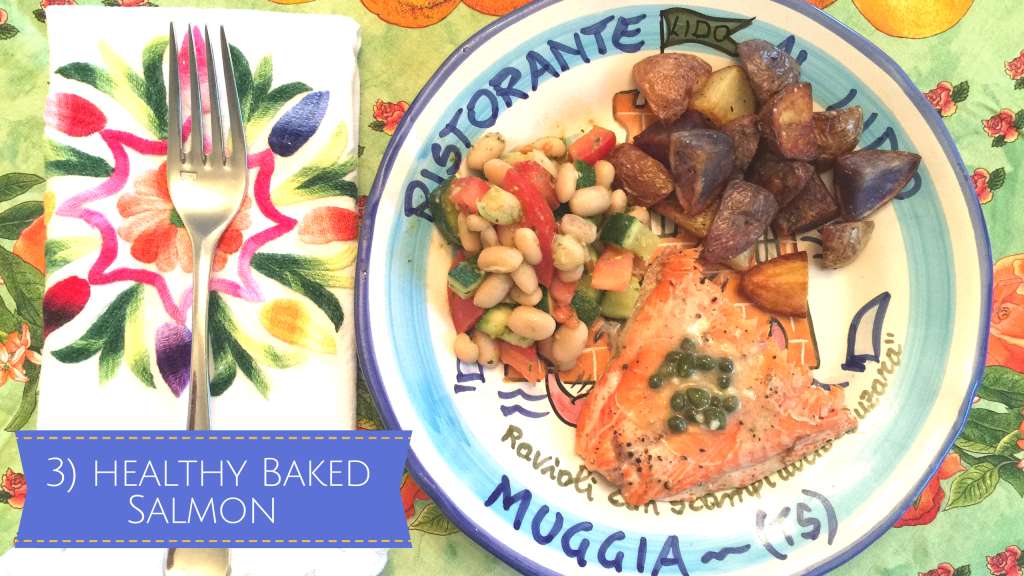 3) Baked Salmon with Lemon Caper Butter, Cannellini-Zucchini salad, and roasted potatoes
Our sweet neighbors recently returned from a fishing trip to Alaska and brought back 400 pounds of salmon and halibut. They so kindly shared it with us which was amazing because fish happens to be my kids' favorite main course. My sister-in-law served the cannellini-zucchini salad for me the other day and I devoured it! I knew I had to share this recipe with all of you. You must try the potato recipe, we finally found a way to cook pan friend potatoes where they come out crispy!
Salmon Ingredients & Preparation
2 pounds salmon with skin on
6 – 8 lemon slices
6 Tablespoons unsalted butter
4 Minced Garlic Cloves
4 Tablespoons Capers
1 Teaspoon lemon zest
juice of 1 lemon
non-stick spray
Kosher salt and pepper
Preparation
1. Preheat oven to 450 degrees.
2. Line a baking sheet with foil and coat with non-stick spray.
3. Place salmon on the baking sheet with the skin side down.
4. Sprinkle salmon with kosher salt and pepper. Place lemon slices on top of the salmon.
5. Bake for 10 minutes. Remove from oven and tent with foil.
6. Bake for 10 – 15 more minutes or until it flakes easily.
7. While salmon is cooking, prepare the lemon caper butter by melting butter in a small saucepan over medium heat.
8. Once butter has melted, add garlic, capers, lemon zest and lemon juice.
9. Cook for 2 minutes. Season to taste with salt and pepper.
10. When salmon is done, remove from oven and discard lemon slices. Slide a thin metal spatula between the skin and the flesh of the salmon to remove fish from the skin.
11. Move salmon to a serving platter and spoon lemon caper butter over the top. Serve immediately.
Cannellini-Zucchini Ingredients & Preparation
2 Medium Zucchini
1 Can Cannellini (white kidney beans)
1 Large Roma Tomato chopped
3 Tablespoons Prepared Pesto
1 Teaspoon Minced Garlic
1 Tablespoon Olive Oil
1. Sauté chopped zucchini with garlic and olive oil on medium heat until softented, but still firm.
2. Add in can of rinsed and drained cannellini beans.
3. Spoon prepared pesto into the pan and mix well with other ingredients.
4. Remove from heat and place in bowl with tomato. Season with a little salt and pepper.
For the Roasted Potatoes, we used this recipe and absolutely loved how the potatoes came out crispy and perfectly seasoned!
Enjoy!! If you prepare any of these meals, please post to Instagram and hashtag #tanglewoodmoms and tag our IG account: @tanglewoodmoms