There are few things I love more than bacon. (I hate to admit it, but I'm very much like the dog in the Beggin' Strips commercial. I go nuts for bacon.) When I heard that Central Market was having their Bacon Fest (through March 13th!), I went a little crazy with all the different kinds of bacon available. Cured. Uncured. Applewood smoked. Cherry wood smoked. Thin cut. Thick cut. The choices are incredible, and I came home with an inordinate amount of bacon! To help Central Market celebrate all that bacony goodness, I've come up with three recipes that proudly feature bacon. I hope you enjoy them!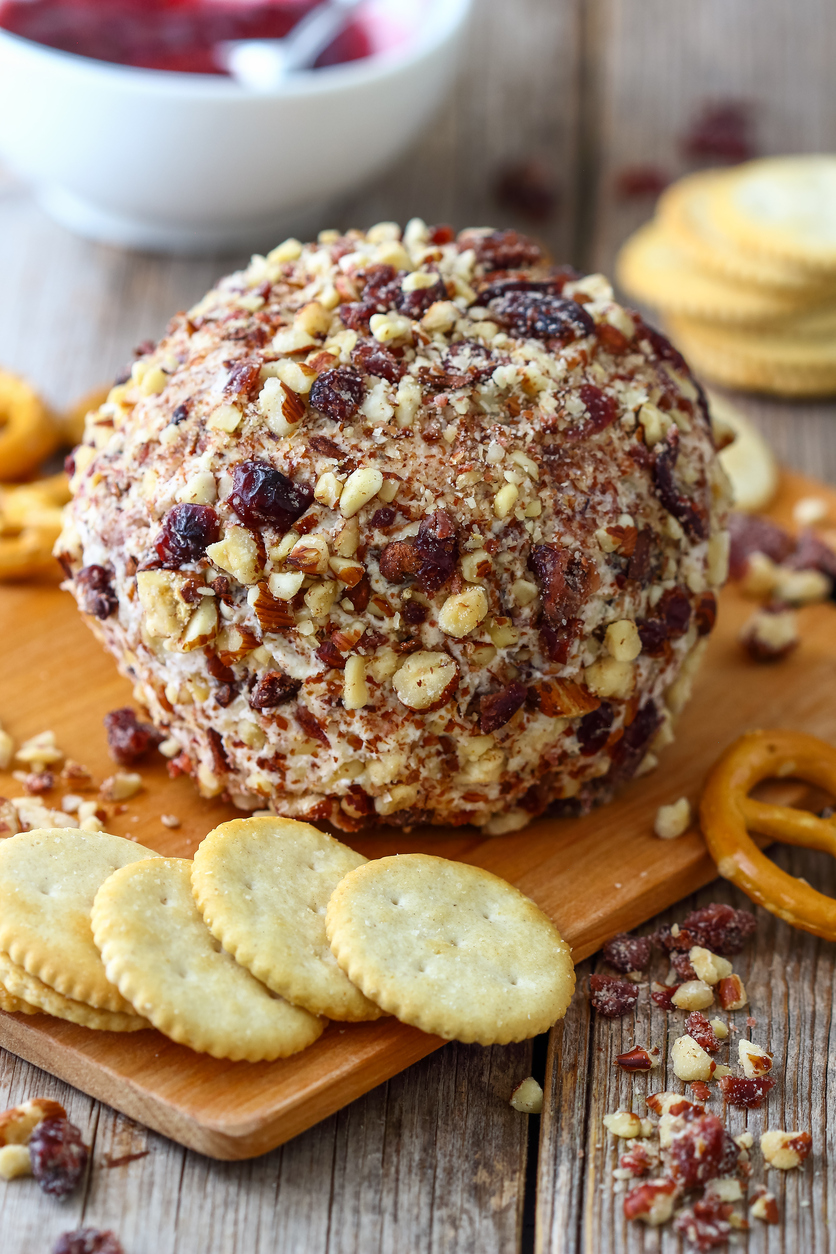 Goat Cheese, Bacon, and Apricot Ball
Ingredients
4-ounce log of fresh goat cheese or chevre
4 ounces of cream cheese (you can use low fat cream cheese here, but please don't use the fat free stuff!)
8 slices thickly sliced cherry wood-smoked bacon, finely diced and sautéed until crisp
4 to 6 dried apricots, finely diced
2 teaspoons dried tarragon (I really like dried herbs in cream cheese-based dips; they hold up better)
½ cup sliced almonds, pulsed in the food processor until fairly finely chopped
Directions
Combine all ingredients except the almonds in a mixing bowl. You can either shape the cheese mixture into one large ball, or you can shape them into little grape-sized balls if you're feeling fancy. To coat the cheese ball/balls in the almonds, I put the almonds in a large, flat baking dish. This makes it easy to coat the cheese ball/balls completely. The great thing about this recipe is that you can make it up to two days in advance! To serve, bring out about 30 minutes prior to serving to allow to come to room temperature. This is wonderful with a baguette from the bakery department of Central Market!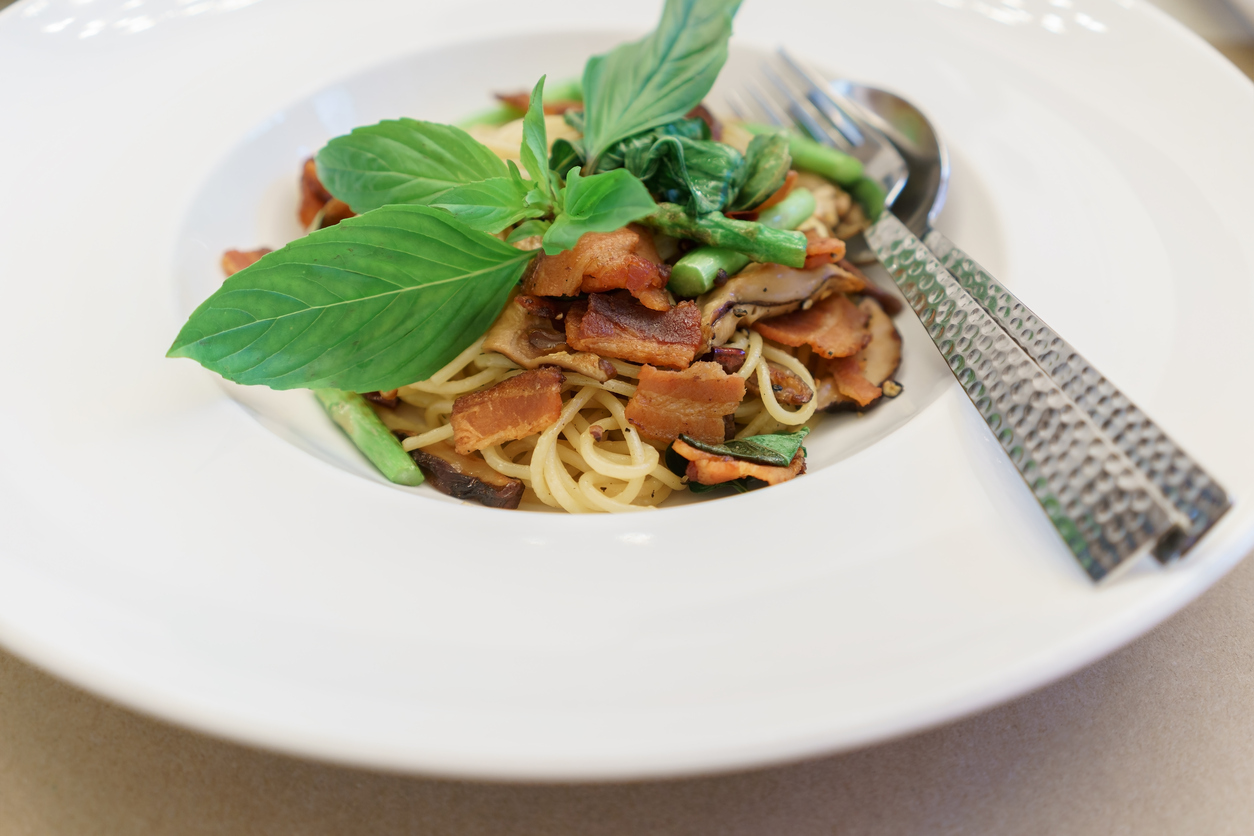 Spicy Pasta with Asparagus and Bacon
Ingredients
12 ounces fresh spaghetti or fettuccini (Central Market makes their own pastas, available in the cheese department!)
4 ounces uncured bacon, diced
1 shallot, minced
½ teaspoon red pepper flakes
1 bunch asparagus, woody stems removed and discarded, remaining stalks snapped into bite-sized pieces
Zest and juice of one large lemon
Salt and freshly ground pepper to taste
Directions
Cook pasta according to directions in a large pot of salted water. While the water is coming to a boil, sauté the bacon in a large sauté pan or skillet over medium heat. You want to render out the fat and make the bacon nice and crispy. When the bacon is crispy, remove it to some paper towels to drain, and add the shallot, red pepper flakes, and asparagus to the pan. Sauté until the shallots are translucent and the asparagus is warmed through but still crispy. Once the pasta is cooked, add the pasta to the pan, using about ¼ of a cup of the pasta water to help create a sauce. Add the lemon zest and juice and toss to combine. You can garnish this with fresh herbs or add freshly grated Parmigiano-Reggiano cheese. It's great cold, too! Serve 4 with a side salad.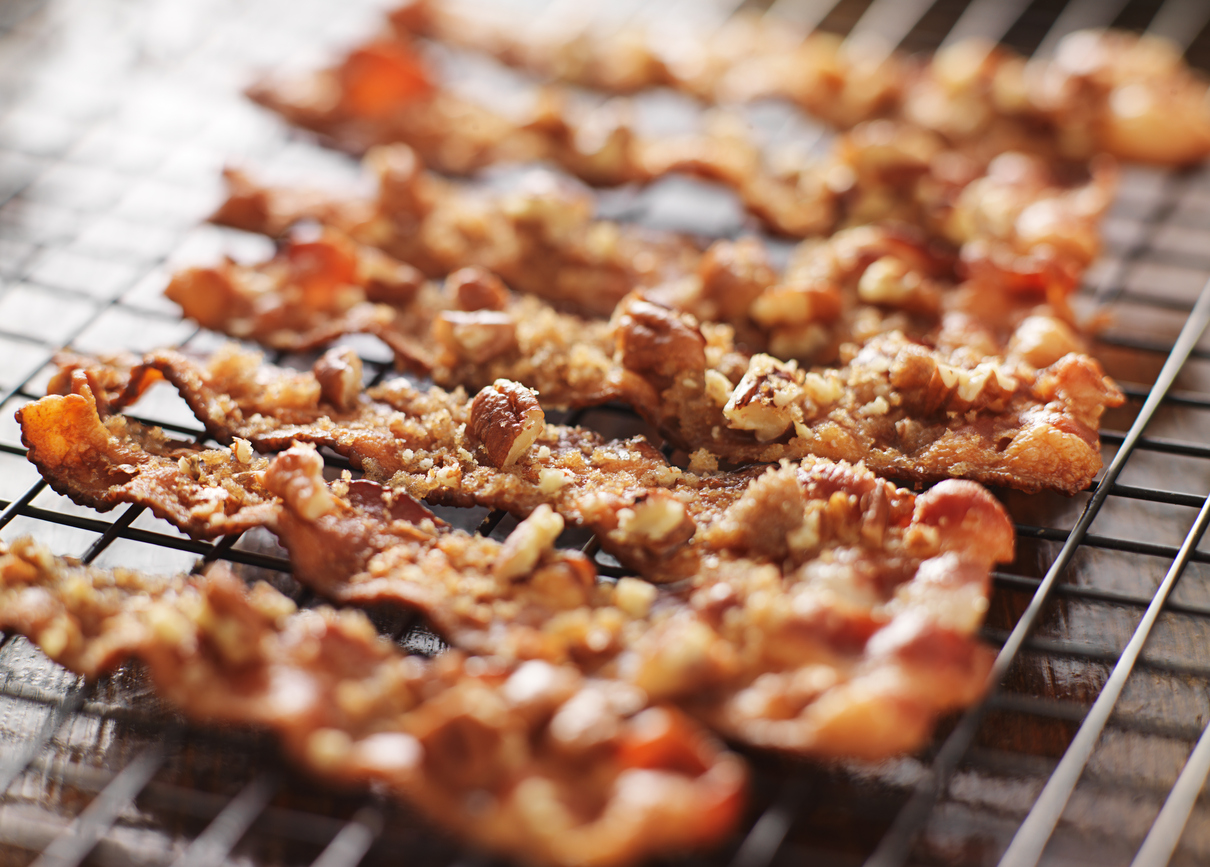 Adult Milkshakes with Candied Bacon
Ingredients
12 slices of applewood smoked bacon
½ cup light brown sugar
¼ cup pecan pieces, chopped (optional)
2 pints salted caramel ice cream or gelato
6 shots bourbon
Enough milk to smooth out the milkshakes
Directions
To make the candied bacon, preheat the oven to 350° F. Place a sheet of parchment on a baking sheet, and arrange the bacon slices on it. (You can do this in two batches, depending on the size of your baking sheet.) Sprinkle the bacon slices with the brown sugar and pecans, if using. Top with another piece of parchment paper and another baking sheet. This will allow the bacon to cook without curling up! Bake for approximately 20 minutes, checking the bacon occasionally. You want the bacon to be crispy and the brown sugar to be melted, but you don't want to burn the brown sugar. When it has cooked, remove the bacon from the oven and allow to cool. This can be made ahead and stored in an airtight container on the counter for up to 12 hours.
To make the adult milkshake, dump the ice cream or gelato and the bourbon into a blender and blend. Add the milk a little bit at a time until the milkshake reaches the desired creaminess. Serve the milkshakes with a couple of slices of the candied bacon and a straw! Of course, you can leave out the bourbon to make these more child-friendly. Makes 6 servings.

Central Market's Bacon Fest runs through March 13. There is bacon in almost every department of the store! And remember, if you are running out of time and can't cook, you can always grab a delicious meal, whether you are feeding two or twenty!