If you listed all the hospitals in Fort Worth, you'd find the greatest concentration of them in the 76104 zip code. In fact, the area with JPS, Texas Health Harris Methodist, Cook Children's, Medical City Fort Worth, and Baylor, Scott & White All Saints is commonly called the Medical District.
So why is it that the residents of 76104 have the lowest life expectancy in the state?

This was the result of a study done by UT Southwestern in 2019. The study found that most early deaths in 76104 were concentrated east of I-35 in the majority-Black neighborhoods of Morningside, Hillside, and Historic Southside. Additionally, it found that the maternal mortality rate in 76104 is the highest in the state. And Texas is one of the top 10 states with the highest maternal mortality rates.
It was this study that inspired the creation of BRAVE/R Together, short for BRAVE/RACE Together, a nonprofit founded by Shawn Lassiter, Chief of Equity and Innovation at Leadership ISD, and the United Way of Tarrant County that is dedicated to addressing the roots of systemic inequities in our city.
According to the United Way's website, "…the BRAVE/R Together initiative is a group of community-based ambassadors who work alongside community leaders and leverage grassroots organizations, corporate partners, public officials, and area residents to envision and fund innovative solutions. The ambassadors are at the forefront of addressing inequities in 76104. The 76104 Ambassadors have committed to focus on the four core inequities by convening other community leaders."
BRAVE/R Together is unique. There is no other organization like it in the United States. Instead of coming into 76104 and telling the residents what they need to do to overcome the barriers they face, the organization's ambassadors listen to what the residents say they need and help connect them to resources.
Madeworthy talked with Katrina Carpenter, owner of Carpenter's Café and Catering and a founding ambassador of BRAVE/R Together.
"I grew up in Como. We were literally a neighborhood separated by a wall. Now I've got my roots in 76104, and it's the same thing," Carpenter said. "I-35 is a wall separating people… So when I was asked to be an ambassador, I couldn't say no."
(Yes. You read that right. The Como neighborhood was separated from the Ridglea neighborhood by a wall that was build in the 1940s. It came down in the 1970s, but there are still Como residents who remember it.)
While it was a healthcare study that spurred BRAVE/R Together's founding, the organization doesn't solely focus on accessible healthcare. It is built on four key sectors that address historical inequities: business/employment, education, healthcare, and housing.
Because of her successful business in 76104, Carpenter was asked to be a part of the business/employment sector. Her first order of business was to host a community roundtable at Amphibian Stage on the barriers minority business owners in 76104 face.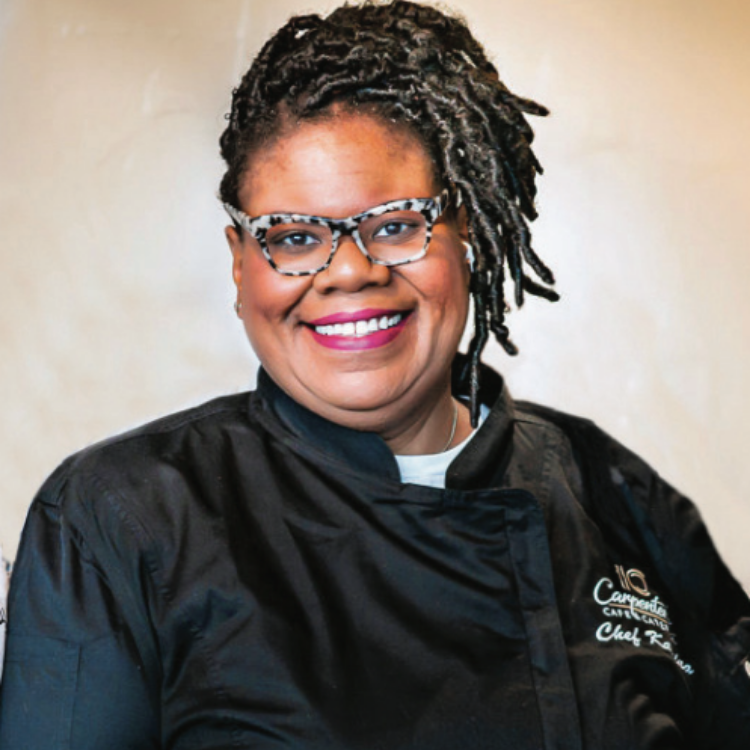 "When I was trying to get minority business owners together from 76104, I was stunned that I could count on one hand the number," Carpenter remembered. "We had a real hard time finding minority business owners from east of 35."
What that first roundtable found was that minority business owners were mostly unaware of resources that are available to them. "For example, to get access to city government contracts, you have to be certified," Carpenter said. "The owners said that they noticed that the same businesses were getting the city contracts, but if they aren't certified, they can't get one. So we needed to figure out how to help them get certified."
The result was that BRAVE/R Together hosted a workshop to help get minority business owners certified. Now these businesses can bid for city government contracts. "Really, it's a collective effort to remove the barriers to success," Carpenter said. And the ambassadors in the other sectors do the same to help remove obstacles to equitable education, affordable housing, and better healthcare.
Also present at that first roundtable Carpenter hosted was Robert Sturns, Economic Development Director for the City of Fort Worth, and Christina Brooks, Chief Equity Officer and Director of the Diversity and Inclusion Department of the City of Fort Worth. Their attendance, Carpenter emphasized, was vital. "At that first roundtable, the City of Fort Worth was listening. They were hearing what its residents needed."
And that is the greater purpose of BRAVE/R Together, to Carpenter's way of thinking. "We are here to help bridge the gaps that contribute to the inequity in our city. We link hands with the community on one side, and we link hands with city on the other side. That way, we can bridge those gaps."