Leaves Book and Tea Shop reflects not only the up-and-coming Near Southside neighborhood in which it resides, but also the tight-knit Howard family who brought it from dream to reality.

The gleaming white tile wall behind the counter was hand-tiled by owner Tina Howard and her husband, Todd ("We decided that's a testament to our marriage," Tina said, laughing). Their daughters, Maddy, 15 , and Jane, 11, helped paint the shop's walls, and all four Howards sampled tea to help decide which varieties to offer.
When the shop opened in 2018, it wasn't uncommon to find Jane or Maddy doing homework at the counter while Tina rang up orders and Todd washed dishes and made tea. Though the girls do their schoolwork at home now and Todd puts in fewer hours at the shop, they all still help during events (Tina calls Todd "the pop-up king" because of his ability to work a crowd) and when the shop gets busy. And although Tina has the final say on which books end up on the shelves, customers might run across a copy of the Harry Potter or Percy Jackson series beloved by Jane, and there's always a copy of Todd's favorite book.
"Regardless of whatever else that Tina has selected," Todd said with a smile, "there will definitely always be at least that copy of Jurassic Park here."
Since opening, Leaves has become a local favorite for its thoughtfully curated book selection, its tasty teas, and its welcoming, community-building vibe. Everything – from the minimalist décor to the more than 50 varieties of tea to the wide-ranging book selection and diverse authorship – was designed to create an inviting experience, Tina said.
"We've always wanted this space to be welcoming and hospitable to anybody who comes in," she said. "And that's regardless of age or gender or race or identity, or any of those things. We want it to feel like a safe, welcoming space, that encourages being present with someone else – truly present – and having conversations about important things."
It was a conversation that birthed the idea for Leaves. Tina was in a book club lamenting the closure of several bookstores in town. "We started talking about how bookstores used to be this gathering place where people connected and shared ideas and talked about topics in a manner that was more than a Facebook article headline or a 140-character tweet," Tina said.
Tina and Todd knew they wanted the shop to hold more than books. "It seemed like: Okay, well, what else besides books?" said Todd, who works as a recruiter for Radiology Associates of North Texas. Hoping to bring something new to Fort Worth, the couple settled on tea.
Next came nearly two years of research and planning. Tina reveled in the process. She and Maddy traveled to Portland, Oregon, where they sampled tea from a dozen shops in just two days. Though the trip was a whirlwind, "it was fun," Maddy said. Leaves now stocks dozens of high-quality teas that can be served hot or iced and enjoyed in-shop or on-the-go. Its flavorful sparkling teas – which were inspired by the Portland trip – have become a standout menu item.
During its first year, Leaves acquired a loyal following, hosting events like yoga for families, improv comedy shows, a Halloween read-aloud of Harry Potter and The Sorcerer's Stone, and, of course, a book club. "It's been a fun process of trying to earn our voice in the community – to speak into what's happening and speak into how we can support," Tina said.
Then the pandemic hit. With it came the near-daily ritual of deciding how to adjust the business to reflect the most recent public health guidance while keeping customers safe, keeping staff safe and employed, shifting in-person events to virtual offerings, and adjusting as a family to virtual school and working from home. Now, the Howards are ready to move forward with a new slate of events and collaborations with their Near Southside neighbors. They're also considering expanding Leaves' wholesale offerings or (maybe) even a second location.
"We did two-and-a-half hard, hard years," Tina said. "Surely now we can handle anything that comes our way – and so, I feel excited for what we can continue to do in our community."
Meet the Howards
Tina
Favorite Genres/Topics: Food memoir, memoir, neuropsychology, and race.
Recommended Read: Broken in the Best Way Possible by Jenny Lawson
Todd
Favorite book: Jurassic Park
Recommended Read: Robopocalypse, a sci-fi end-of-the-world thriller
Maddy
Interests: Drawing, reading, and playing volleyball
Favorite Genres: Fantasy and young adult dystopian fiction
Recommended Read: The Chaos Walking series, a dystopian sci-fi series
Jane
Favorite Genre: Fantasy, though it's hard to pick a favorite because "I like all the books!"
Recommended Read: The Mysterious Benedict Society by Trenton Lee Stewart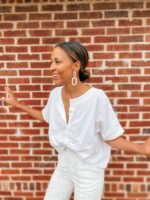 Irie Price is a Fort Worth-based writer. Originally from North Carolina, Irie writes about race, culture, and wellness in her blog, IriePrice.com. Irie is also a pastor's wife and the mother of three adorable children.