Madeworthy
Building a Restaurant in 2020: Wishbone & Flynt Survives, Twists & Sparks Something New
Chef Stefon Rishel opened his restaurant Wishbone & Flynt, along with its side-door speakeasy The Amber Room, in January 2020. It was a dream come true, but just 61 days later, the pandemic shut it all down.  
Like every restauranteur in the city, Rishel found himself facing an unexpected challenge. He was tested like never before, and he made it through to the other side. "We're very blessed," said Rishel, who praises the people of Fort Worth for helping to keep his business open and prosperous.  
But in late March, that outcome was far from certain. About a week after the city's dining rooms closed, the reality of his situation sunk in when Rishel ran the numbers – and there weren't any. "To see a week with zero sales was quite disturbing," he said. "That got us to the point where we had to get really creative with how we operate."  
Rishel reached out to his mentors while his business partners at Trident Restaurant Group (Kyle Bryson and Wallace Owens) did the same. "We really dug in and listened to our clientele—what they wanted, what they didn't want—and created a plan with that." Wishbone & Flynt began offering family-sized meals of comfort food to go. "It worked really well for us due to the concept of the restaurant, which is about getting people back around a table and breaking bread and fellowship over food," he explained. "It fit in quite perfectly with our mantra…it got families back around the dinner table at night." 
It was a difficult time, but for Rishel, the obstacle is the way. "Challenge is fun. I wouldn't do this business if it wasn't hard. I know that sounds weird, but I like challenge. I like to work. A 40-hour workweek to me is pretty boring," he said. "[The challenge] makes the reward that much better at the end of the day." 
Another reward of this year's travails for Rishel was the deepening sense of community for the small business owners in the South Main District. "The community here with us – Shannon Osbakken at Bearded Lady, Sarah Hooton and Matt Mobley at Hot Box, Shawn Howell at Southside Cellars, Chance and Kala Morgan at Morgan Mercantile, Tareka Lofton at Loft22 Cakes – our whole goal was to meet on the weekly and figure [things] out…what's working for you, what's not working for you, how do we get better, how do we help this person survive this. And what has happened is that we've created this pocket of this unbelievable neighborhood. We are always in each other's establishments supporting, and it's awesome." 
When the city lifted the shutdown in May, Wishbone & Flynt was ready. "Opening up with a new menu and with a new start was like opening a new restaurant," said Rishel, who went on open a new restaurant a few months later: Berry Street Ice House. With a large green space outdoors for dining and games, this family-friendly hangout fits in well with the new abnormal. It's available for private holiday parties, including buyouts of the entire space. 
The same is true for Wishbone & Flynt and The Amber Room, where Rishel is planning a special Christmas menu, a New Year's Eve celebration, and some winter wine dinners, pandemic permitting. The speakeasy already hosts a socially distanced music show every month with acts like William Clark Green and John Baumann. 
Rishel is also planning a few pop-ups to let people know about Trident Restaurant Group's next opening, Cast & Hook, which will be located inside of the Southside's new Hotel Revel. "We're just moving forward and really doing everything we can," he said. His strategy of taking the bull by the horns has thus far paid off, but local restaurants aren't out of the woods yet.
"The big chains will be there after all this is gone, but your mom-and-pop places are struggling to survive day–to–day. Do your best to support them, and support all of them if you have the ability to. It doesn't mean you have to go and have a $100 dinner. If you just stop in and have an appetizer and a cocktail or something like that, you're showing support, and that's the biggest thing," he explained. "Some of us have our complete livelihoods on the line…like my house, my kids' education—all of that depends on what I do here." 
For Chef Stefon Rishel, the unprecedented challenges and unexpected blessings of 2020 have brought it all back to the basics. "We want to feed people," he said. "That's what we're here for. We got into this business to make people happy."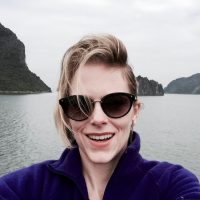 Raised in the Fort Worth area, Shilo Urban moved to Austin, Maine, Paris, Seattle, New Zealand, and Los Angeles before finding her way home a few years ago. Along the way, she has had over three dozen different jobs, including high school French teacher, record label manager, and farmhand for endangered livestock breeds. She's traveled to more than 50 countries and always has the next trip planned. Shilo has been a freelance writer for over a decade and has published in Fort Worth Magazine, Fort Worth Weekly, and Afar. Her interests include lost civilizations, jalapeño peppers, and Game of Thrones. She is currently writing a thriller and lives in Fort Worth with her faithful weenie dogs, Steve and Lenny.