Brett and Kara Phillips have that look. You know, the one that screams talent and ambition mixed with a heavy dose of bold tenacity. They also have that other look. You know, the one fraught with food stains and the sleep-deprived eyes of two working parents with three very young children. But that's the beauty of this family. They're real.
That authenticity and talent is something that's caught the eye of television producers, too.
About five years ago, the Phillips started a real estate and home design company called High Street Homes. They both had their day jobs – Brett, 34, ran the Neeley Leadership Program at TCU, and Kara, 32, was a cash manager at Walsh Holdings – but they wanted to help change people's lives for the better, and they believed that started at home.
Like many entrepreneurs, the Phillips were their own guinea pigs, building their house on land Kara's father owned in Aledo. Soon after finishing their house, they had a list of clients who wanted to apply their design style to their own living spaces. That style focuses on timeless pieces and modern simplicity.
"In today's culture, everything is here one day and gone the next," says Kara. "Seasonal and tossed out. We love the idea of building a brand of embracing items that can work in many different ways and have longevity."
Kara says she wants to have things they pass down to their kids, too. Those kids – Walker, 4, Grant, 2, and Hayes, 11 months old – are the building blocks of their business. Because, as all parents know, living with children demands a different kind of lifestyle and design. "Our life is all about simplicity," Kara says. "It has to be because we're doing so many things," says Brett.
One of those things is a potential new show with HGTV.
The couple signed with the network in 2016, after being "discovered" on Instagram. They shot a pilot last year. "They [HGTV] liked that we were embracing old but new," says Kara. "Vintage finds and clean lines. Our style is California Southern. Bright, natural, and airy."
She says they've been heavily influenced by the places and spaces they've lived. Brett is from Santa Barbara, and Kara is a country girl from Aledo. That California vibe mixed with sweet Texas country creates an heirloom modern feel that's appealing to their clients in Fort Worth and the producers at HGTV.
Brett says shooting that pilot was fun but nerve-wracking. "It's weird and wonderful to see your significant other on television," he says. The process was unscripted and real with playful banter and creative ideas on how to transform a space – just like they do for their clients every day.
High Street Homes recently launched its online shop, containing curated pieces that embody that timeless design that the Phillips use so much in their work. Good design, Brett says, comes down to understanding what you really need. "When you're thoughtful about your design, you find out what really matters. What makes your family thrive." And those answers, he says, might surprise you.
In a living room, for example, Kara says a vintage and family-friendly rug is essential. "The rug we have is from the 1930s. It's been through many lives." On the couch, Kara is drawn to fabric linens and slip covers, while Brett prefers worn leather: the more wear on it, the better.
With a home full of kids, closed storage is a big deal. "Hide your toys. Hide everything," Kara laughs. But on the coffee table, leave room for the children to play with items that they can touch without shattering glass or breaking the bank.
The Phillips have moved nine times in their seven years of marriage. And with each move, they realize more and more that too much stuff weighs you down, literally and figuratively. The inevitable and often magical transitions in life become a lot easier when simplicity is your soul's centerpiece.
As far as this star couple goes, their faces may be hitting HGTV in early 2018. Stay tuned.
This article originally appeared in the January/February issue of Madeworthy magazine.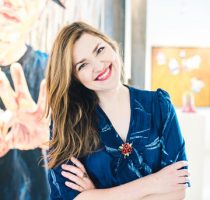 For more than a decade, Sarah Angle has worked as a Texas-based writer. She began her career as a daily newspaper reporter and photographer, and now splits her time between journalism and marketing communications. Since starting her own freelance writing business, Sarah has worked for brands such as: Frito-Lay, RadioShack, Dairy Queen, Honda, Sid Richardson Art Museum, Samsung, and Pizza Inn. As a journalist, her work has been published in the Washington Post, Boys' Life magazine, Texas Observer, Fort Worth Weekly, The Dallas Morning News, and 360 West magazine. In 2014, she won first place from the Association of Alternative Newsmedia for her feature story "From the Land of the Lost." The following year, she earned a fellowship from the Investigative Reporters and Editors organization and became a board member for the Society of Professional Journalists, Forth Worth chapter. Currently, she teaches in the School of Strategic Communication at TCU. Sarah lives in Fort Worth with her darling daughter and a house full of books and mid-century modern décor.