First and foremost, Tareka Lofton of Loft22 Cakes is an artist.
Sitting in her bakery located on Daggett Street, her work on the wall is one of the first things that she points out. "See that watercolor over there, that's my work." I cannot help but be impressed. The work is eye-catching. Yet, it is not the only work of art in the room. Not too far away, several dozen colorful cakes and cupcakes are displayed in a refrigerated case next to the cash register.  She takes a look around the room as we talk. She seems to be in her sweet spot. If her innate artistic talent is what so beautifully and distinctively colors her work, most certainly the secret ingredient that flavors her cakes and pastries so well is grit. Pure grit.
Tareka is from Texarkana, Arkansas. She calls herself a "PK" (preacher's kid) and "Southern." She smiles as she reminisces, "If you're from the South, you know something about being in the kitchen; Southerners love the kitchen." In fact, Tareka hails from a long line of family who strongly identify with their Southern roots. It is one of the major tenets of her work. For her, being Southern settles somewhere around the intersection of charm, hospitality, and good food. Yet the kitchen was not her first love. Tareka grew up with a love for art and an innate talent for drawing. She describes girl who was always doodling, sketching, drawing, and even painting murals on walls. One of her first aspirations was to be an art teacher.
Perhaps it was a natural progression for her, but curious, I ask her how she settled on pastries as her art medium. She recalls a moment when inspiration struck. It was the early 2000s, and the Food Network had struck gold with a lineup of programs showcasing pastry chefs and their work. Glued to the television, Tareka found her eye drawn to the artistry displayed. "I'm an Ace of Cakes kind of girl," she recalls. She noticed that the chefs were true artists; in fact, many of them were freehand painting on their cakes. The connection was powerful for her. The marriage between her artistic talents and baking was forged during this time, and it was not long before she began experimenting. Those early years were spent making her family members' birthday and graduation cakes, or maybe baking something sweet for a church celebration or two. It was not long before those around her took notice of her talents, and she became a popular "go-to" in her community for sweet treats.
As Tareka's new passion grew, she knew that she needed training. "I wanted to be taken seriously. I wanted my skillset to be clean and sharp. I wanted to know what I was talking about." She describes a fan girl moment: "I love me some Julia Child," she laughs. "I've always been a fan of Julia, and if she was a graduate of Le Cordon Bleu, then that's what I needed to be as well." As Tareka set out to explore that option, she quickly learned that the closest training opportunity would require a move to Austin in order to train with a pastry focus. "I didn't have the luxury to just up and move at that time, so that plan had to go to the back burner." It may have been on the back burner, but the temperature was on simmer the entire time.
Eventually, the need to explore her talent in this avenue went from a slow simmer to a brisk boil. It became clear that she needed to leave to pursue this plan. After the death of her father and with the support of her family, Tareka decided that she needed a change of pace. She decided to take a chance on a new city: Fort Worth, Texas.
I ask Tareka what drew her to Fort Worth. She recalls, "I had some family in Dallas, but I decided to give Fort Worth a try instead. I'm so glad that I did." At first, the move was about making ends meet. "I had to get a job, any kind of job. I had bills, and working is all that I did." Starved for her creative outlet, she started to question her move. "I don't know what happened. I turned 30, and I really felt like I was living a purposeless life." Still craving creative opportunities, Tareka fantasized about becoming a classically-trained pastry chef. She remembers scrolling the internet one day when a pop-up ad for Le Cordon Bleu Culinary School in Dallas came across her screen. "I remember that moment like it was yesterday. It shocked me a bit into remembering my plan."
Jarred back into reality, she clicked on the ad. She was surprised to learn that this would be the very first year that they would offer training in pastry and baking. She did not hesitate. She applied and learned that the process would require an interview.  Tareka reflects back on the interview, "He wanted to know how I would stand apart from the other applicants in the areas of passion and dedication. He explained that I would need these attributes in order to be successful as a pastry chef. He asked me whether I possessed these in addition to discipline." She laughs, "By the end of our interview, it was clear to him that I was serious about this."
So serious, in fact, that she re-worked her entire life to make this happen. Because she had to attend class and train during the day, she quit her full-time job and worked wherever she could, including a local school cafeteria to make ends meet. The program required her to take an internship for the last three months of her training. Le Cordon Bleu advised their students to take a paid internship to help support themselves while they trained. While Tareka researched opportunities, another talented baker in Fort Worth was posting a position for an internship in her bakery.
Robbie Werner of Stir Crazy Baked Goods was baking up some magic of her own in her first shop close to Main Street.  Tareka learned of the internship opportunity with Stir Crazy. She recalls instantly falling in love with the bakery and the neighborhood, the Near Southside. There was a catch: it was an unpaid internship.  "Robbie was starting new at that time and really couldn't afford to offer a paid internship. I had a feeling about the opportunity, and I took a chance on it."
Tareka would soon learn that her hunch would pay off. What Robbie and her team offered her proved to be much more valuable than money. "She let me in. She taught me the business. She showed me how to use social media to advertise." And Tareka soaked it all in and made it work on her end. "Sometimes I would arrive to Stir Crazy in the morning with my gas tank empty. I would take the tips that I made and put a little gas in my car and grab a burger on the way home. I remember having so much joy during this time. I loved working at Stir Crazy, and I knew that if I could get through this phase, it would pay off. And it did." She sheds a few tears as she shares this, and so do I.
Soon after graduating from Le Cordon Bleu, Tareka landed her first opportunity to be a full-time pastry chef. As she dazzled her employers with her passion and skill, she kept her eyes focused on her goal. In order to do so, she knew that she would have to work twice as hard, making her employers shine while building clientele and growing a business of her own. In good faith, she ensured that her employers knew of her ambition and burgeoning business on the side. After baking, decorating, and delivering cakes for her employers, she would hurry to deliver her own orders. "It got a little tricky during this time, I had some close calls when making deliveries and trying to be on time."  Powered by grit and passion, she pushed past exhaustion and pressed on. She describes herself as a "calculated risk-taker. I worked my 9 to 5 until I no longer had to." With years of growth in her business behind her and 30 event orders on the books for the upcoming year, she knew it was time to launch her business in a store front location.
It just so happened that Stir Crazy was moving to a new location on Magnolia. The original location on Daggett and Main Street was now available and ready for a new owner and a new dream.  "It was for me, I knew it, and I knew that I had to act on it." In 2017, she moved on her opportunity. It did not all just fall easily in line. She describes, "One of my loans that I was counting on fell through. It was so hard trying to launch this effort without proper capital. You can write out your one- and five-year plan, but it's not a given. When your time comes, you have to take it. I just kept going, and it finally happened after a lot of work… and tears." I ask her how the first year was. "It was hard. I can't tell you how many times I wondered if we were going to make it at all. I wondered if we would even be here in another year."
She could not have launched her business in a better location or at a better time. Located in the Near Southside district, the bakery was natural fit for one of Fort Worth's rising creative communities. She explains that several popular event spaces are close by, and across the street, a wedding boutique is slated to open soon. I ask Tareka about her experiences as a business owner in this area. She remarks, "I've never experienced anything like this. There's a strong sense of community and ownership. There are over 200 business owners who come together to rally and support one another. Everyone here wants to see everyone succeed. We look for opportunities to help one another in business. If someone in this group of business owners is celebrating a launch or an anniversary, they may come to me to do the cake. I love this place."
This community is noted for its creative minds, progressive entrepreneurs, and for diversity in thinking. As a woman of color, Tareka adds an element of diversity that is not as well-represented in this group. I ask her how she navigates this. "Of course, I am aware, but I feel like diversity and diverse ways of thinking are welcome here. I know who I am, and I'm confident that I have something to offer this community. My work speaks for itself. I remember that when I walk into the room, and I feel supported by this group of business owners in my work."
I ask Tareka about the future and what she is planning next. She smiles and leans back. "I had outgrown the space before I really even moved into it. I'm looking to grow organically. I meet with my team regularly and pick their brains. I'm constantly watching for any opportunities. I would like to open an offsite kitchen and build Loft22 Headquarters. I really need a larger kitchen. We are in the peak of one of our busiest seasons, and it gets a little complicated in here, but we make it work."
I ask her to tell me about how she named her business. She replies, "I always wanted to start my business in a loft-like area, I didn't want anything too pretentious or stuffy. My last name is Lofton so I decided to use that plus the number 22 because my birthday is September 22nd." Clever.
As we finish our conversation, I ask Tareka what she wants her clients to experience at Loft22. She immediately answers, "True Southern hospitality at the intersection of your life events. It's the most important thing to me." After we part, I climb into my car with an unconscious grin on my face. It takes me a minute to realize it. Reflecting on our time together that morning, I realize that I now have one more reason to appreciate this city.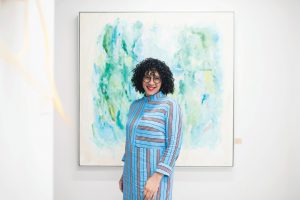 Danika Franks is an extroverted introvert, and super chatty conversationalist that loves to move right past the superficial into a meaningful and vulnerable conversation expeditiously (brace yourself). Danika finished the 23rd grade and landed a career as an emergency medicine physician. She recently transitioned into an administrative role within medical education. Danika's left and right brain are in constant competition as her inner- scientist/clinician competes with her inner-interior designer. In addition to her own spaces, you will frequently find her collaborating with friends and sometimes complete strangers (on a Target run) in designing their spaces. She is exploring a way to appease both sides of her brain by looking at how intentional interior design can improve both the medical training learning environment and the patient experience in hospitals and clinics. Danika lives with her husband, Chauncey, and three munchkins, Eli, Eden and Elle. Somehow, despite being seasoned parents, Chauncey and Danika agreed to get two English bulldog, Ferdinand and Bleu.