You may recognize her name; it's emblazoned on the Joan Katz Cancer Resource Center at Baylor Scott & White All Saints. Joan Katz has helped to raise tens of millions of dollars in the quest to triumph over cancer, not just for the facility that bears her name, but also as co-founder of the Susan G. Komen Tarrant County Affiliate/Race for the Cure. She has spent untold hours volunteering and leading fundraising efforts for local organizations, including the Gladney Center for Adoption, Cook Children's Hospital, and Trinity Valley School. Katz has also launched a daycare program for teenage mothers and a summer camp for children who are grieving the loss of a loved one. Her accomplishments could truly fill a book. 
But for the people who know Joan, she is so much more than the name on one of Fort Worth's preeminent cancer centers. She is the comforting voice on the phone, the outstretched hand, the warm words of encouragement at just the right moment. She's the type of person who makes you feel like you matter and that you are not alone. She is a person who genuinely cares.   
Joan is also a four-time cancer survivor who has struggled with heart disease and infertility. She has faced the darkness; she has wrestled with overwhelming fear. Now she shines a light for others who must walk a similar path, determined to be a beacon of hope so that no one will have to face their journey by themselves. 
Joan was diagnosed with breast cancer for the first time when she was just 30 years old. It was 1982, long before our modern era of pink ribbons and walks for the cure. Today, "early detection" and "breast self-exam" are familiar buzzwords, and the National Football League plays in pink cleats for breast cancer awareness every October. In the early 80s, the disease was still quite stigmatized. "[Breast cancer] wasn't talked about. I wasn't educated about it," says Joan. "Now there is a lot of information, but there wasn't back then…I was so naïve." After finding a lump, her doctor sent her to have a mammogram right away. "I had to call my mom on the way and ask her what that was." 
Soon, Joan was being wheeled into surgery for a mastectomy, her world turned upside down. "In an instant, I had entered a scary world of unknowns," she says. "People all around me, their lives were going on, and I was just… frozen, waking up in the operating room." Joan had little idea of the difficult recovery process ahead. "I wondered if the knot in my stomach would ever go away." At a doctor's appointment with her husband Howard at her side, words swirled inside her head: radiation, chemotherapy, hysterectomy. "I was just so overwhelmed," she recalls, emotion still rising in her voice all these years later. "My husband turned to me and asked, 'How do you eat a really big elephant?' The only way to do this is one bite at a time. That is what we did then, and how we still try to live our lives, focusing just on the step we are standing on." 
Breast cancer wasn't the first health issue that Joan had to cope with; she and her husband had struggled with years of infertility. When she was first diagnosed with cancer, the couple had just been approved by the Gladney Center for Adoption and were waiting for that magical phone call to tell them that they were going to be parents. "We were so excited to be approved and waiting to adopt." Their nursery was already decorated and ready to welcome a child. "We did polka dot in primary colors," she remembers. "We went bold… the dust ruffle was in one color polka dot, and the sheets were in another." But her diagnosis put all their plans on hold. "We just shut the door [to the nursery], not knowing what would happen. We had to focus on my health." 
After the operation, the chemotherapy, and the hair loss, Joan's oncologist encouraged her and Howard to rejoin the waiting list at Gladney. They became the parents of a little girl, Lori. The door of the nursery was back open. "I can totally remember the joy when we got that phone call." she says. "[It] was beyond our greatest hopes, wishes, and prayers. Our daughter was a dream come true." 
Lori was in the third grade when Joan was diagnosed with breast cancer for the second time, in 1992. "It's so hard when you're diagnosed with a little one. That made it much more real, having a child and wanting to be there for the child." Joan's cancer returned again in 1996, when Lori was just beginning the difficult transition from child to woman.  
"I was starting to do my treatment for that third diagnosis, and Lori and I went to Dillard's to shop for bathing suits. Well, she was in seventh grade, and she was really very curvy. She was wanting to wear these skimpy little bathing suits, and we got in a huge fight over it. And I remember coming home thinking, 'I am coping fine with cancer, but I am not coping fine with this fight over a bathing suit!'" Although motherhood and cancer have very different challenges, they are connected by the shadowy specter of uncertainty. "Going through a cancer diagnosis is so uncertain, and there are no clear answers. If you knew the answers, you would do it. And raising children is the same way."  
Today, we're all facing a fresh variety of uncertainty with COVID-19. Joan is in a higher-risk group, and like all of us, she has experienced the anxiety of the time. "We're human, you know. It's hard. I always say it doesn't do any good to work yourself up, but we're human beings, so sometimes you just have to give in to it." To de–stress, she takes walks, does Pilates, and plays games on her iPad. "Certain television shows can help me relax. I probably don't want to admit it," she laughs, "but the Hallmark Channel is really good during the coronavirus, because it always has happy endings."  
She also tries to prioritize self-care. "We are in charge of our health mentally, physically, and spiritually. We need to make this a priority. We cannot be there for anyone else if we do not take care of ourselves. Sometimes you feel like you are being selfish if you are doing something just for you. But you deserve it. Everyone does." Still, she admits, "I'm probably one of the worst, because I'm always doing, always going, and busy. But over the last few years, I've realized that you can't get everything done in one day. It will still be there tomorrow. Just try to remember to do something for yourself as much as you can. Every day." 
Having cancer has given Joan unique insights for dealing with the COVID-19 pandemic. "No one chooses to have cancer. But actually, you live your life in a much better way because you've had cancer," she explains. "[It] teaches you about what's really important."  
Cancer and the coronavirus offer similar lessons: Today is a gift. Don't put things off because everything can change in an instant. If there's something you really want to do, you should try to make it happen. Have as few regrets as possible. Hold on to the people that you love.  
"Whether you're a cancer survivor or you're living through a pandemic, the best way to go through any crisis is not alone." 
Thanks to the Joan Katz Cancer Resource Center, no one will ever have to face the crisis of cancer alone. Located at Baylor Scott & White All Saints in Fort Worth, the Center offers a wide range of support for people who have been diagnosed with the disease, from nutritional counseling and exercise classes to state-of-the-art surgical procedures. All non-medical services are free to all patients and their families, regardless of where they receive their direct medical care.  
"When your world gets turned upside down…you want it to be fixed, and you want to have the answers right away. And that's why the Cancer Center was formed, so that people would have a place to immediately turn to for answers." Each patient who calls the Center is connected with a 'navigator' for immediate help with any type of cancer. "That person will take your hand, and they will guide you through everything. They'll be there to answer questions, they'll be there to help you get resources," explains Joan. "They will walk through this whole experience with you." 
The navigation services offered at the Center are informed by Joan's experiences with cancer, including a diagnosis of bladder cancer just a few years ago. "It's overwhelming at first—totally overwhelming," she says. "But I always tell other survivors that the knot in your stomach can go away. You can go on, and you'll live your life in a better way because you have gone through this… If you had told me as that 30-year-old about all the things that I would get to do, and that I would still be here 38 years later, and that I would have gotten to be a mom, and now a grandmother, I would have never believed that." 
"You have to hold onto hope and faith… We do not have a cure yet for cancer, but there have been amazing advancements and funding for scientific research. Every single day offers a brand new hope that medical breakthroughs will finally outrun the disease." Joan advises to ask plenty of questions, and don't forget to eat the elephant one bite at a time. "Don't get too far ahead of yourself. Picking your medical team is important, so don't feel like you have to do it so fast that you don't form the right partnerships. You can get second opinions, and that's all okay." Most of all, "remember that it will get better. And let people help you – that's the hard part… There are times in life when we all need help." 
If you have a friend or loved one who has been diagnosed with cancer, it can be difficult to know what to do or to say. But you don't need the perfect idea – just make sure that they aren't having to go it alone. "Try to help them access support services… and just let them know you care… just feeling supported means everything."  
"Just do something for them," says Joan. Bring them a plate of food. Show up with a bag of groceries. Give them a gift certificate to a house-cleaning service. Offer to do specific chores, like walking their dog or handling the laundry. "Emails and texts are really nice." But be careful not to burden the patient with questions that put the ball back in their court, such as, "What do you need?" "What food do you really want?" "How can I help?" These offers seem kind on the surface, but someone dealing with a crisis is already juggling too many balls, so don't ask them to figure out what you should do to help. Just help. "It's not the size of what you do. It's just mainly letting them know that they don't have to do this by themselves… That's really important." 
We may not all be able to raise millions of dollars or launch a nationally renowned cancer resource center, but we can all send a text or an email. We can all sit with a friend who is hurting, as Joan has done so many times. Small acts can have a big impact, and great things are achieved with little steps. Joan's mission to help cancer survivors started with a single 5K race and has grown into a lifelong journey, fueled by the support of countless others. "I feel so amazed that I've been able to be part of so many group efforts that have resulted in so many things for our community," she says. "We've all done it together." 
Joan's contributions will last for many generations, echoing through the lives of so many families. But even beyond her many good deeds, she lights the way for others with her hope, strength, and perseverance. "I don't want to just be known as a cancer survivor. I am grateful to be a cancer survivor, but I don't want to be known just for what I've done. I want to be remembered for the person that I am… I want to be remembered as a good family member, a good mom, a good grandmother, a good person." 
Bad things happen, but with the help of people like Joan Katz, we'll get through them – together. From lofty accomplishments to small moments of kindness, she inspires us all to shine a light in the darkness.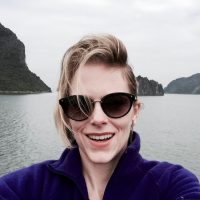 Raised in the Fort Worth area, Shilo Urban moved to Austin, Maine, Paris, Seattle, New Zealand, and Los Angeles before finding her way home a few years ago. Along the way, she has had over three dozen different jobs, including high school French teacher, record label manager, and farmhand for endangered livestock breeds. She's traveled to more than 50 countries and always has the next trip planned. Shilo has been a freelance writer for over a decade and has published in Fort Worth Magazine, Fort Worth Weekly, and Afar. Her interests include lost civilizations, jalapeño peppers, and Game of Thrones. She is currently writing a thriller and lives in Fort Worth with the stars of this article, Steve and Lenny.