Madeworthy, Recipes
Madeworthy's Family Fresh Recipes: Wishbone & Flynt, Dixya Bhattarai, and Central Market
Our Fresh Family Recipes from our 2021 Health & Wellness issue (January/February) features recipes from Wishbone & Flynt, Dixya Bhattarai, and Central Market. We hope you enjoy them!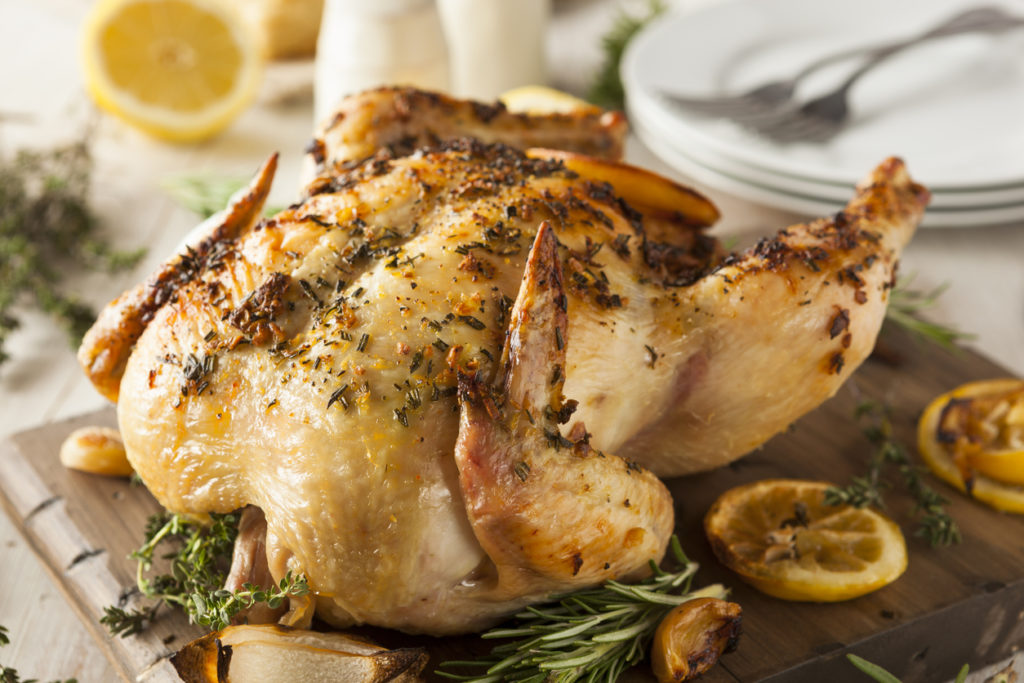 Wishbone & Flynt's Whole Roasted Chicken 
Executive Chef Stefon Rishel offers this delicious recipe for the perfect roasted chicken.  
Ingredients 
3- to 4-pound whole chicken (with giblets)
1 small bag of baby carrots
2 pounds Dutch Baby potatoes, marble sized
1 red onion, cut into large dice
3 celery ribs, chopped (Chef Rishel says, "By most definitions, a whole head of celery is a stalk, and a single 'stick' from the stalk is a rib.")
2 head of garlic, cut in half
3 cups of mayonnaise, Duke's or Blue Plate preferred
2 tablespoons herbes de Provence
1 package of fresh poultry herb blend (available in the produce section – this consists of sage, rosemary, and thyme)
2 tablespoons extra-virgin olive oil
Salt and pepper to taste 
Directions 
Preheat oven to 400°. Remove the giblets from the chicken and pat dry.  
In a large bowl, combine the giblets, carrots, potatoes, onion, celery, one halved head of garlic, two halved lemons, and the olive oil. Season liberally with salt and pepper and toss to evenly coat. Arrange the mixture evenly in the bottom of a roasting pan. 
Season the cavity and the outside of the chicken with salt and pepper. Stuff the cavity with the remaining halved garlic head, remaining halved lemon, and fresh poultry herb blend.  
Combine the mayonnaise with the herbes de Provence and rub down the chicken, making sure it is fully covered. Place the chicken on top of the giblets and vegetables in the roasting pan and roast between 1 and 1.25 hours, until a meat thermometer placed into the thigh joint reads 160° and the juices run clear.  
According to Chef Rishel, this is the most important part: when you remove the chicken from the oven, you must let it rest for at least 20 minutes before carving. This will ensure a juicy bird! 
Carve the chicken and serve with the roasted vegetables from the bottom of the pan. Pour the juices from the pan over the chicken and some rice. Serves 4 to 6.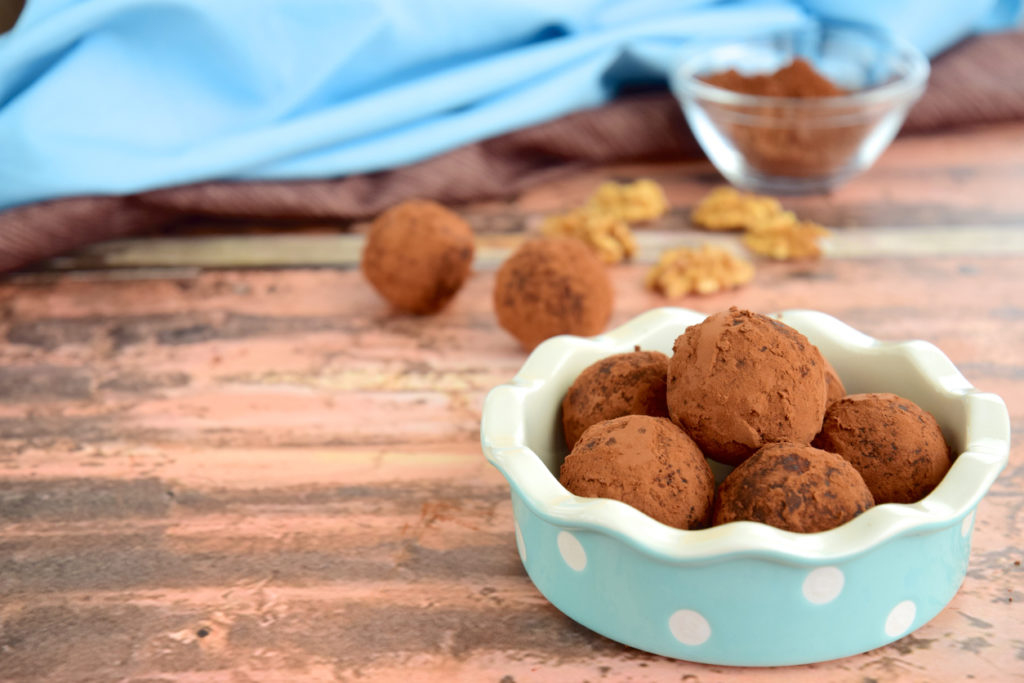 Chocolate Walnut Energy Balls 
Dixya Bhattarai is a registered dietician and a co-founder of The Table Market. These energy balls are sweet and delicious and packed with healthy ingredients.  
Ingredients 
1 cup old-fashioned oats
2 tablespoons unsweetened cocoa powder (may substitute carob powder)
1/3 cup chopped walnuts
Pinch of sea salt
3 tablespoons coconut oil, melted
3 tablespoons honey
2 teaspoons vanilla extract
Toppings: coconut chips, chia seeds, sunflower seeds 
Directions 
Pulse oats and walnuts in a food processor until they become slightly coarse like tiny pebbles. Add in cocoa powder, sea salt, coconut oil, honey, and vanilla and pulse a few times until all comes together.  
Lightly oil your hands and take a heaping tablespoon of the mixture and roll it into a ball. (If the mixture feels dry, you can add a little more coconut oil and honey.) Gently roll the balls in the toppings of your choice. These should be stored in an airtight container in the refrigerator and popped when you need a kick of healthy energy!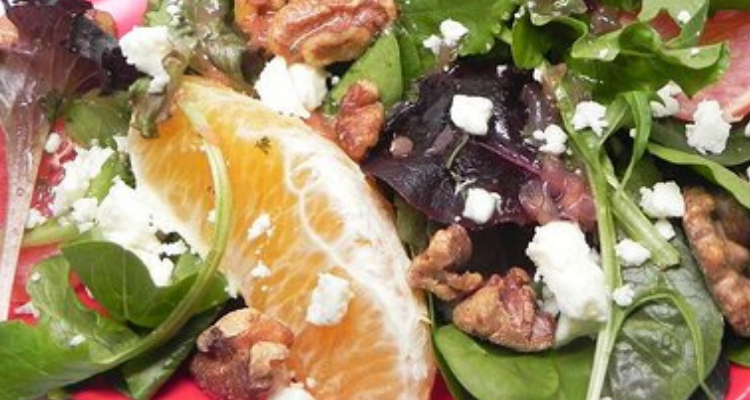 Spinach Salad with Citrus Vinaigrette 
This recipe from Central Market takes advantage of the beautiful winter citrus available now.  
Ingredients 
1 bunch spinach or 6 to 8 ounces of baby spinach, washed and drained
Salt and black pepper
½ cup walnut halves, toasted
4 ounces ricotta salata
1 ruby red grapefruit, skin removed and sections cut out (aka, cut into supremes)
1 ruby red grapefruit for juice
1 orange, skin removed and supremed (see above)
1 orange for juice
2 limes
2 lemons
1/3 cup champagne vinegar
1 shallot, minced
1 clove garlic, minced
¾ cup canola oil
¾ cup extra-virgin olive oil 
Directions 
Juice the grapefruit and orange. Zest one lemon and one lime and juice both lemons and both limes. Combine the lemon and lime zest and the citrus juices with the champagne vinegar, minced shallot, and minced garlic in a bowl. Gradually whisk in the canola and extra-virgin olive oil and season to taste with salt and pepper.  
Place the spinach in a bowl with the grapefruit and orange sections and the walnuts. Toss with ½ cup of the vinaigrette, adding more dressing if desired. Arrange the salad on serving plates, making sure that each person gets some citrus supremes and walnuts. Crumble the ricotta salata over the salad and serve immediately. Serves 4.