Holidays can be stressful. So is running a small business. The Sunflower Shoppe co-owner Erika McCarthy has some tips and tricks to deal with stress without losing yourself or your sanity. As this Fort Worth institution approaches its 50th anniversary, McCarthy reflects on what it takes to make a third-generation family business work while finding time to balance the family life that's kept it alive.
Madeworthy: Why did your grandparents start the business?
Erika McCarthy: My grandmother's sister was ill, and nothing was working medically. This was in the late 1960s, and my grandmother was inspired to do something preventive. She wanted to offer her friends and family options to stay healthy and create a better quality of life. Her goal was to complement traditional medicine, not replace it. Aloe vera was one of the first things she started selling, then local honey. She wanted to inspire change, and for her it started with a holistic approach to health
MW: What's your best seller?
EM: CBD oil. We've been carrying it for nearly 5 years — long before it was commercially popular. For us, reputation is everything. We've known about CBD oil for 7 years and kept our eye on the research before we decided to carry it. We don't make any false claims. There's a reason why we don't carry CBD drinks. We value what's right, clean, and real. People trust us. You have to keep high quality, good value, and competitively priced items. We source from tradeshows across the nation to get the very best products. Second to CBD is collagen. There are so many different types of collagen that work for so many different things. Our nutritionists on staff explain the differences and what could be the best option for you.
MW: What are the biggest health problems your customers deal with?
EM: Stress and sleep. With stress some people can't get to sleep, and lack of sleep affects everything.
MW: What are some strategies to deal with stress?
EM: A good starting point is a Vitamin B-Complex. [It] does various things, and it's one of the first nutrients your body pulls from when it's under stress.
But everybody is different… We don't just want to load somebody up with a bunch of pills. Customers come back and tell us their results. And over the past 50 years, we've seen a pattern of what works and what doesn't… like turning off screens and getting better sleep. Here, we don't look at just the symptoms, we look at the underlying cause.
MW: Who is your typical customer?
EM: In Fort Worth, it varies widely. We have people in their late 60s who have been doing aloe vera for years, and then we have young people who are just getting into living healthy lives. We are not commission-driven or hard sellers. To us, a good sell is something that helps customers live better. But we probably see women ages 35 to 55 more than any other demographic.
MW: What makes you different from other grocers?
EM: Customer service. Helping people from all walks of life solve their problems and feel better. That's how my grandmother did it. It's listening to your customer and building relationships that last for years and years.
MW: How do you keep kids healthy during the holidays?
EM: Get their immune systems healthy with fish oils, calcium, and a good B-Complex. Kids do get stressed. Elderberry gummies for kids are great. But overall, they need to get out and play and get off their screens.
MW: What's your favorite fish oil supplement?
EM: Nordic Naturals Ultimate Omega
MW: How do you maintain a healthy life/work balance while running a small business?
EM: I'm a big list maker. You make the list and prioritize. I've learned not to overcommit. The whole self-care thing is so important. It's that simple. If your back is aching or you're feeling depleted, then reset. Take care of yourself, take care of your family, and you've got to put God up there. [The Sunflower Shoppe] is not just a job, it's a family legacy. I'm very deadline driven; I love a good plan. Sometimes that means turning your phone off and giving something your full attention. You work with what you've got to stay healthy.
MW: How's it working with your family?
EM: It's great. There's never a dull moment! We don't take ourselves seriously, we take the business seriously and work very well together. Keep it simple. Take care of yourself. And keep your priorities in check.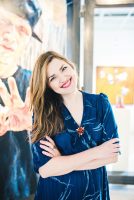 For more than a decade, Sarah Angle has worked as a Texas-based writer. She began her career as a daily newspaper reporter and photographer, and now splits her time between journalism and marketing communications. In 2014, she won first place from the Association of Alternative Newsmedia for her feature story "From the Land of the Lost." The following year, she earned a fellowship from the Investigative Reporters and Editors organization and became a board member for the Society of Professional Journalists, Fort Worth chapter. Currently, she teaches in the School of Strategic Communication at TCU. Sarah lives in Fort Worth with her darling daughter and a house full of books and mid-century modern décor.