North Texas
Experience the Ultimate Luxury Getaway at Rocker B Ranch
Take the backroads to Rocker B Ranch and explore this hidden gem.
You'll feel inspired the moment you step foot on this private, 320-acre venue. What started as a family ranch has evolved into a destination getaway for special events that are transformed into unforgettable experiences. Hit a home run and score a massage at the spa. Take a shot on the clays course followed by a calming swim in the pool. Dance against a backdrop of Palo Pinto's beautiful countryside and cap off the night with timeless lawn games. Feast. Celebrate. Have a blast—and have it all to yourself at Rocker B Ranch.
Located 67 miles west of Fort Worth, just past Mineral Wells, Rocker B Ranch is a one-of-a-kind venue with an undeniable element of relaxation. Developed by Lance and Lauren Byrd, the Ranch has a rustic yet elegant feel and authentic Texas character. Guests enjoy exclusive access to the gated Ranch's impressive private facilities, including two lighted baseball fields and an indoor, open-air arena.
Pristine baseball fields are just the beginning to this incredible retreat. A bubbling jacuzzi and fully-equipped fitness center overlook the perfectly manicured driving range and tree-filled valley. You'll find a batting cage plus courts for volleyball, basketball, and tennis. Dine in the Clubhouse, the social hub of the ranch with hand-hewn farm tables. Enjoy an afternoon of sports games on five large televisions in the ultimate hangout spot, formally known as The Dugout. It's decorated by autographed memorabilia of some of major league baseball's finest heroes, including Mickey Mantle, Willie Mays, and Nolan Ryan. Chill out on the covered porch or challenge your friends on classic arcade games like Asteroids and Galaga.
Roots at Rocker B Ranch run deep. The land was once inhabited by the Comanche and famous cattlemen, including C.C. Slaughter and Oliver Loving. When the Byrd family bought the ranch in 2005, the only structure on the property was a dilapidated barn that still stands today. The first addition to their family Ranch was a tennis court, constructed to lure Lance's wife, Lauren, to the property. And it worked! "It started as our family ranch and, slowly, we added amenities," explains Lauren, mother of Blakely (age 15) and Ryland (age 12). "For our own kid's baseball experience, we added the baseball fields. Accidentally, we turned it into what it is today."
Lauren joined forces with her good friend and talented Fort Worth designer, Ro Rynd, to create spaces that feel luxurious and distinct. With a capacity to sleep 75 guests, rooms include red brick showers, shiplap walls, and custom-made natural wood beds. The Lodge, completed in 2017, consists of ten private hotel rooms and two spacious bunk rooms. Four cozy cabins, a "Locker Room" overlooking the H.K. Bonds Baseball Field, and a Skybox displaying a panoramic ranch view provide additional lodging. The Ranch is home to an impressive array of artwork collected on the Byrds' travels, including a Remington sculpture, a large cowboy painting from improv painter Dan Dunn and works by musician, Pat Green.
With uncommon charm and a gorgeous setting, Rocker B Ranch welcomes a diverse variety of events: weddings, Little League tournaments, benefit concerts, birthday parties, church and corporate retreats. This summer, Rocker B hosted the Backroads Music Fest, featuring the best in Texas Country music: Pat Green, Casey Donahew, Randy Rogers, Koe Wetzel, Stoney LaRue, Wade Bowen, and Micky and the Motorcars. In addition to the solid lineup, they also offered air-conditioned glamping tents, food trucks, pop-up shops, and a big stage overlooking home plate of the Byrd Family Field.
Weddings at Rocker B Ranch are infused with whimsy and romance, from intimate ceremonies to lavish receptions. Guests stay on-site where they can enjoy the amenities and avoid the stress of traveling between venues. Brides have the freedom to tailor their wedding to reflect their unique personality, with special extras, such as private concerts, line dancing lessons, and celebrity chefs. A commercial kitchen, fit for a culinary master, offers an ideal place to prepare anything from a casual ranch meal to gourmet wedding fare.
Nearby, you can go canoeing, hunting, play golf, or request the ranch's Striper fishing boat on Possum Kingdom Lake. There are also antique shops and quaint cafes to explore in downtown Mineral Wells, although the most popular activities are right here at Rocker B Ranch. "The great thing about the ranch is there is no need to leave," says Lauren, "nor do guests typically want to!"
Rocker B Ranch is available for overnight guests and daytime events Monday through Thursday. There is a two-night minimum on weekends. Learn more about the ranch at www.rockerb.com and sign up for email updates on upcoming events.
To schedule a tour call 682.747.0581 or reach out to hello@rockerb.com.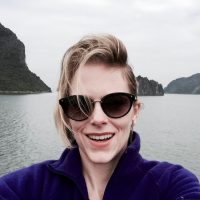 Shilo Urban lives for adventure, loves dogs, and reads books like it's going out of style (which it is). She writes about music, food, art, design, events, and travel – all the good stuff. Raised in the Fort Worth area, Shilo moved to Austin, Maine, Paris, Seattle, New Zealand, and Los Angeles before finding her way home a few years ago. Along the way, she has had over three dozen different jobs, including high school French teacher, record label manager, and farmhand for endangered livestock breeds. She's traveled to more than 50 countries and always has the next trip planned. Shilo has been a freelance writer for over a decade and has published in Fort Worth Magazine, Fort Worth Weekly, and Afar. Her interests include lost civilizations, jalapeño peppers, and Game of Thrones. She is currently writing a thriller and lives in Fort Worth with her two wiener dogs, Steve and Lenny.