Recipes
Lucky New Year's Foods Around the World
2021 is almost upon us. That means that 2020, a year without precedent in recent memory, can go far, far away!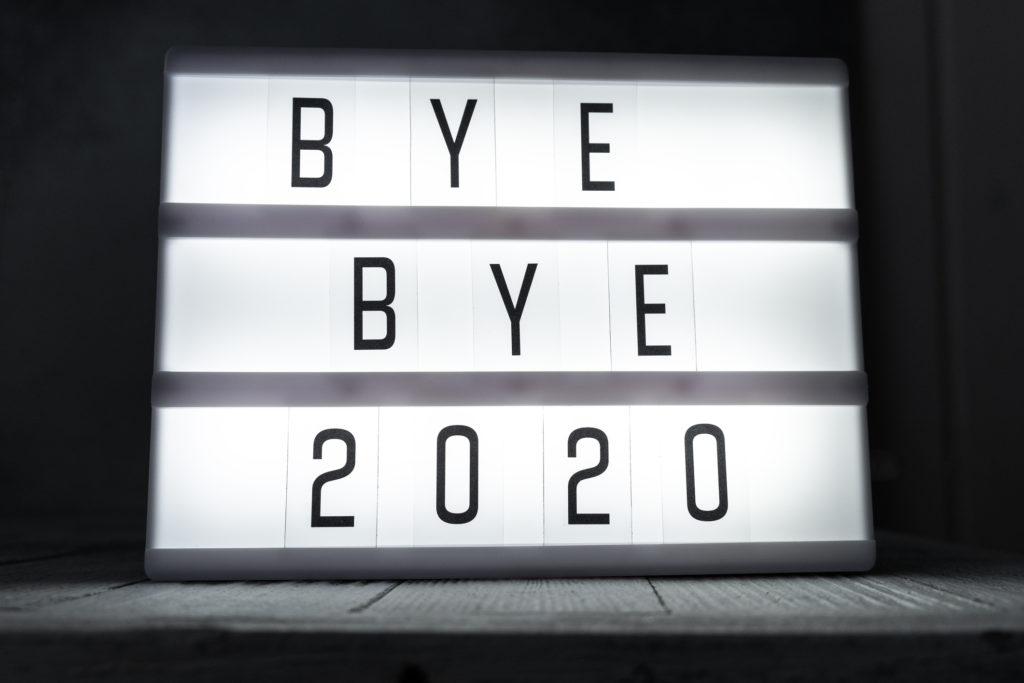 To celebrate the turning of the new year, I've collected some New Year's food traditions from around the world. Let's face it, we all could use some luck and prosperity these days. I've also included some recipes that my family loves – I hope yours will, too!
In many countries, round foods, especially sweets, represent the cycle of the year. The old year has gone, and the new year has arrived. Germans, Dutch, and Estonians enjoy various round fried doughs, so if you want to indulge, why not make/buy donuts for a New Year's breakfast?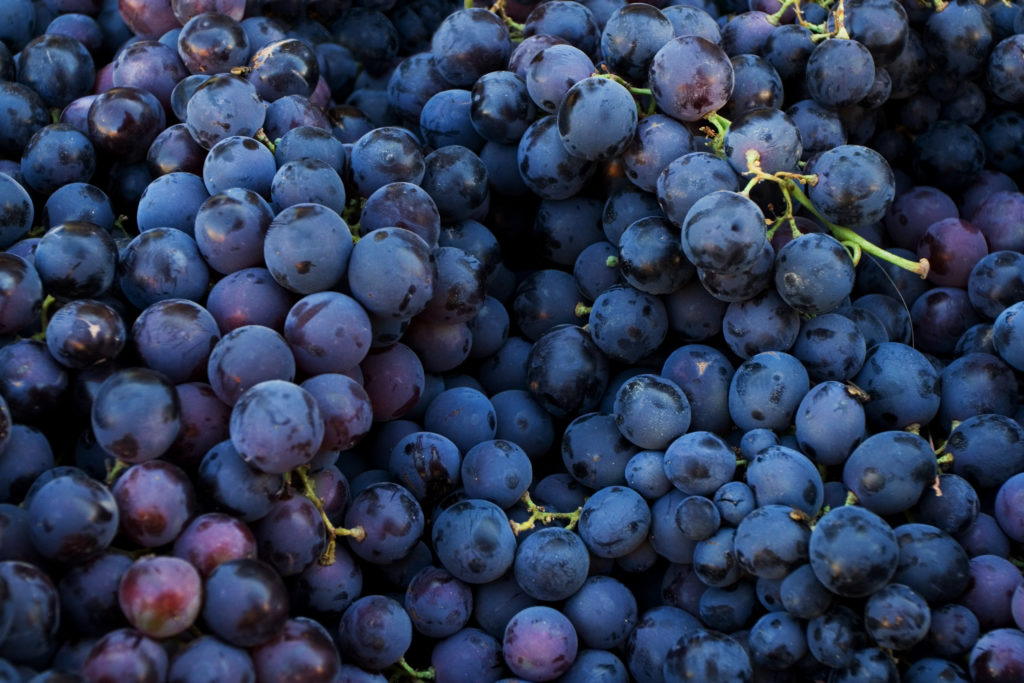 The Spanish believe that if you consume 12 grapes with the 12 strokes of the clock at midnight, you will have good luck. In some areas of Mexico, a single grape is eaten at midnight representing a wish that will come true in the following year.
Pork is a common dish across many cultures on New Year's. Some believe this is because the pig roots while moving forward, as opposed to cows who eat standing still and chickens who scratch backward. (Similarly, fish is often eaten because fish swim forward, representing the casting off of the old year.) Other traditions eat pork because it was a food that was reserved for the wealthy and so represents wealth in the coming year.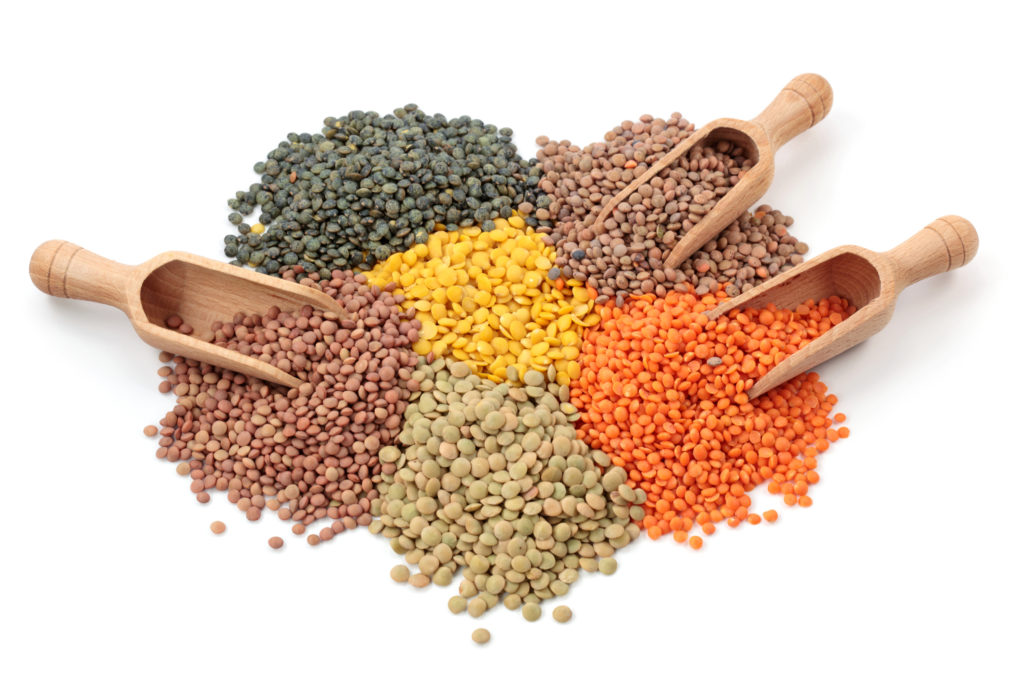 Several cultures eat lentils at the new year. The legumes look like little coins, and who doesn't want to be wealthier?
A favorite in Southern cuisine, black-eyed peas have a lucky reputation. Why? Some think that when General Sherman was marching through the South, his troops burned all foods in the fields except black-eyed peas, which were thought to be fit only as fodder for animals. Others think that the swelling of the bean as you cook it represents the swelling of your good fortune in the new year. I just think they're yummy!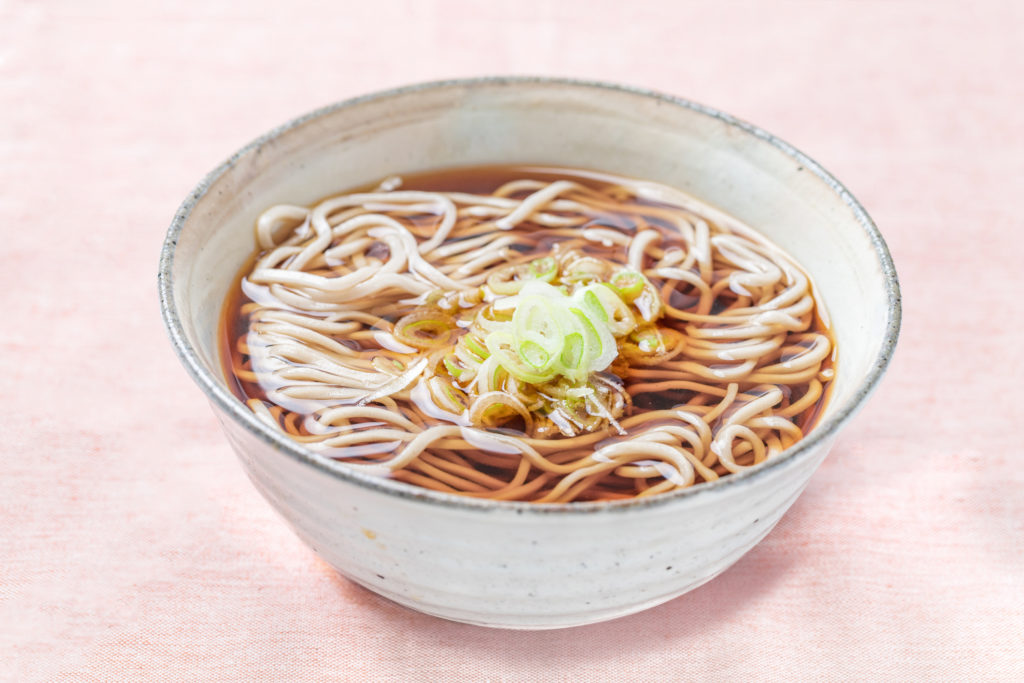 Long soba noodles are a Japanese New Year's tradition. Called toshikoshi soba ("year-crossing noodles"), you're supposed to slurp up these long noodles to bring about a fulfilling life. In addition, these chewy noodles are meant to represent the resiliency of the Japanese character. Throw in some mochi for sweetness, and you're ready for a fulfilling, resilient, sweet 2021!
Many cultures believe that eating something green – cabbage, kale, collards, etc. – on New Year's is essential. The greens represent money, and if you don't eat your greens, you're passing on any money that might come your way. So eat your greens!
In our house, we always eat Hoppin' John, greens with ham hocks, and cornbread on New Year's. However, I'm thinking of serving lentils, grapes, soba, and mochi, too. Anything to make sure that 2021 is happy, healthy, and fulfilling!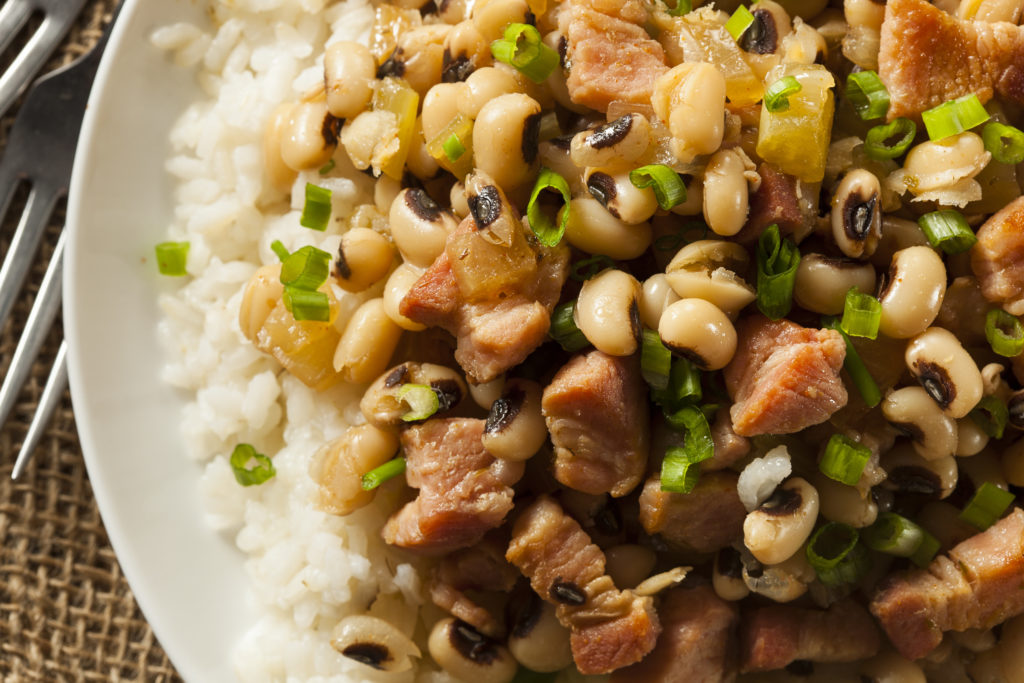 Hoppin' John
A staple from the area between Charleston and Savannah, Hoppin' John is a rice and bean recipe brought over from West Africa by enslaved Blacks. The combination of beans and rice is incredibly healthy, and the inclusion of some smoked pork and aromatics make this an inexpensive, yet lucky dish. I cook the beans and the rice separately to make sure they don't get all mushy together.
Ingredients
1 cup dried black-eyed peas, cow peas, lady peas, or other field peas
6 cups water
1 clove garlic, smashed
1 bay leaf
1 sprig fresh thyme
1 dried red pepper (optional – I use dried tabasco peppers if I have them)
1 large ham hock
1 to 2 tablespoons neutral oil (I use canola or avocado oil, grapeseed works well, too)
1 small onion, peeled and diced
2 ribs celery, diced
1 small green bell pepper, diced
1 to 2 cloves garlic, smashed, peeled, and minced
2 cups rice
4 cups chicken broth
Salt, pepper, vinegar, and hot sauce to taste!
Directions
In a large pot, combine the black-eyed peas, water, garlic clove, bay leaf, thyme, dried pepper (if using), and ham hock to a simmer over medium heat. Simmer for about 45 minutes to an hour, or until the peas are soft but not falling apart. How long you cook it will depend on the age of your beans. Drain the water, remove the bay leaf and thyme sprig, and shred the meat off the ham hock. Combine the meat with the beans.
While the beans are cooking, sauté the onion, celery, bell pepper, and garlic in the oil. I use a large sauté pan over medium-high heat for this. Add in the rice and toss to make sure that every grain is coated with the oil. Add in the chicken broth, cover, and reduce to a simmer for about 20 minutes. Turn off the heat and allow the rice to steam for another 10 minutes. Fluff with a fork.
To serve, ladle the beans and meat over the rice. Season with salt, pepper, vinegar, and hot sauce to taste. Serves 6ish.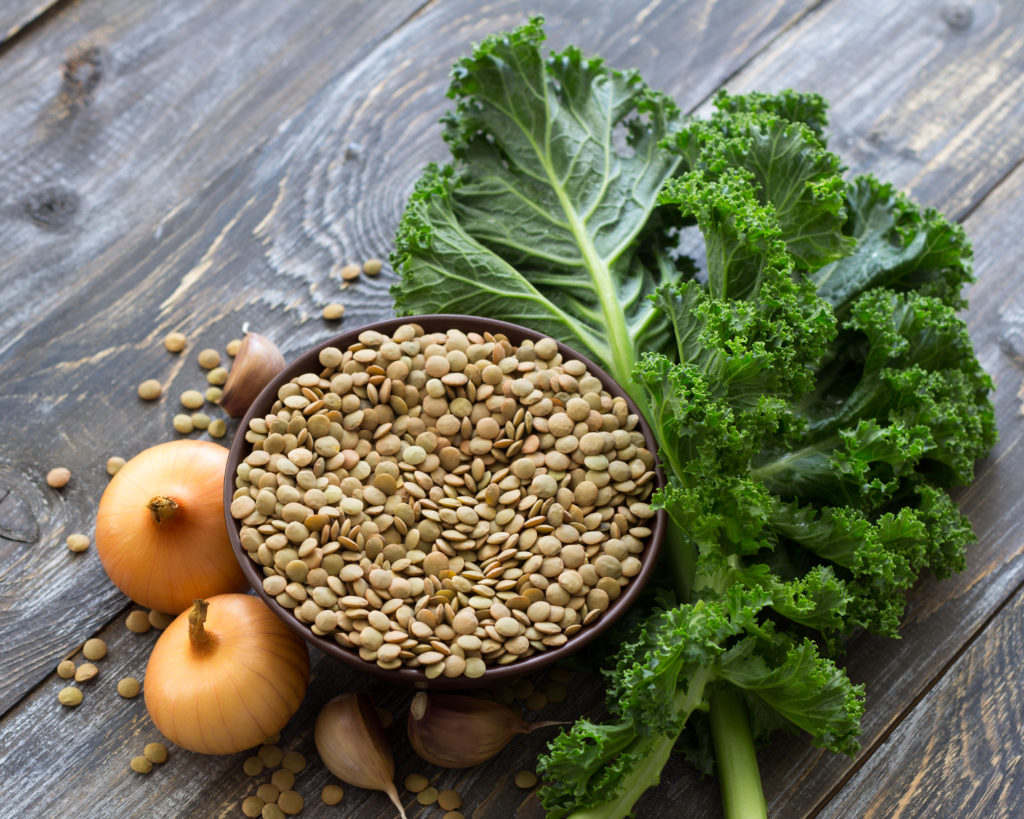 Lentil and Kale Salad with a Mustard Vinaigrette
This is a delicious side dish for almost any grilled meat or fish (bonus New Year's fish!). I also love it as lunch the next day.
Ingredients
For the salad:
1 cup brown or green lentils, rinsed and picked over
3 cups water, vegetable broth, or chicken broth
1 bay leaf
1 bunch Lacinato kale, rinsed, ribs removed, and thinly sliced into ribbons (called a chiffonade by foodies)***
1 bunch green onions, thinly sliced
1 red bell pepper, finely diced
1 hothouse cucumber, finely diced
½ cup feta (optional)
For the dressing:
1 minced shallot
¼ cup red wine vinegar
¼ cup balsamic vinegar
1 teaspoon Dijon mustard
¼ teaspoon dried thyme
¾ cup extra-virgin olive oil
Salt and pepper to taste
***Note: If you can't find Lacinato kale (also called Tuscan or black kale), you can certainly use curly kale!
Directions
For the lentils:
Combine the lentils, bay leaf, and water or broth in a saucepan and bring to a simmer. Simmer for 25 to 35 minutes or until the lentils are soft but not mushy. Drain and allow to cool for a few minutes.
For the dressing:
Combine the shallot, vinegars, mustard, and dried time in a jar and shake well. Add in the olive oil, salt, and pepper and shake like the dickens. The mustard will hold the oil in emulsion. This is just a great, general vinaigrette for almost anything!
To serve, toss the warm lentils with about ½ cup of the vinaigrette. Add in the kale, green onions, bell pepper, and cucumber and toss. If you need a little more dressing, add it and toss. Serve garnished with the feta (optional). Serves 6 as a side.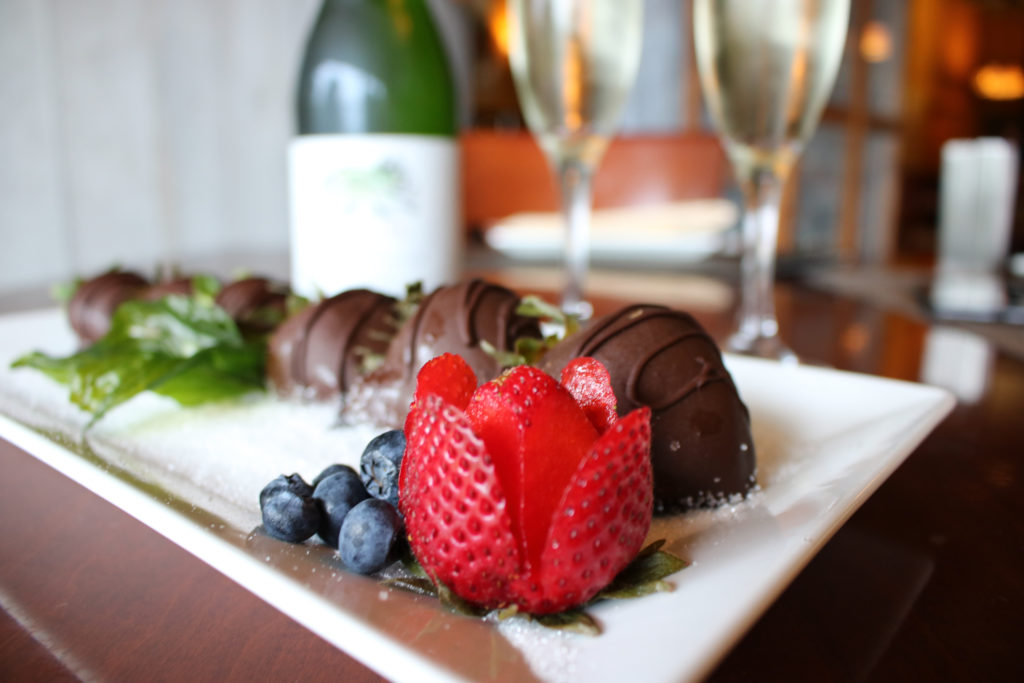 For dessert on New Year's, I usually serve chocolate and fruit with sparkling wine, but this year, I'll get some donuts!
2020 taught my family to count our blessings and keep our expectations small. So instead of wishing for wealth and fabulous luck and untold riches, I instead hope that your 2021 is filled with love and joy and good health. Happy New Year's!