Recipes
Three Sisters on a Chilly Night
Yesterday, as I pulled into the driveway after picking up the kiddo from school, I realized I hadn't gone to the grocery store as I had planned. I also realized that I had to make dinner.

After a brief panicked flail, I ran to the pantry. I had onions, garlic, fire-roasted tomatoes, canned black beans, canned corn, and cornbread mix. In the fridge, I had some pre-cut butternut squash, green onions, sour cream, and eggs. So I decided to make Three Sisters Stew with Cornbread Dumplings.
I'm a former chef who trained as a historian, so settle in for a bit of food history nerdiness. (Or you can simply scroll down for the recipe.) The Three Sisters refer to an agricultural technique used by indigenous people across North America. Corn, beans, and squash were grown together; this is called companion planting. The corn provided a trellis for the beans to climb, the beans in turn stabilized the corn and fixed nitrogen in the soil, and the squash shaded the ground, keeping the soil moist and preventing weeds from growing.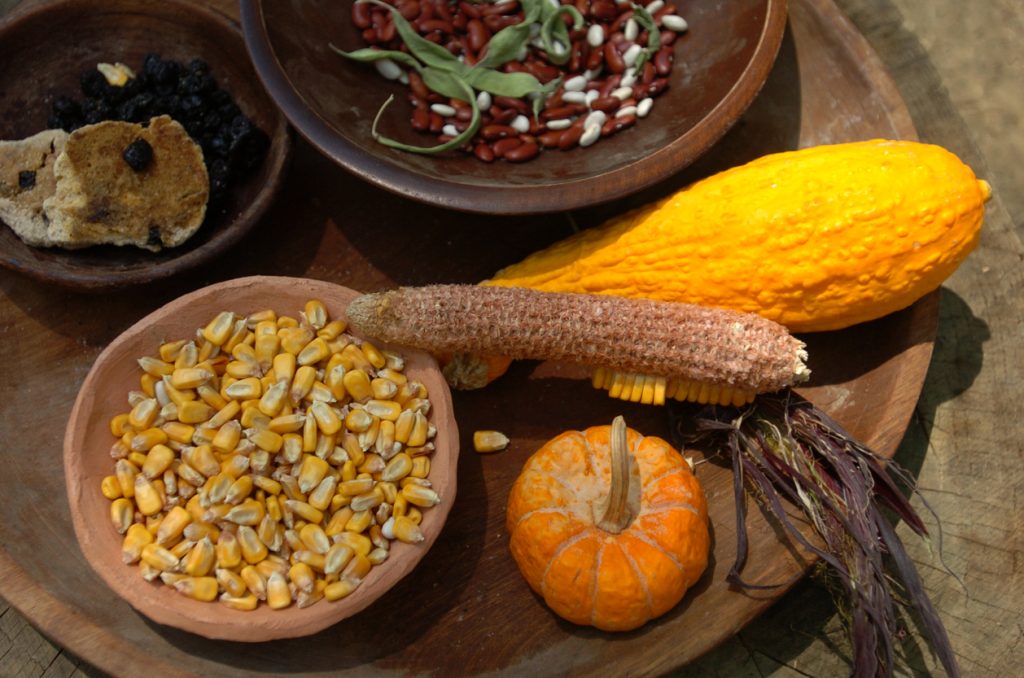 Food history nerdiness over! I hope you enjoy this hearty stew. We did!
Three Sisters Stew with Cornbread Dumplings
Ingredients
For the stew
2 tablespoons olive oil
1 tablespoon butter
1 medium onion, diced
4 to 6 cloves garlic, roughly chopped
2 teaspoon cumin
1 teaspoon ground coriander
1 teaspoon smoked paprika (I use a mix of sweet and hot smoked paprika)
1 teaspoon Mexican oregano
3 cups diced butternut squash or one container diced butternut squash
1 15-ounce can fire-roasted tomatoes
2 tablespoons tomato paste
1 15-ounce can black beans, drained and rinsed (you can use any kind of canned beans that you like)
1 11-ounce can vacuum-packed corn
1 8-ounce can creamed corn
1 32-ounce container low sodium vegetable or chicken broth
1 10-ounce bag chopped greens (I had a mix of collards, mustard, and turnip greens)
salt and pepper to taste
For the dumplings
1 package cornbread mix (I like either Corn-Kits or Martha White Yellow Cornbread Mix – they don't have added sugar, and sugar is NOT an ingredient in cornbread!)
1 large egg
1/3 cup sour cream
2 green onions, sliced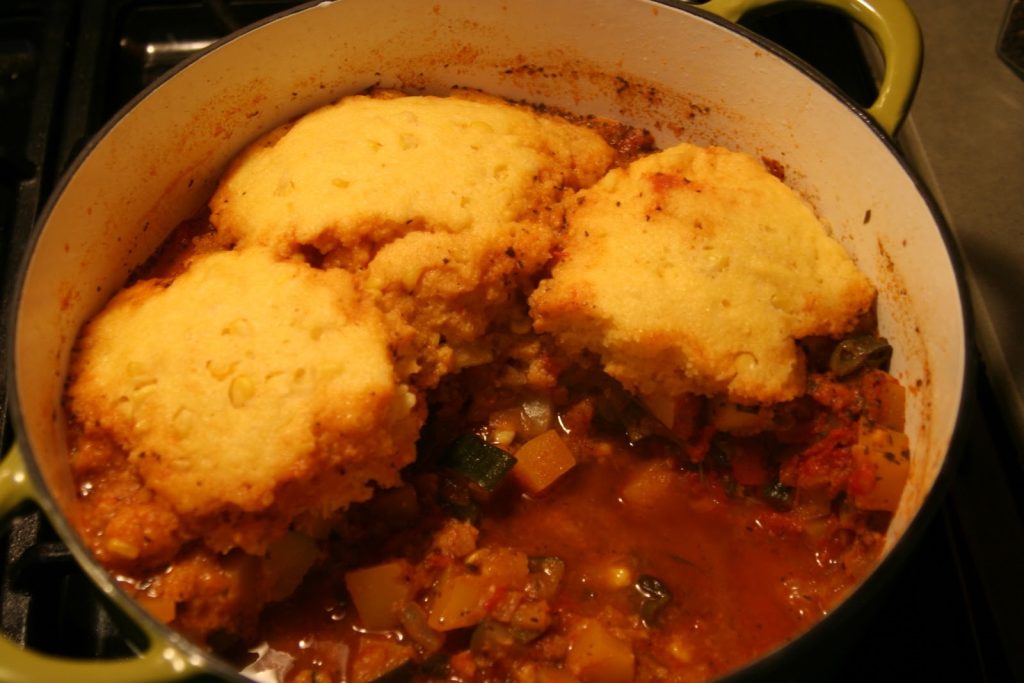 Directions
In a stockpot or Dutch oven over medium heat, sauté the onion and garlic in the olive oil until the onions are translucent, about 5 minutes. Add in the cumin, coriander, smoked paprika, and Mexican oregano and sauté for another minute. Add in the butternut squash, fire-roasted tomatoes, tomato paste, drained beans, corn, cream corn, and broth. Bring to a simmer, season with salt and pepper, and simmer for about 15 minutes. Add in the chopped greens and taste for seasoning. Adjust if needed.
While the stew is simmering, make the dumplings. In a large bowl, combine the cornbread mix, egg, sour cream, and green onions. Stir until a stiff dough forms. Once you've stirred the greens into the stew and adjusted the seasonings, drop the dumpling mixture by the spoonful into the stew. Cover the stew and steam the dumplings for about 10 minutes. The dumplings will puff up as the cook. After 10 minutes, remove the lid and test the dumplings by inserting a knife, skewer, or toothpick into one. If the knife, skewer, or toothpick comes out clean, the dumplings are cooked. If not, cover and steam for another 2 to 3 minutes.
Garnish the stew with more sour cream and some chopped cilantro if you like. This is a delicious and (relatively) healthy winter's night dinner!