When I turned 50, things changed.

After years out in the sun I realized my skin was looking dry and crepey.  For the first time in my life, I looked my age.
To combat this, I did what any confident, intelligent woman would do: I got on the Internet and ordered boatloads of potions that promised to turn back the clock. Some worked, some didn't, but most had to be used in certain configurations with other products on a specific schedule. I don't know about you, but my life is too crazy for that. I don't want to have to set up calendar alerts for my skincare routine.
Enter Sun Coast.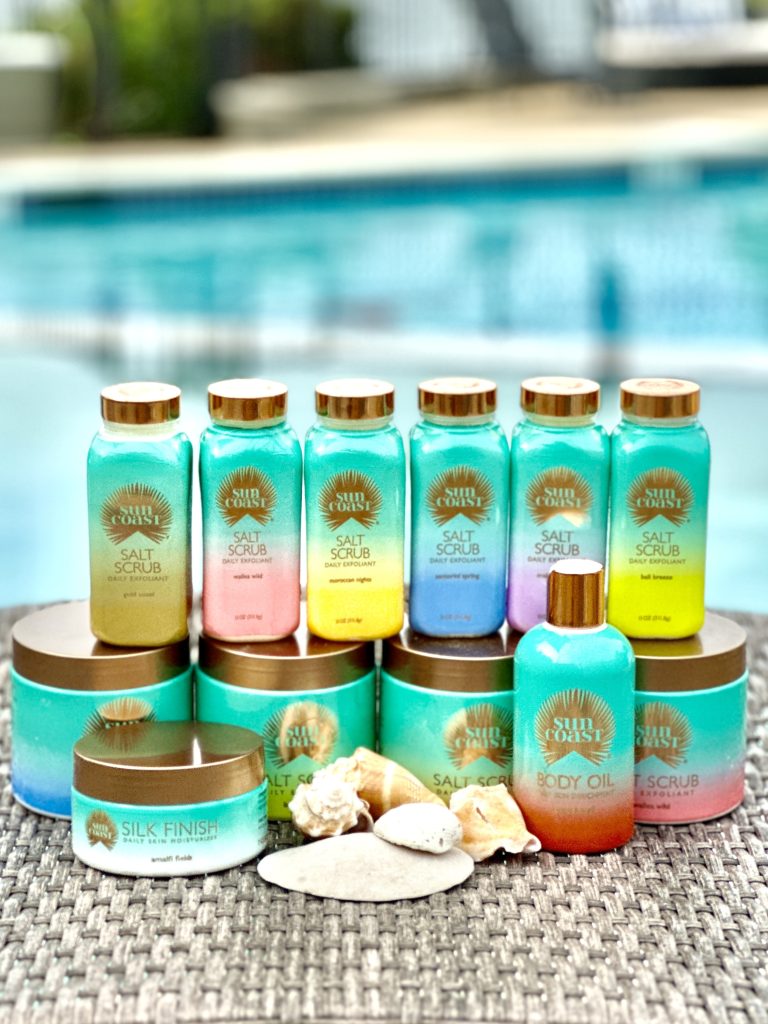 Last year, TWM writer Hannah Bush spoke with Sun Coast's founder Hollie Palmer for our Worthy Convos series. (See the article here.) Like me, Hollie wanted a skincare routine that was simple and clean and that WORKED. She reinvented Sun Coast to get that fresh-from-the-spa glow every day.
"I launched Sun Coast because nothing was working," Hollie said when I sat down to talk with her about how this Fort Worth-based, women-owned brand is growing. "I was spending lots of money but not seeing the desired results. I've been using Sun Coast products for a year and a half, and my skin is getting back to the soft, glow-y texture!"
[Editor's Note: She's right. Her skin is gorgeous.]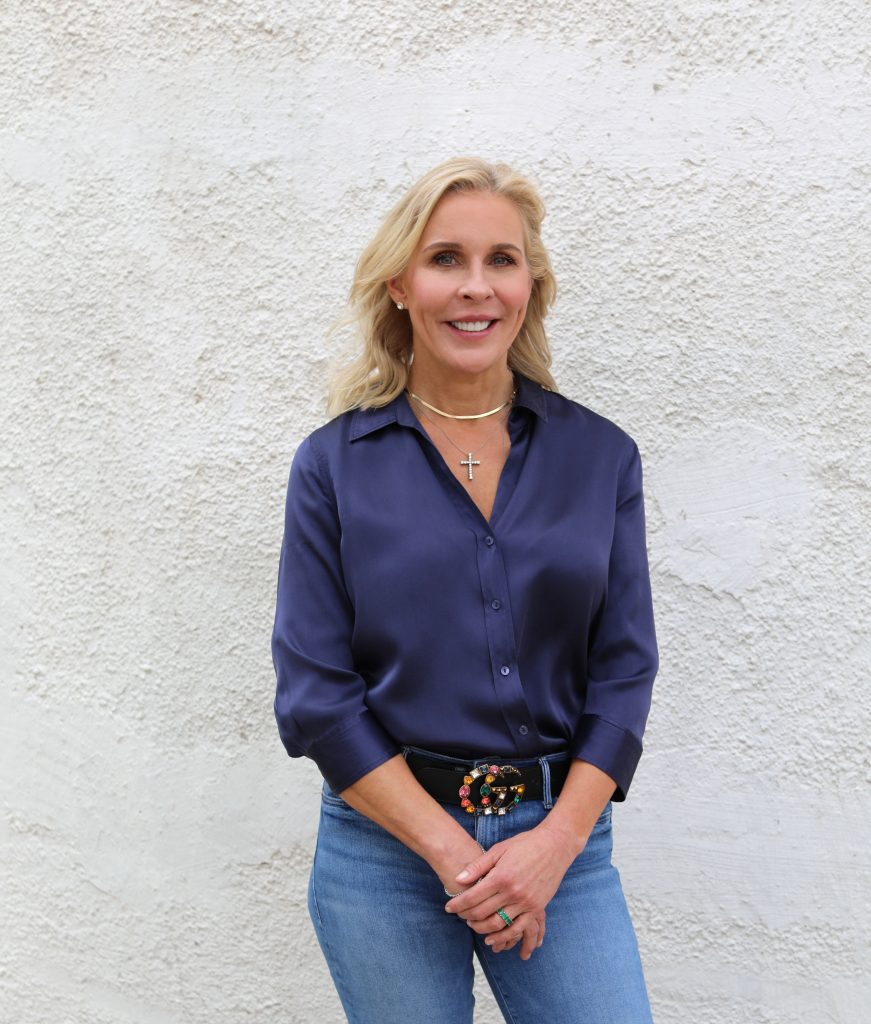 Hollie is slowly expanding Sun Coast's offerings of products made with clean, simple ingredients. To the original salt scrub and body oil, Sun Coast is adding a line of candles in three of their delicious scents as well as "saltshakers" – 11-ounce versions of their salt scrubs. They've added a new scent, Gold Coast (eucalyptus and sweet orange), that's only available in the saltshaker size.
"You can keep the saltshakers by your sink to keep your hands very soft," Hollie said. "If you cook with jalapeños or garlic, the scrub will take the smell right off without harsh detergents. And at $27, you can try the product without having to invest in the larger, 22-ounce size."
The new line of candles will be available only on the website in the beginning. Each will come in a lowball glass with a drink recipe. "When you're finished with the candle, you can have a cute glass and a delicious drink. They're a fun gift for your friends or for yourself!"
Sun Coast is working on new products with Hollie as the test subject. "We're growing the brand slowly. There's been a lot of pressure – 'What's the next product?' – but I'm being careful about it. We want something that's new, but that's simple and that's innovative." Keep an eye out for body washes, and sunscreen (for the scalp and for the body).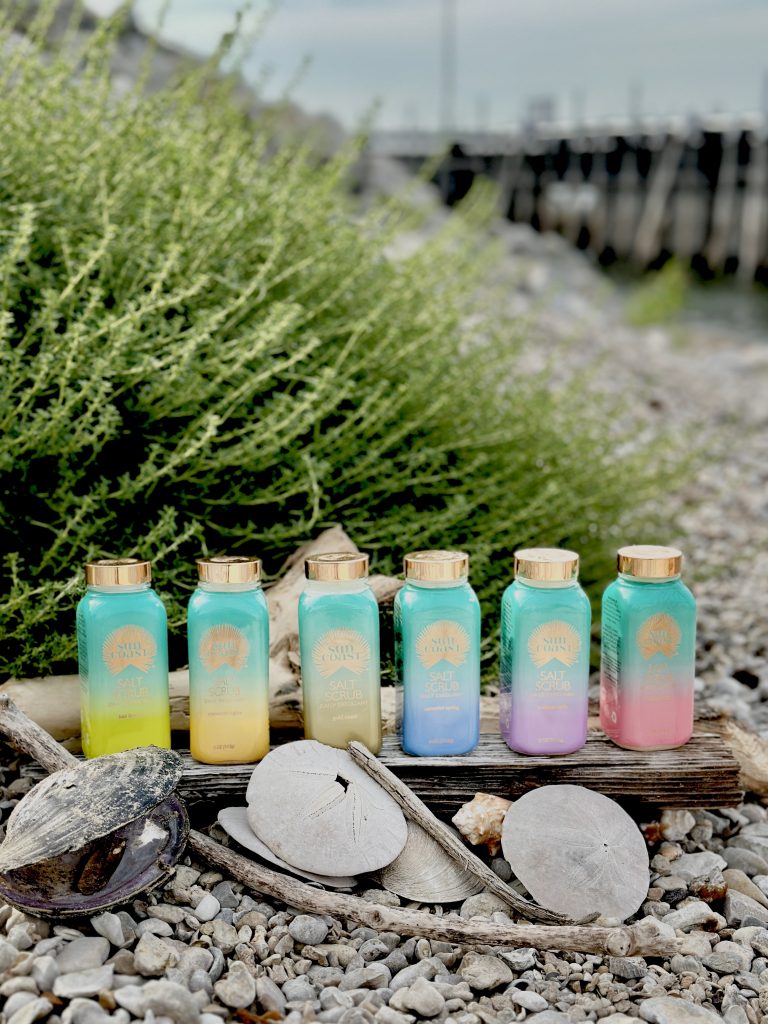 I had to ask Hollie what her favorite scent was. "It depends on the time of year," she said. "I love Bali Breeze [lemongrass and bergamot citrus] in the spring and summer. In the fall, I like Moroccan Nights [grapefruit, frankincense, and lemon], and in the winter, it's definitely Gold Coast [eucalyptus and sweet orange]."
Hollie had a final word of skin wisdom: "Be consistent. If you're consistent with your routine using good, clean products, you will see results."
Sun Coast has a special offer for Tanglewood Moms! Simply use the code MOMS25 for 25% off your first order! Follow this link to take advantage of this offer.