It started with the revolutionary idea that every child can learn.

Research into different teaching methods and pedagogy certainly isn't new, but in Texas public schools in 1973, the idea that every student can learn was radical. Either a child learned by rote memorization, or they didn't. Children with learning differences were put into special classes, and it was assumed that they were unintelligent or unteachable. Now we recognize that very few people learn by rote memorization and that there are many ways to learn. Hill School has been helping students learn in different ways for almost 50 years.
What began as a tutoring service to help students who needed extra help in 1973 has grown into "Fort Worth's only full-service, full-experience school for students with learning differences," serving over 50 zip codes in the DFW area. The school's mission states that "Hill School partners with families to provide an education for students who learn differently by addressing the needs of the whole student in a supportive environment."
"Supportive" is an understatement.
Students with learning differences tend to struggle in traditional learning environments. They can experience frustration and anxiety. Hill School teachers work to create a plan to enhance a child's strengths and support their weaknesses. Through small class sizes (the lower school's student to teacher ratio is seven to one, while the middle and upper schools' are twelve to one) and creative, engaged teachers, students thrive and succeed. In fact, 90% of Hill School students go on to college.

Eileen Bain is a middle school science teacher at Hill School and one of Madeworthy's Top Teachers of 2019. Her enthusiasm for teaching is typical of Hill School's teachers. She said that her favorite part of teaching is "figuring out effective strategies to help a struggling student find his/her strengths in learning. Every child is unique, with different talents and struggles. The trick is to find the key to unlock the door and help a student walk into a world full of amazing stories, facts, wonder, awe, and excitement, the world of education… I may have to sing, dance, draw, color, or invent in order to unlock the different doors of my students, but therein lies the challenge and joy in teaching. "
With teachers like Eileen Bain, is it any wonder that Hill School's students succeed?
Hill School's creative approach to teaching is even apparent in the school's playground. Completed in 2020, it stimulates different parts of a child's brain. There is a covered, outdoor classroom, and a garden. Movement is important for all children, but especially for those with learning differences. In fact, the lower school kiddos get TWO recesses a day, and all students take frequent brain breaks to move.
Callie Williams, Hill School's engagement and communications specialist, said that she loves that the faculty is a mixture of brand-new teachers ready to flex their wings and teachers who have been at Hill School for decades and love their job. There are even teachers who are Hill School alums. Each teacher is committed to making lifelong learners of their students.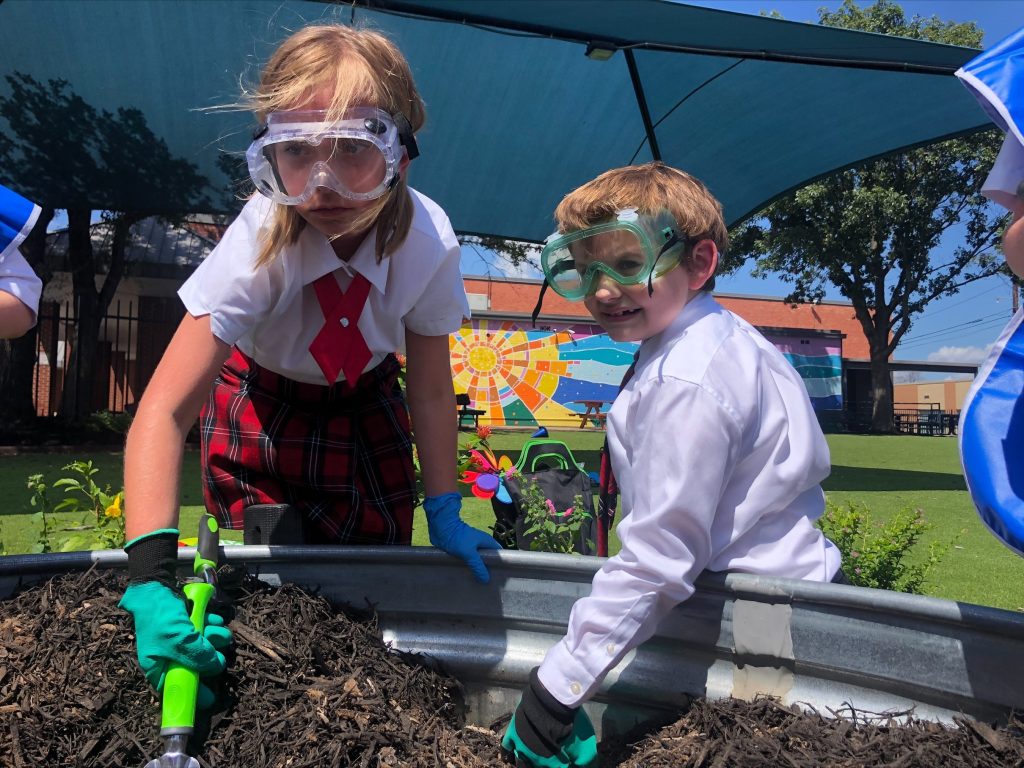 During Snowpocalypse in February of 2021, a pipe burst in the lower school, flooding classrooms and hallways. The pandemic school shutdowns in 2020 showed that students with learning differences typically do not do well with virtual learning, so Hill School scrambled to find a place for classes. They rented out a church down the street to finish the 2020-2021 school year in person – and Hill School Hawk strong.
Speaking of the pandemic school shutdowns…
When Fort Worth students didn't go back to classes after spring break in 2020, parents got to see how their children learn. You might have been one of those parents who realized that your child needs more support than they are receiving in their traditional school. Hill School offers that support for students and their families.
If you are interested in learning more about Hill School, go to their website (hillschool.org). You will not be sorry that you did.