We had the day off. Sort of.
Half of our crew had the day off yesterday and the other half was business as usual. And so the day called for an adventure in downtown Fort Worth. I worked from home in the morning while the older two played together. We planned to eat lunch downtown at Taco Diner after picking up the twins from pre-school. We had a loose game plan set, as we have learned is the best thing because you can really set yourself up for failure if you try and stick with a rigid schedule. My original plan was to sit outside on the patio and then let the kids play in the fountains. Since it was in the high 90's, we opted for dining indoors. The best thing they serve at Taco Diner is their avocado salsa and had I not had a meeting that afternoon I might have indulged in an awesome mambo taxi. If you're new to Fort Worth or haven't ventured downtown with your little ones, then one thing to know is there are a so many dining options that  are recommended in Tanglewood Moms. Tops on the list are Bird Cafe (try the fresh basil-lime cooler, house made hummus and the Taza Mas Cobb), Del Frisco's Grille (try the Asian street tacos, steakhouse salad and the Del's Delight, it's called the adult milkshake there but it's the same thing), and finally Taverna (try the bufalo mozzarella caprese, gnocchi rustici and they make the best espresso).
This is what my lunch typically looks like when I dine with 4 year olds. The one in the front was telling me that he could see out of the eyes in the back of his head, and the other prefers to be anywhere else than in his seat. Never a dull moment with these two.
https://youtu.be/ZEAXdFBF9XE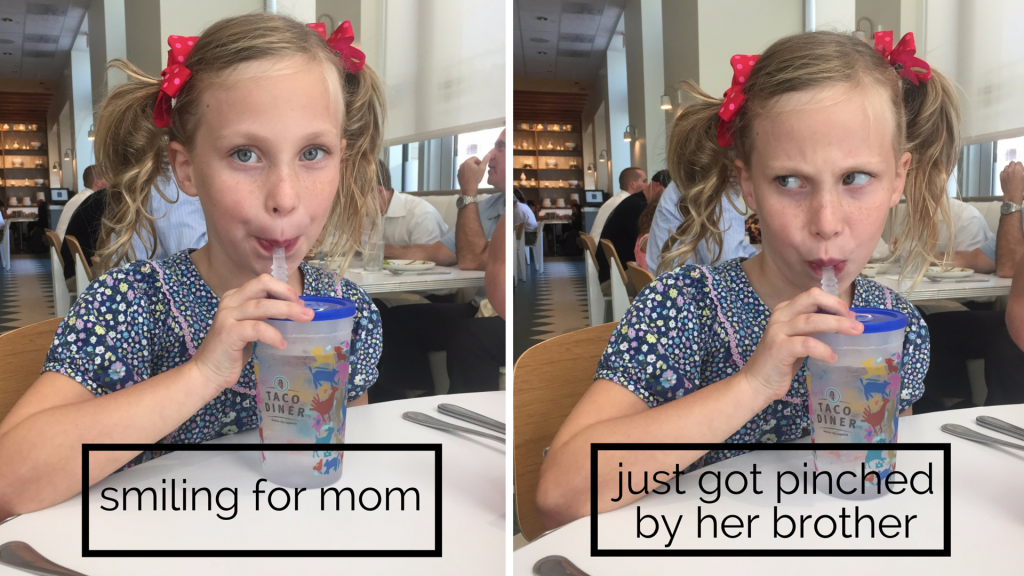 I take entirely too many photos. I have at least 10,000+ at any given time on my phone. Even before I started blogging I tried to capture the perfect moment and shot hundreds at a time, but usually it's the succession of pictures that have me smiling.
We headed out to the square to let the kids play. We figured since it was a hot day they could take their shoes off and cool off in the fountains.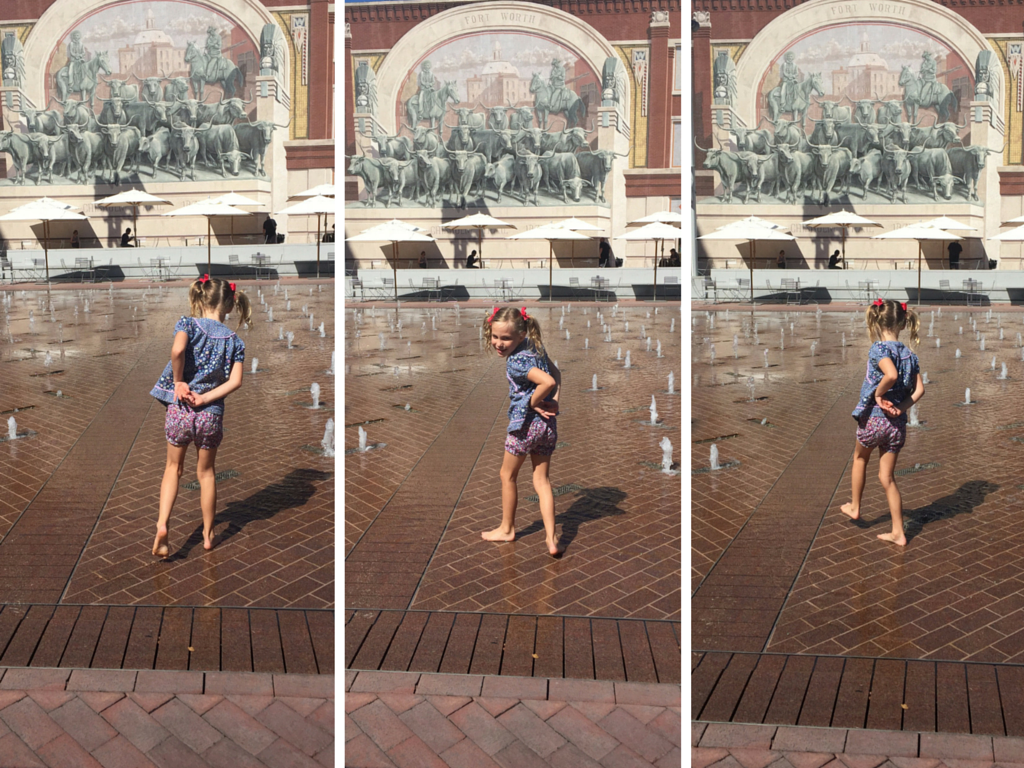 She chose to play and splash around a bit, but the boys preferred playing with the rocks nearby. It just goes to show you, that you really don't need to spend a lot of money entertaining the kids. They are playing with ROCKS. They built little castles and used feathers as flags, all sorts of imaginative things that did not require an entrance fee or special equipment. I'm sure as they get older their wants will change, but for now I'm soaking in all of this easy family fun.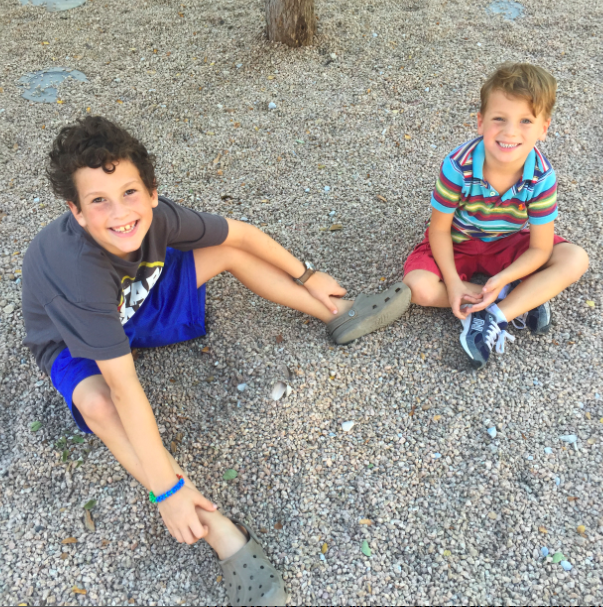 I had a brief meeting downtown with a client then rejoined the family and headed to the water gardens. We had only been there with the older two but it had been a few years. We parked in front of the Sheraton on Commerce Street (which is a great place to run in to use the potty before/during/after your escapade) then walked over to the water gardens. It's loud and a little bit scary for the younger set, but our older ones bopped down the stairs without a problem.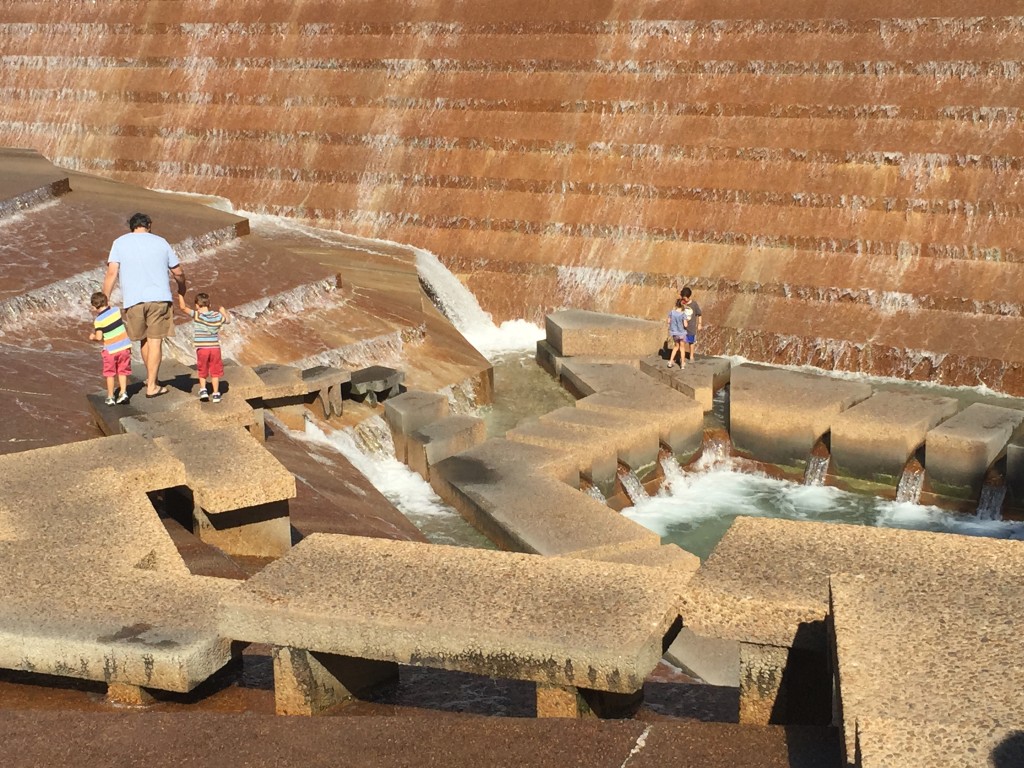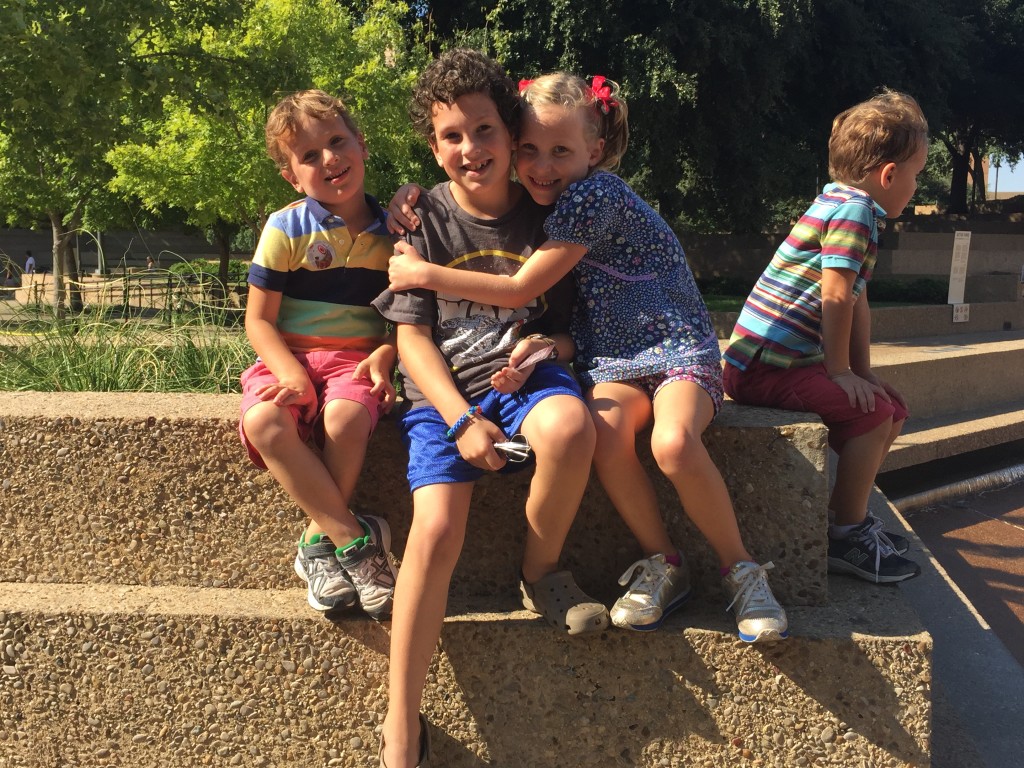 I asked the little one on the end there to look at me and he said "no Mommy, I'm watching the river". If you do go out, take a moment to watch the "river" just as he said. It's amazing what little people can teach us when we are so guided by our busy lives and agendas.

We did our best to get our kite up through the atmosphere as the song goes, but it was not quite windy enough. It didn't stop us all from trying. I think we each gave it our best shot, but it just wasn't happening. We were perched up high on the mountain overlooking the pools which got the kids' attention diverted to our next adventure….making wishes and throwing coins in the pools.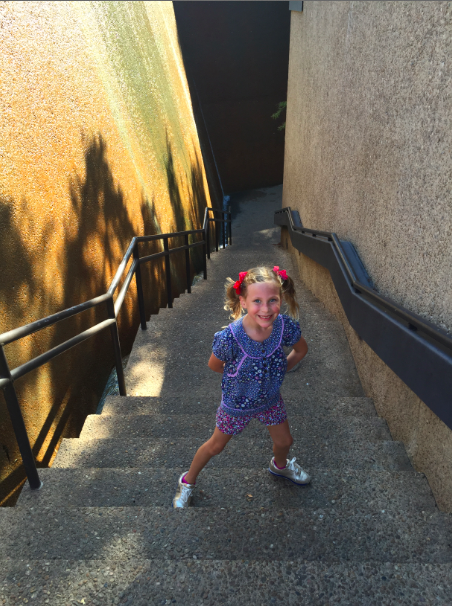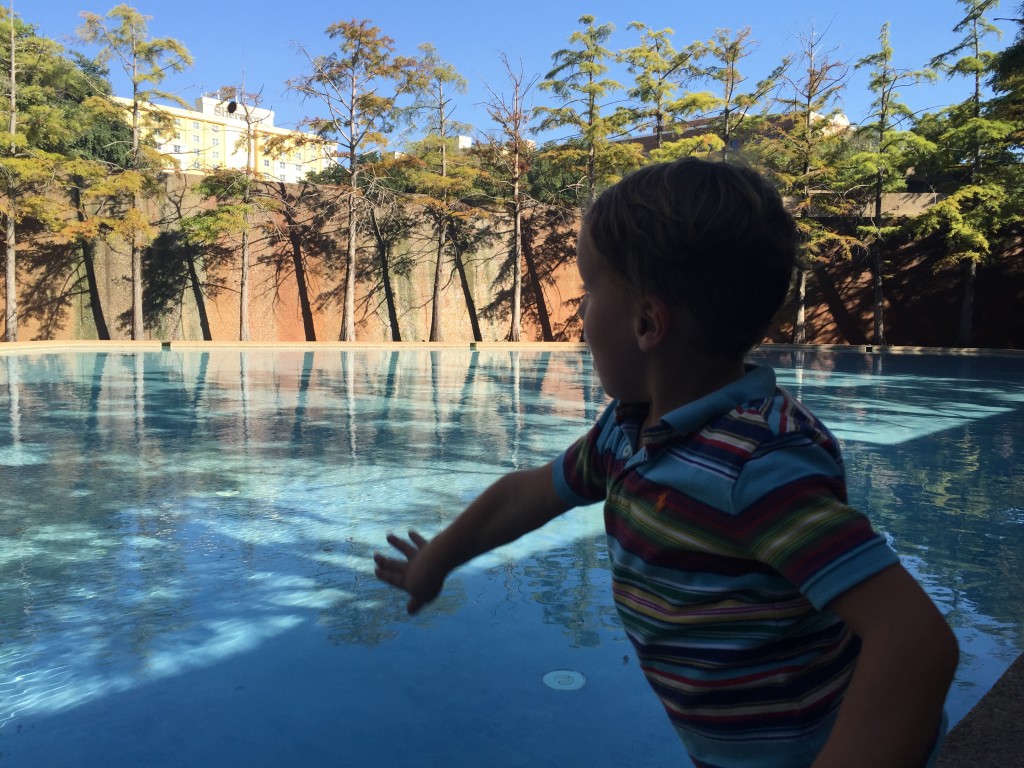 A great ender to the day would be to hit up a sweet spot, and here's a blog post for some suggestions, but we needed to head home after our fun downtown and will save our treat for next weekend!
Hope everyone enjoyed their day off! I know this one did…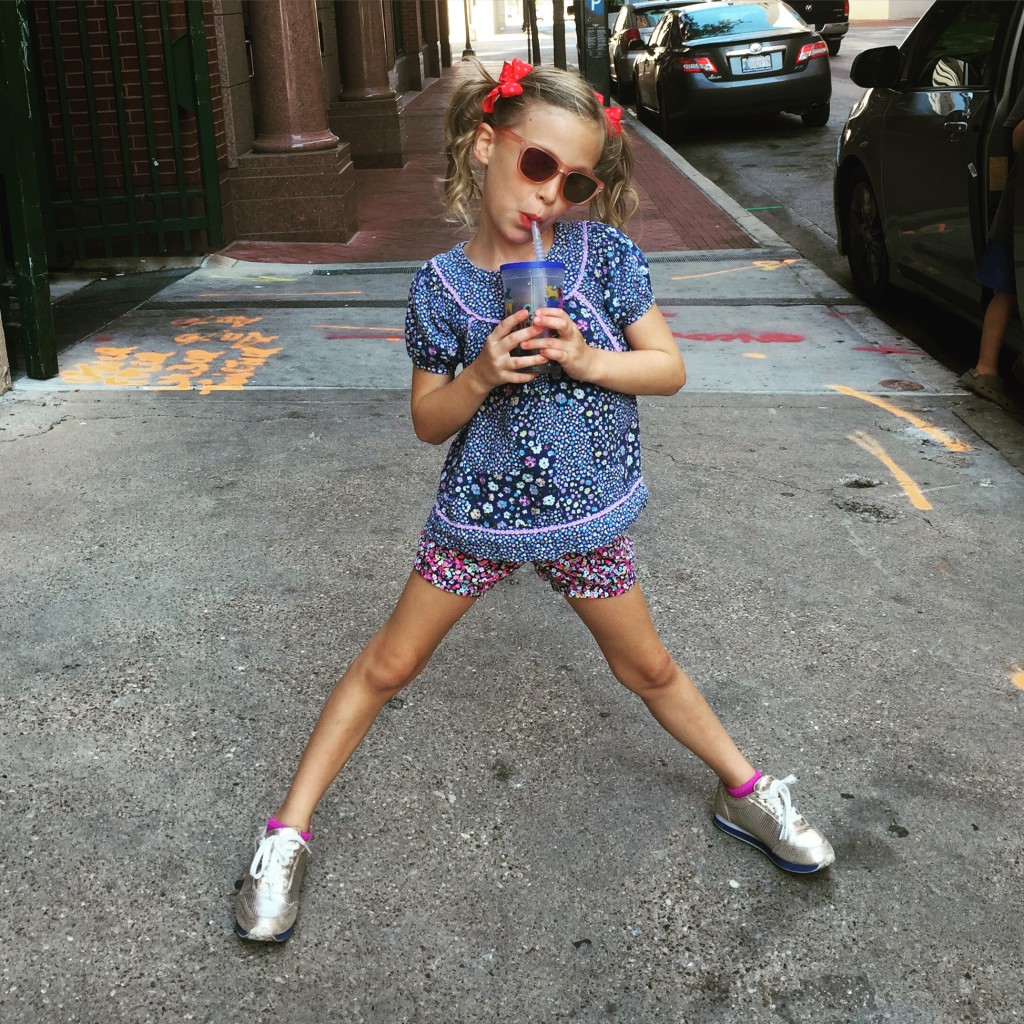 xo, Victoria