We have been so fortunate that this has been a lovely spring in the western half of North Texas, what with below-average temperatures and very few severe storms. And there is no better way to take advantage of this gorgeous weather than to get outside and GRILL! Central Market is celebrating the Grate Outdoors (get it?), and all departments are chock-full of wonderful things to grill.
To help you in your grilling endeavors, I've come up with several recipes for you to try. All are fairly easy, reasonably healthy, and completely yummy! For those who are grilling neophytes (or those who might need a refresher course), I've found a couple of good grilling information pages. Central Market, of course, has a great grilling information page. It covers everything from grilling tools to ways to flavor your food. For those who are slightly more experienced but need a quick refresher to shake the dust off the grill, Epicurious.com has a good article on grill preparation.
And now, the recipes!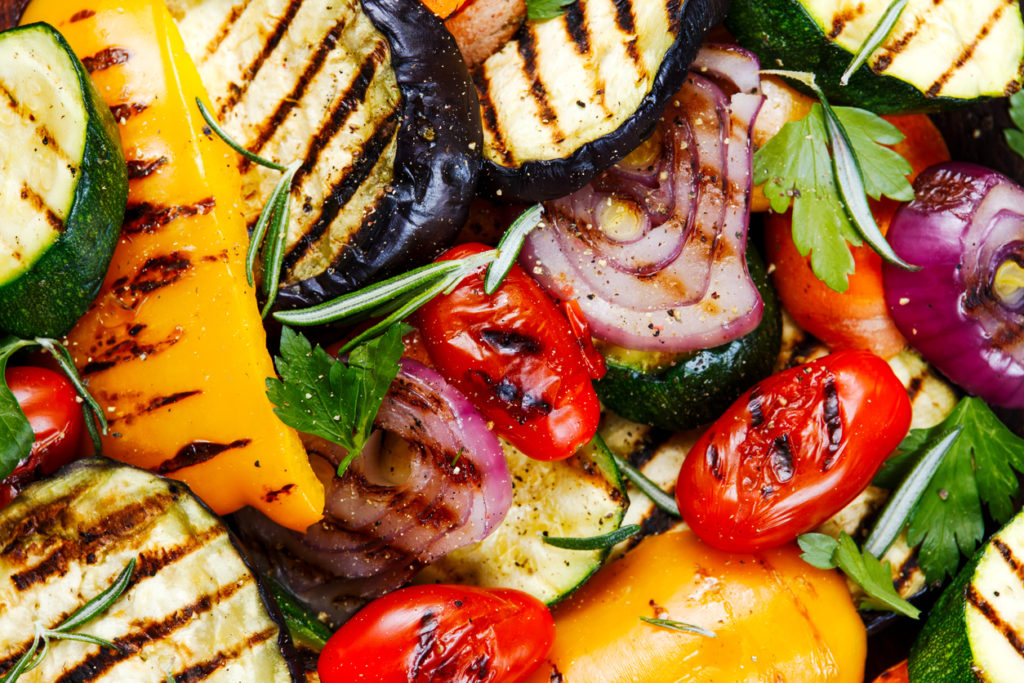 Grilled Vegetable Salad with Green Goddess Dressing
Just about any vegetable can be grilled, so I just look for what looks fresh and tickles my fancy at the time!
Serves 4 to 6
Ingredients:
For the vegetables
1 sweet onion, peeled and thickly sliced
2 to 3 zucchini, halved
2 Japanese eggplant (the skinny ones) or 1 large globe eggplant – I really like Japanese eggplant, but if they are not available, the globe is just fine! – halved
1 yellow bell pepper and 1 red bell pepper, halved and seeds and ribs removed
3 Roma tomatoes, halved and seeds removed
1 bunch of green onions, rootlets removed
Olive oil (doesn't need to be the fancy extra-virgin stuff)
Salt and pepper to taste
For the dressing – this makes approximately 4 cups, which is more than you need for the salad, but it keeps well in the refrigerator and is delicious on all sorts of things (chicken, seafood, salads, boiled eggs…)
1 green onion
1 bunch Italian (flat leaf) parsley, roughly chopped
1 bunch tarragon, leaves removed from the woody stems and roughly chopped
1 bunch chives, roughly chopped
1 ½ cup mayonnaise (I use Hellman's because it's not as sweet as some commercial mayonnaises)
1 cup plain Greek yogurt
4 to 8 anchovy fillets or ½ T. anchovy paste, optional but really, this is what makes Green Goddess Green Goddess (you won't taste anything fishy, I promise!)
2 T. white wine or cider vinegar
Freshly ground pepper
Directions
For the vegetables
Prepare the grill for direct heat cooking over hot charcoal or medium-high heat with a gas grill. Allow the grill to heat well. This is just like preheating an oven.
Rub the slices of onion with olive oil and season with salt and pepper. In a large bowl, toss the remaining vegetables with olive oil. Place the oil-coated vegetables on a platter and season well with salt and pepper.
Once the grill is heated, place the vegetables on a well-oiled grill grate, making sure not to crowd them. Grill until the vegetables are tender and lightly charred, turning frequently. I wish I could tell you how long this will take, but there are few things more variable than a grill. Once all the vegetables are grilled, heap on the platter and allow to cool to room temperature, approximately 30 minutes. While the vegetables are cooking, make the dressing. Once the vegetables are room temperature, roughly chop them and toss with the dressing, serving over lettuce leaves.
For the dressing
This is so very easy. Put all ingredients except the vinegar and pepper in a blender and hit puree. With the blender running, add the vinegar. Pour into a bowl, add the pepper, and taste for seasonings. As I said, this is great on chicken, seafood, eggs… It will keep in the refrigerator for up to a week.
Herb and Garlic Marinated Leg of Lamb
I love grilled leg of lamb. It is wonderful hot, room temperature, or cold. It makes great leftovers. Yum!
Serves 8 or 4 with leftovers
Ingredients
4- to 5-pound boneless leg of lamb, butterflied – ask the butcher at Central Market to butterfly your lamb if you don't want to mess with it yourself!
½ cup olive oil (doesn't need to be the fancy extra-virgin stuff)
1 large lemon
2 to 4 garlic cloves, crushed
1 bunch rosemary, roughly chopped
1 bunch thyme, roughly chopped
Salt and pepper to taste
Directions
You will need to marinate the lamb for at least an hour or up to 6 hours. Place the lamb, oil, garlic, herbs, and salt and pepper in a large zippered bag. Cut the lemon in half, squeeze the juice into the bag over the lamb, and then toss the squeezed halves into the bag. Close the zippered bag and squish around, making sure to combine all the ingredients and coat all surfaces of the lamb. If you are marinating it for only an hour, leave it on the counter, flipping occasionally. If you are marinating longer, refrigerate, flipping occasionally, and then allowing to come to room temperature for about an hour before grilling.
Prepare the grill for direct heat cooking over medium-hot charcoal or moderate heat for gas. Allow the grill to come up to temperature.
Remove the lamb from the marinade (discard the marinade) and place lean side down on a well-oiled grill grate. Turn occasionally and move if flare-ups occur. Grill the lamb for about 15 to 18 minute for medium-rare, 20 to 22 minutes for medium. (Please don't overcook lamb! There is almost nothing sadder than well-done meat.) Allow the meat to sit, covered loosely with foil, for at least 20 minutes before slicing. This is just delicious!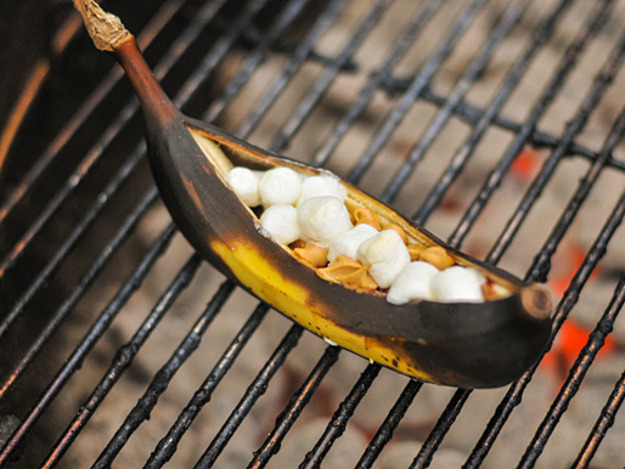 Grilled Banana Boats
These are a great way to use slightly over-ripe bananas.
Ingredients
1 banana per person
Mini marshmallows
Chocolate chips, peanut butter chips, butterscotch chips, white chocolate chips…
Chopped nuts of any kind
Directions
This is a good way to use the dying coals if you are using charcoal. If not, reduce the heat to low.
Split the banana lengthwise, leaving the ends intact. This makes the "boat". Squeeze slightly to open the boat up and stuff with the toppings of your choice. Place the banana boats on a well-cleaned and oiled grill grate, cover, and cook until the bananas are softened, about 10 minutes. The peels will be black, but they are oh, so melty and yummy! Allow to cool for at least 15 minutes, as hot, melty sugary things can leave you with very interesting scars. Then just scoop out the warm, oozy mess with a spoon!
If you don't always have time to grill but still want to enjoy fabulous grilled food, check out Central Market's chef-prepared selections. Quick, easy, and delicious! However, there are few things better than gathering family and friends for a cookout. So get out into the Grate Outdoors and grill!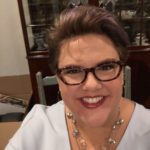 Lee Virden is a jack of all trades, master of none. She has been a bank teller, a chef and caterer (both in restaurants and in private service), a bookkeeper, a trainer, a legal assistant, and a writer. She is a proud graduate of the University of the South with a degree in Early European History. (She planned to be a professor but realized in the nick of time that professors have homework, which she never did when she was a student, so what made her think that she would do it as a professor?) While she has not used her degree in her, er, varied employment history, she is fabulous at cocktail parties. Most importantly, Lee is the proud mother of two absolutely amazing girls, to whom she refers in social media as the Girlchildren.