Music has surrounded me my entire life. I grew up in a musical family and married an extremely talented and musical husband.   I absolutely LOVE music!  All kinds! Often times, it's my mood that determines my choice in music.  In the Kieta home, when we sit down at the table for dinner, we always bring in our small Bluetooth speaker, connect it to a phone, hit the Pandora app… and dinner is served!  We take turns deciding who gets to choose the music that evening.  More often than not (fortunately) we all like whatever is chosen.  I will humbly admit that my husband and I worked very hard in establishing broad musical tastes with our children at an early age.  My oldest, Avery, 11 years old, LOVES acoustic melodies from artists such as Jack Johnson, Josh Garrels, and Peter Bradley Adams, but she also dances to the tunes of ABBA, Pink Martini, and Frank Sinatra! We're VERY proud!!  Finley, the younger at almost 9 years of age, has a broader sense of taste, from Disney hits to Bruno Mars! And she's our dancer.  The girl can move!
There is no question in my mind that music is personal to each individual. It is relatable in life circumstances and often feel like a healing source for the soul.  I mean, I can count on BOTH hands how many times I recorded songs off the radio and onto a cassette tape when I was in high school to reflect what my heart was feeling at the time!  Whitney Houston's epic performance of "I Will Always Love You" set my heart to high places.  Celine Dion's, theme from Titanic… tears, upon tears!  My latest love is "Fear is a Liar", by Zach Williams.  Where I am in life means that song speaks so deeply to me.
Many of you are embarking on New Year's fitness goals for 2017.  I thought it would be appropriate to send a little musical motivation your way.  You may not like all of it, but these are songs I use in my spin class at Zyn22, and songs that I love to run to.  Whatever workout you are choosing to meet your fitness goals, try a few of these out to keep you moving. Hopefully, some will speak to and inspire you.  Click the link to be directed to my Spotify playlist entitled, "Jennifer's Jams".
You could be amazed at how a song can take your intensity in a workout to the next level!!!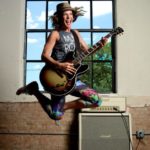 Jennifer Kieta
is a native Texan, born and raised in Houston. She graduated from Texas Tech University and has lived in Fort Worth since 1996.  Jennifer worked as a Child Life Specialist at Cook Children's Medical Center for 9 years before becoming a full-time mommy to her two daughters. She currently serves as a worship leader alongside her husband at Christ Chapel Bible Church.  In the fall of 2014, Jennifer started training and soon became a spin instructor for Zyn22, a boutique spin studio here in Fort Worth.  Her love of and belief in taking care of your mind, soul, and body has always been a priority, and she looks forward to sharing that love with her community!