Oh boy. The holidays are coming. I don't like admitting this, but I've never been a big fan of the "holiday season". It's too commercial. It's too focused on consuming. The forced jolliness can be overwhelming. So I was thrilled to hear about Central Market's Feast of Sharing. What better way to prepare for the holiday season than to volunteer at this wonderful event?
Started in 1989 in Laredo and Corpus Christi, the Feast of Sharing is a free meal for those who are in need. Not only does Central Market provide a wonderful holiday feast completely free, but they have all sorts of things for the whole family enjoy! Children can play in the Kids' Zone, get their face painted, and meet Santa! There is music and family and health services are available.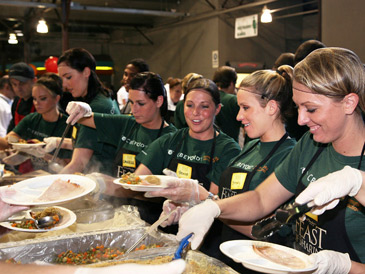 This year's Feast of Sharing will be on Tuesday, November 8 from 2 to 7 pm at the Amon Carter Exhibit Hall at the Will Rogers Memorial Center. Interested in volunteering? Click here to fill out a volunteer form. Share the love and enjoy the true spirit of the season!