Making sugar cookies is one of those things that just comes with motherhood. It's the quintessential hands on activity between mother and child that makes memories of a lifetime. My kids love going to the local Fort Worth bakeries, but it's so nice when you can replicate that delectable goodness at home. I tend to make these cookies once the fall hits, but it's been awhile since I've made them and thought I lost the recipe. But a call to my ever helpful mother-in-law did the trick, we were able to remember the recipe and so happy to share it with you.
Ingredients
4 Cups All Purpose Flour
1 teaspoon baking powder
1/2 teaspoon salt
1/2 teaspoon baking soda
1 cup butter, room temperature
1 1/2 cups white sugar
1 egg
1 teaspoon vanilla extract
AND the secret ingredients…
1 teaspoon almond extract
1/2 cup of sour cream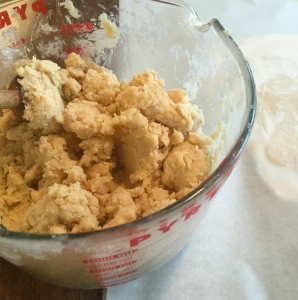 Step by step
Preheat the oven to 375 degrees F.
Sift the flour, baking powder, baking soda and salt in a bowl. Don't skip the sifting, it's an important part! In a separate bowl mix the butter and sugar until it's smooth. Beat in the egg, vanilla extract and your secret ingredients the sour cream and almond extract until it's all very well blended. Start adding in the dry sifted ingredients about a 1/4 at a time until it's all mixed. The next step involves chilling the dough overnight, but "ain't nobody got time for that". Instead, I roll the dough between two layers of wax paper.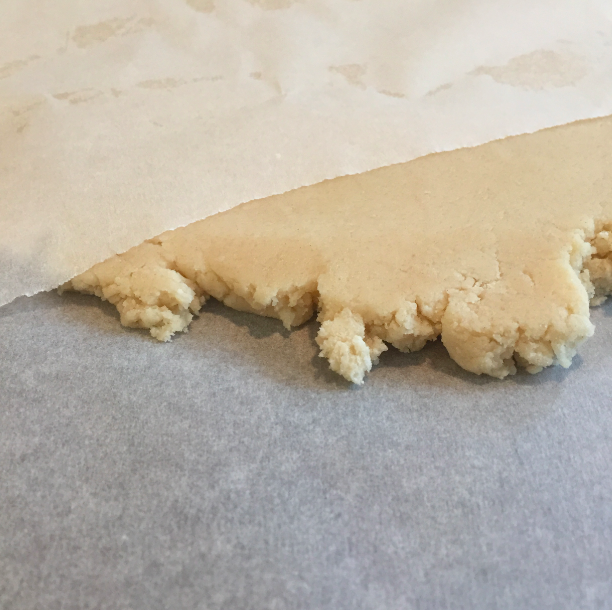 You'll want to roll the dough THICK, a little thicker than a 1/4 inch. It's important to not add any additional flour at this point, because the wax paper will keep the rolling pin from getting sticky and because of the baking time that extra flour gets in the way of the awesome taste this recipe makes.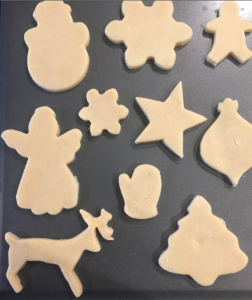 Then here's the fun part. Allow your sous chefs to pick out their favorite cookie cutters and go to town! Since it's Christmas we naturally chose all the Christmasy ones, but of course this recipe is for anytime of the year and you can decorate with different color sugar, icings, or candy. If you don't plan on adding icing, now is the time to add your sugar and candy only toppings.
Place cookies about an inch apart on ungreased cookie sheets. If you are only adding sugar, then add it on a separate plate before placing them on the cookie sheet.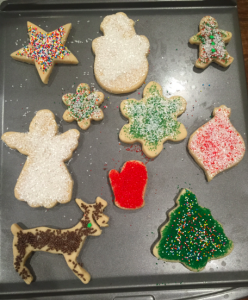 Bake for 8-10 minutes in the preheated oven. Wait to remove the cookies from the baking sheet for 5 more minutes. If you chose to decorate the cookies after they are baked, then prepare your favorite icing and decorate with style!
I don't have an icing recipe that I love, so if you have one to share please comment in the section below or share a link with your favorite icing recipe and technique.
Happy baking! Be sure to tag @tanglewoodmoms in Instagram if you make this recipe. I'd love to see how it turns out and some smiling little faces.
Please take a moment to check out our sponsor for this post.
---