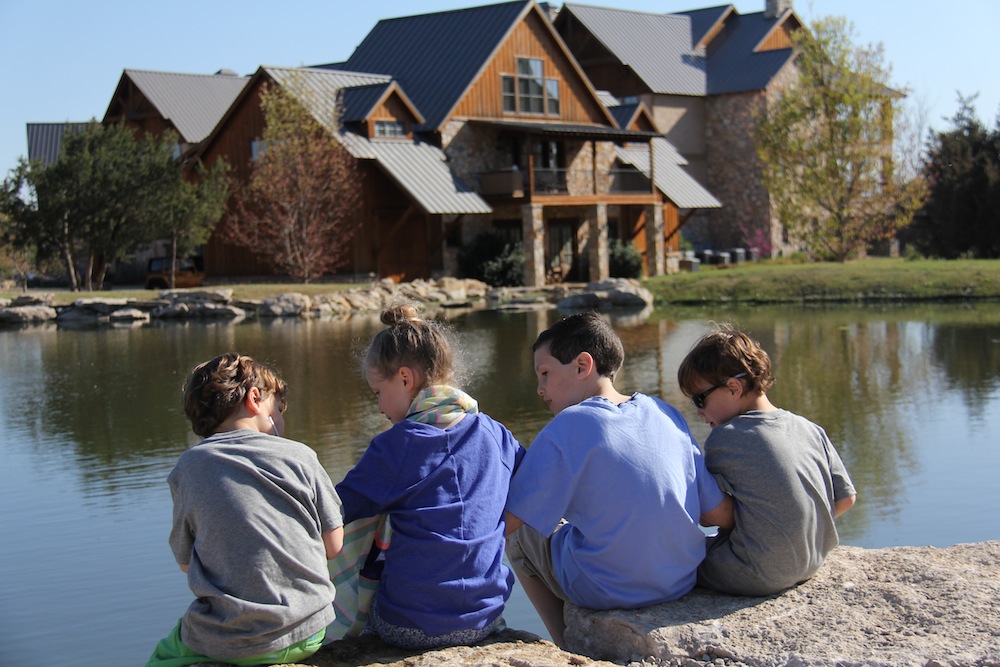 Last weekend we were thrilled to be invited to spend a couple of days as guests at The Harbor on Possum Kingdom Lake. We'd heard great things about The Harbor but had never been, so we were very excited.
After a couple of soccer games, we headed west and arrived at The Harbor around 3 o'clock Saturday afternoon. We were met by The Harbor's concierge, Claire, and given a map of the property and directions to our condo. As we drove through the gates and made our way through the development, we were struck by the rustic beauty of it all.
Nestled in the hills of Possum Kingdom Lake, the development is beautifully matched to the northern hill country landscape. All of the buildings utilize the natural materials of the area and blend elegantly into the rugged surroundings.
One of my husband's favorite aspects of The Harbor is that everywhere you look, there are creeks and streams and ponds. The amazing landscaping team pumps water up from the lake so it flows continuously over rocks and boulders and across the roads. It was amazing to see live water at every turn and is one of the many things that make The Harbor such a beautiful place.
We made our way to the condo we were staying in for the night, loaded our bags and kids into the elevator, and rode it up to the second floor of a gorgeous rustic-chic stone and cedar building. "Our" condo was a three bedroom, three bath single-level residence with views of The Harbor's marina and Possum Kingdom Lake. In a word, it was breathtaking. All of it. The living space itself is intelligently laid out with an open kitchen/dining/living room space that flows onto a patio with table, chairs and an outdoor kitchen. The bedrooms are all very spacious with walk-in closets and plenty of room for our family of six. The bathrooms were nicely appointed, and the master bath boasted of a huge jetted tub that I might have partaken of twice during our short stay.
After we got settled into the condo, we set out to see what the property has to offer. We didn't get too far because we stumbled upon one of those lovely creeks with a couple of waterfalls, and the kids wanted to play. We climbed and splashed and explored; we got wet and muddy, and we had a ball. We had to hustle back to the condo and change clothes before we were to meet Claire and her husband, Michael, for the evening hayride. This was a great way to see the whole property. Michael drove slowly around as we rode on big hay bales looking at all the beautiful homes, stopping occasionally to throw out some corn and feed for the deer to eat. We also stopped for about 15 minutes and fed the resident herd of magnificent Longhorn cattle.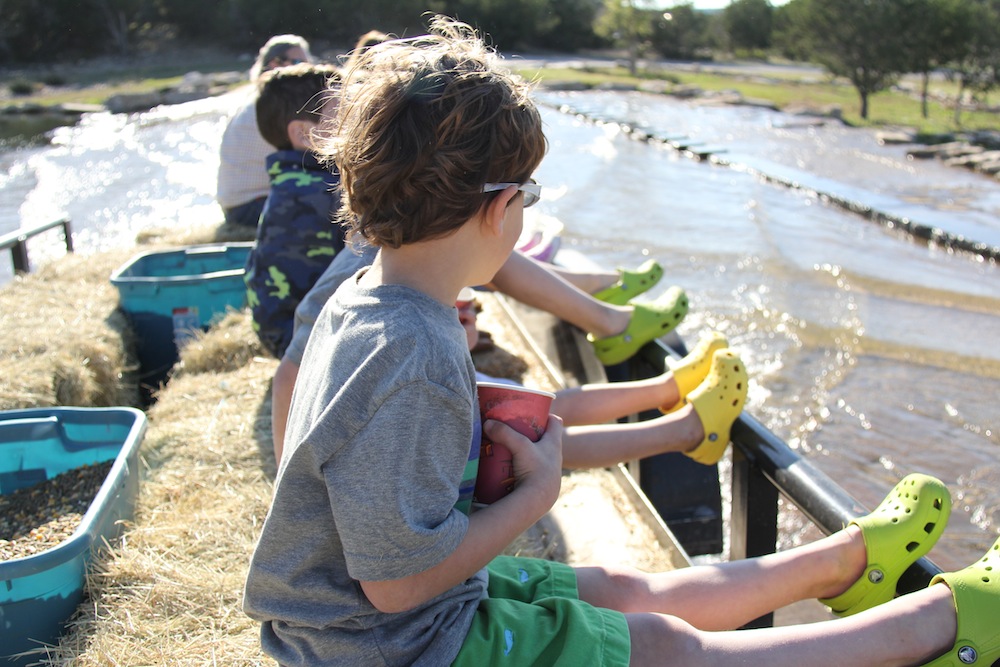 After the hayride, we sat down to a much-needed meal at The Grille at The Harbor. The Grille is a full service restaurant and event space. In fact, there was a wedding reception that evening, and it looked like they were having a great time. The Grille has an extensive menu and lots of items for the kids. Everything we tried was top-notch, but our favorite was the calamari appetizer and the blackened chicken chimichurri. Yum-o!
Back at the condo, we showered and got into our PJs. The kids settled onto the comfy leather sofa and watched a movie while my husband made S'mores in the fireplace. The perfect ending to a fantastic day, but the best part was we had another full day at The Harbor ahead of us.
For those who want to go to church but don't want to have to leave the lake early on Sunday, there is a very pretty little chapel at The Harbor where they hold Sunday services. Worn out from our busy Saturday we slept in a bit and missed the services, so we started our day with brunch at The Grille where we had pancakes and bacon, Eggs Benedict, and a yummy breakfast panini. Again the food was great, and the view of the harbor was even better.
After brunch, I headed to the on-site spa for a massage. The spa is adjacent to a very well-equipped gym and was an oasis within an oasis. My massage was heavenly! While I was being pampered, my husband took the kids for a nice country drive around the lake. They saw deer and turkeys and loads of beautiful scenery. They even ran into some old friends of ours and visited with them for a while. We all met back up and decided to check out The Harbor's equestrian center. My daughter absolutely loves horses and couldn't wait to go see them. The Harbor has a big horse barn with individual stalls, an outdoor arena, and some pastures for grazing. It's a beautiful and convenient way for homeowners at the Harbor who have horses to keep their animals. Imagine having a home, your boat, and your horses all in the same place!
After spending some time with our new furry friends, we headed back to the Grille for a late lunch on the patio. We sat down to some burgers and were met by Captain Dale, who runs The Harbor's marina. He offered to take us out for a boat ride, and even though it was a little chilly, we were all for it. We bundled ourselves up and climbed aboard. Captain Dale outfitted us with life vests and away we went. We ran out to Hell's Gate, and the kids loved looking up at the tall cliffs. Then we ran over to the dam to check that out and then back to the marina. It wasn't what you'd call a day on the water, but like I said, it was pretty cold.  It was very fun and peaceful like boat rides often are, and the kids loved it. Back at the dock, the kids walked around looking at all the pretty boats and skipped rocks across the lake.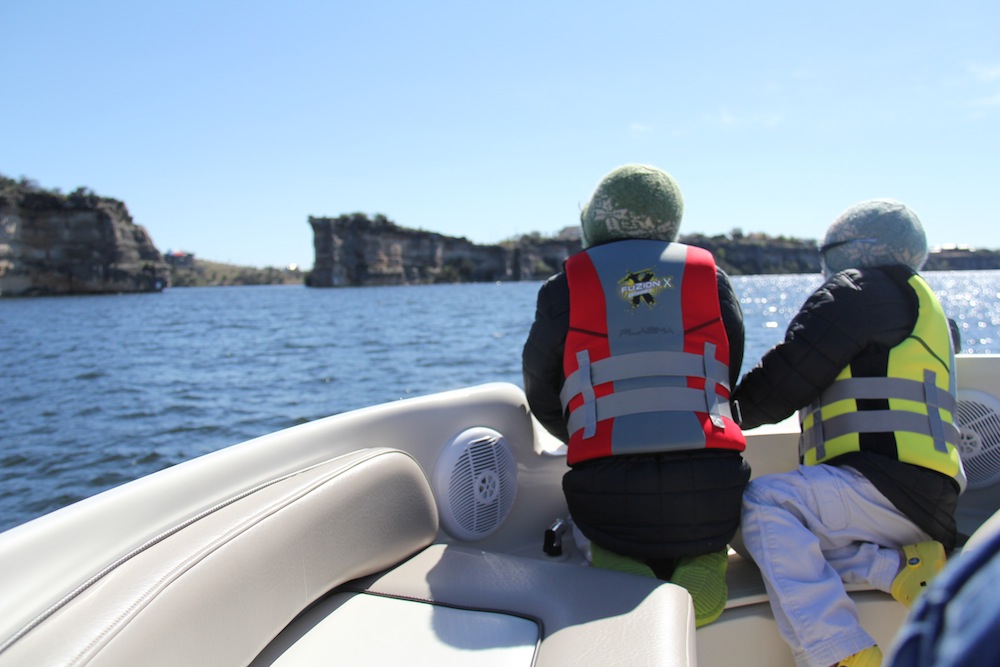 Unfortunately, our time at The Harbor was running short, and none of us wanted to leave. It's a beautiful and magical place. For those who own homes at The Harbor, they are fortunate indeed. A place like this that offers so much and is only an hour away from Fort Worth? This is truly a one-of-a-kind luxury getaway that you can get away to every weekend. Just amazing!
Please enjoy this video of our trip. I think it captures the magic of The Harbor at Possum Kingdom!
If you are interested in seeing available properties in the area, please visit www.jzfortworth.com or call 817.247.6464 to schedule a private showing.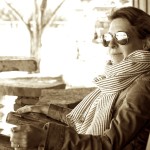 Embarking on her 7th venture, Victoria Wise has blatantly ignored the saying "3rd times a charm". Tanglewood Moms stemmed from a love of the community and a desire to connect more of us together. She's travelled to 24 countries on 5 continents but not after having 4 babies and spending quality time with her husband raising her first generation Americans and Texans.
You can find Victoria on her Mac pounding out any number of social media posts for her businesses and clients, streaming Spotify, in some FW establishment that has decent wi-fi and quiet patrons.