This article originally appeared in the November/December issue of Madeworthy Magazine.
What is the quintessential craft brewery experience? Does a brewpub's reputation float on the quality of its suds alone, or are factors like ambience and location more important? For HopFusion Ale Works co-founders Matt Hill and Macy Moore, being a family-friendly destination was the priority. The beer came second. A close second, but still second.
As we chatted in their spacious Near Southside-based business, Hill and Moore described their vision. "We both have kids," Hill said. "We wanted a place where kids and dogs can hang out."
In keeping with their family-friendly attitude, HopFusion offers several non-alcoholic drink options, including cold-brew coffee, lemonade, craft root beer, and kombucha. The lemonade is made in-house, but by far the most popular drink with kids is the root beer. After trying a small pour, I could tell why it is so popular. The golden-hued, fizzy drink has a pungent sassafras scent and a subtle honey flavor. The nectar, Hill said, is sourced from Walker Honey Farms in Temple, Texas.
Now I would never say that there's a stereotypical "mom palate," but Hill and Moore said many mothers who frequent HopFusion opt for shandy beers: Summer (Feisty Blonde with lemonade), Winter (Fur Slipper with lemonade), and French (Les Fauves with lemonade). "I love when someone says they don't drink beer," Hill said. "We'll pour everything and mix things together." And there are things to keep the kiddos occupied. Moore pointed toward a nearby merchandise stand. Dozens of board games awaited the next rush of patrons and families. Most were donated by visitors, he said.
Dogs get the red-carpet treatment, too. Fresh water bowls are a fixture of the outside patio, and dog treats baked from spent HopFusion brewing grain are free while supplies last. Local canine lover Amanda Cox donates her time to make the doggie snacks. There's also a popular Facebook group, Dogs of HopFusion, where you can post a selfie with your pooch enjoying all that HopFusion has to offer.
Besides offering a great place for families (and dogs) to simply enjoy themselves, Hill and Moore book regular events. Wednesday nights are saved for open-mic karaoke. There's always live music on Fridays and Saturdays. In the coming years, the two owners plan to make events like bike rides and movie nights part of the HopFusion experience. In fact, anyone who bikes to HopFusion gets $1 off their tab, Hill said. The brewing duo are both avid bikers and supporters of the biking community and want to encourage their community to get out and start cycling. "We've met so many of our friends through biking," Moore said. "It's the reason for the chainring on our logo. Cycling and craft beer go together."
For now, much of the guys' free time is taken supplying their brews to 453 pubs, restaurants, and specialty stores. The beer may have been number two on the priority totem pole, but it has garnered many awards and rave reviews by customers. The Feisty Blonde, an aromatic honey blonde ale, has become the brewery's most popular offering, but Hill and Moore believe their most iconic beer is yet to be brewed.
HopFusion's growth is indelibly tied to the broader Near Southside community renaissance. While the row of restaurants and bars along West Magnolia Avenue has been bustling for years, the stretch of South Main Street just below I-30 has only recently blossomed back into life. The brewery now counts a craft vodka distillery (BLK EYE Vodka) and a boutique tea and book store (Leaves Book and Tea Shop) as neighbors. Several trendy restaurants are opening nearby. In true Near Southside spirit, HopFusion supports and collaborates with many of these businesses.
Nearby gastropub Pouring Glory offers several HopFusion brews on tap, and they infuse the brews into their culinary offerings from time to time. Great Harvest Bread Company recently collaborated with HopFusion, using the locally made beer for one of its upcoming bread offerings. Just two blocks away, The Collective Brewing Project regularly partners with HopFusion for events.
November 25 will be HopFusion's all-important one-year anniversary. Getting to this point has been a journey. I joked that it felt like the brewery has been open far longer than a year. Hill agreed but reminded me of the arduous two-year construction and permitting process they went through before opening. While it was not an easy process to open, the results have been gratifyingly spectacular.
As befitting such a significant anniversary, you can expect a proportionally large party to celebrate the milestone. Moore said every beer offered over the past year will be one tap — no small feat for the prolific brewers. In the end, they are pleased with the community they are creating. "We're very happy to see families here," Moore said. "On weekends, you'll see a lot of groups. Sometimes, you'll see six or eight couples with their kids here. I think it's wonderful."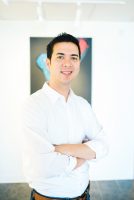 Edward Brown is a writing tutor and piano teacher. He is also an award-winning writer for the Fort Worth Weekly and volunteers for numerous Fort Worth nonprofits.