Salena Mason loves skin. And she wants to teach people how to love theirs too. As the owner of Skin by Salena, Mason offers a variety of facial services and works with clients to educate them on all things skincare. It's this esthetician's mission to make sure her clients leave with that glow that comes from feeling beautiful.

What is the most common skincare complaint you receive from clients? 
Most of the time when people come see me the first thing they say is, "I don't know what to do, I've tried everything!" It could be acne related, dry skin, aging skin, sensitive skin [or] any skin type. If you don't know what products to use or if you're using them incorrectly it can make your skin angry at you. It's so important to meet with a professional and let them guide you through your skin journey. You don't have to get monthly facials, but I would still meet with an esthetician and have them create a customized skincare routine for you.
Tell us about your personal skincare routine. 
So, the very first thing I do when I wake up is drink a glass a water. It just helps wake my skin up and keeps it hydrated. In the morning I'll wash my face then use a toner, serum, moisturizer, and SPF. I'll do a similar routine in the nighttime just without the SPF. Twice a week I'll exfoliate and once a week I'll do a face mask. Currently I use all GlyMed products and my ride or die cleanser is Precleanse from Dermalogica. It's the best cleanser to take off any stubborn eye makeup.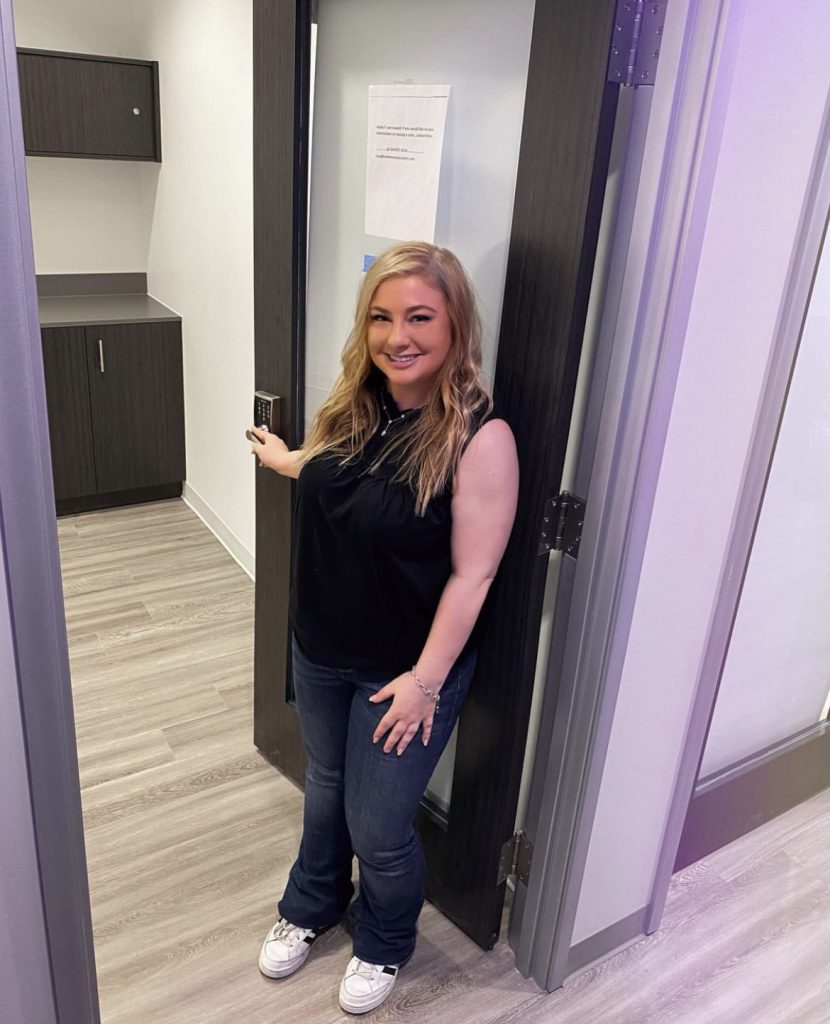 Which product/brand(s) do you love?
There's so many! It's hard to pick just one. I LOVE Esthemax HydroJelly masks! It's my favorite add on to do for any facial. They're tailored to your skin type and so relaxing and pretty to look at. They also lower the skins temperature by 12 degrees, so they're great to do right after a chemical peel. The [one] I use on myself and in the treatment room is GlyMed. The very first product I ever tried from GlyMed was the CBD mist and after the first use I noticed my redness had gone down and my skin felt so hydrated. I knew one day I would have to carry this line. GlyMed is a pharmaceutical skincare line, they are cruelty free, vegan, alcohol free, and [have] no added fragrances. These products are great for the most sensitive skin types like eczema or psoriasis.
Some of my favorite products that I always have on me are:
SkinBetter Science – SunBetter compact sunscreen
Dermalogica – Precleanse and Calm Water Gel Moisturizer
GlyMed – CBD facial mist, Fulvic Elixir, Acne medication, and Oxygen cleanser
If you must be mindful of a budget, which luxury product is actually worth the splurge? 
I would invest in a sunscreen, retinol, and vitamin C. SPF is your preventive care that's going to slow down any discoloration or aging from forming. Retinol is your corrective care. This is going to correct any aging or acne concerns. Vitamin C is going to help both of those products work more effectively.
Does a good skincare regime have to be expensive? 
It doesn't, but you do need to be mindful of what products you're putting on your skin and if they work with other products.
There are so many trends on TikTok and Instagram. Which have merit and which are bunk?
I can't believe all the different trends. It can definitely be overwhelming trying to keep track of what's nonsense and what's actually legit! I recently had a client tell me about slugging. I'm on the fence about that one. I have my hydro facial on standby just in case. Lol
The DIY face masks, and the DIY acne spot treatments are a no for me; I would just leave that in the kitchen. Face icing has become popular recently and I can totally get behind that. I love watching the GRWM (Get Ready with Me) videos or just anyone practicing selfcare. It's very uplifting and motivating to watch.
When it comes to good skin, how much is genetic and how much is routine? 
Genetics plays a huge role. To some degree skin elasticity and your collagen production can be related to genetics. Despite that, one of the most common signs of aging is caused by lifestyle choices- smoking, drinking, stress, diet, and sun exposure. Because of those factors, you should have a skincare routine that can help combat that.
Where did your passion for beauty and wellness come from? 
I've always had a passion for beauty, even has a kid. After I graduated high school, I did go to college and majored in nutrition. I learned a lot and I did enjoy it, but just wasn't for me. I couldn't see myself doing that every day. Skincare has always been something I'm interested in and love doing. Helping people is my passion. I love meeting new people and building a relationship and helping others reach their goal. It's the best thing ever and I love that I get to call this my job.