May is National Asian American and Pacific Islander Heritage Month. A time focused on celebrating a deeply rooted history, diverse community and vibrant culture.

Throughout the month of May, Central Market will celebrate different American Asian- and Pacific Islander-owned businesses as a part of their ongoing Be the Change campaign. These businesses are some of Central Market's most popular and sought-after brands as well as some new to market. These entrepreneurs have incredible stories to share and delicious products to try. Below is a summary of each one. For additional information, interviews or product samples, please contact the media representative listed below.
A few highlights include:
Bo.Lan, owners Chef Bo and Chef Dylan: Highly-acclaimed Chefs Bo and Dylan have quite the pedigree. Their Michelin-starred Thai restaurant was voted one of the best in Asia, and Chef Bo was featured on Netflix's Chef's Table. Now, they are bringing their mastery of Thai cuisine, mixed with their passion for the highest-quality organic ingredients all the way from Bangkok to Central Market's shelves. Their products, which are exclusive to Central Market in the United States, include spice powers, soy sauce, fish sauce and palm sugar.
Kin Dee, owners Brett and Phanvisa Davison: Kin Dee is just as serious about social awareness as they are about their products. Founded by Brett and Phanvisa Davison, they find the best products from Phanvisa's native Thailand and throughout Asia, while still engaging in nature conservation and philanthropy. Their products, which are exclusive to Central Marker in the United States, include coconut milk, jasmine rice, fish sauce with chili, coconut water, sambals, and bulk semi-dried tropical Thai fruit.
Momofuku, owner Chef David Chang: For almost 20 years Momofuku, and its founder Chef David Chang, have built quite a brand. From a small, but impressive noodle bar in New York, to a cookbook (Momofuku) and memoir (Eat a Peach), to TV shows on Netflix and Hulu, plus a podcast on Spotify. Throughout it all, their mission has always been to challenge the conventions of food as we know it. That's exactly what they continue to do with their line of unique, delicious, and umami-filled products now featured at Central Market including noodles, chili crunch, sauces, and spice mixes.
Noona's Ice Cream, owner Hannah Bae: In Korean, "Noona" means big sister. Hannah Bae, Noona's founder, is a proud sister and pastry chef who saw the need for more diverse ice cream flavors in the market. So, she developed her own line of ice cream that would represent her Asian American background. These delicious flavors range from Toasted Rice to Turmeric Honeycomb and are exclusive to Central Market!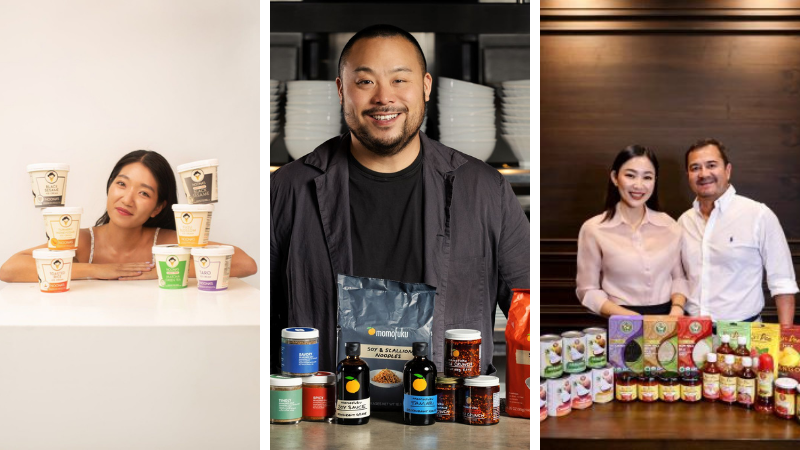 Additional featured brands:
Omni Vietnamese Cold Brew, owner Tammy Huynh – Vietnamese cold brew exclusive to Central Market.
Enroot Cold Brew Tea, owner Cristina Patwa – cold-brew tea exclusive to Central Market.
Yummi Sushi, owners Katie and Thein Aung – clean-ingredient sushi.
Sanzo Sparkling Water, owner Sandro Roco – sparkling waters inspired by Asian fruit flavors.
Maepranom Thai – owner Pranom Daengsupa or "Mae" Pranom – sauces, pastes, noodle kits and pickled chilis.
Lua Oat Milk Latte, owner Terri Nguyen – Vietnamese coffee.
Dang Bars, owners Vincent and Andrew Kitirattragam – snack bars.
Ying's Kitchen, owner Ying Stoller – Asian sauces and mixes.
Fire Ox Foods, owners Jason Yang and Zoe Geller – premade plant-based dishes exclusive to Central Market.
Sinto Gourmet Kimchi, owner Hyunjoo Albrecht – Kimchi recipes inspired by her Korean grandmother.
Three Trees Nut Milk, owner Jenny Eu – nut milk with four times more nuts and proteins than other plant milks.
Saongwon Korean Pancakes, owners Sara and Hugh Kim – Korean kimchi and veggie pancakes.
Cloud 10 Creamery, owner Chris Leung – award-winning pastry chef that opened ice cream shop in Houston.
Mama La's Frozen Meals, owner Kim Su Tran La – authentic frozen pho and egg roll products.
Asian American Women in Sake
Fukucho, owner Toji Miho Imada
Fukucho's female brewery owner, Miho Imada, is also the Toji. It is a rarity in Japan to have both jobs done by the same person. Miho-san's passion and curiosity for sake brewing is truly amazing. To date she has revived a local heirloom rice that was out of use for hundreds of years, created her own hybrid yeast started and experimented with brewing sake while using koji. There are about 30 female tojis in Japan, but when Miho-san started brewing there were far fewer. Her extreme dedication to her craft encourages the future of women in this industry. Products available at Central Market include Moon on the Water and Seaside Sparkling.
Yuho, President Miho Fujita
Unapologetically unconventional, Yuho experiments with brewing components and techniques to produce sake that have a wild, gamey characteristic with pronounced acidity and remarkable texture. President, Miho Fujita, a single career woman from Tokyo with no prior knowledge of sake, and Toji Yokomichi-san, who left his corporate job to pursue sake, do not follow traditional brewing methods – they brew the sake they enjoy drinking! Products available at Central Market include Eternal Embers and Rhythm of the Centuries.
Kanbara, co-owner Yoshiko Sato
Kaetsu brews powerful, big, bold sake from Japan's most popular brewing region, Niigata, which is otherwise known for producing light, clean sake. Kanbara's bold style comes from brewing sake that is muroka, or not charcoal filtered. Yoshiko Sato co-owns the brewery with her husband and comes from a family with a sake background. In addition, Yoshiko handles all international business for the brewery to continue to grow their global recognition. Bride of the Fox is available at Central Market.
Chiyonosono, Global Sales, Yuri Honda
Known as the Junmai expert, Chiyonosono was the first brewery to stop adding distilled alcohol to its sake after the rice shortages of World War II, paving the way for the popular Junmai category. The future 5th generation president and daughter of the current president, Yuri Honda is already making a name for herself as an innovator in the sake community and is primed to continue pushing the brewery toward future-thinking yet approachable sake. Products available at Central Market include Sacred Power and Shared Promise.
Central Market will also feature products including Katsu sandos and banh mi sandwiches as well as bamboo, bonsai, monkey trees and more!
Virtual Cooking Classes featuring notable Asian American and Pacific Islander chefs:
Central Market bought some of the most notable Asian American chefs to tantalize your tastebuds for May's lineup.
Online Class: In Our Online Kitchen with Chef David Chang
Thursday, May 12, 6 to 7:30 p.m.
Invest a little time in polishing your skills and pick up tips on creating contemporary Asian American dishes with an expert in this live, online class.  David Chang, named "one of the most influential people of the 21st Century" by Esquire magazine, will guide you through making two dishes while introducing you to his new line of condiments and sauces created for the home cook. And by the end of class, dinner can be served!
Caution in the Kitchen: Chef Chang is known for his spicy language that may not be suitable for all viewers.

Menu:
Roasted Mushroom Salad
Marinated Hanger Steak
Virtual class access only: $10 per household
Online Class: Ozlem's Turkish Table
Sunday, May 22, 11 a.m. to 12:30 p.m.
About the class: Hosgeldiniz (Welcome) to Ozlem's Turkish Table! In this live, online class, you'll have the opportunity to expand your repertoire to include a few of the healthy, hearty, delicious dishes that Ozlem enjoyed while growing up in Southern Turkey. You'll pick up tips; learn a little about Turkish hospitality and culture; and, if you plan to cook along with Ozlem, will have a wonderful brunch to share with family and friends by the end of class.
Menu
Karniyark (Stuffed Eggplant with Ground Meat & Vegetables)
Cacik (Cucumber & Yogurt Dip with Dried Mine)
Cevizli Kuru Kayisi Tatlisi (Dried Baked Apricots with Walnuts)
Ticket options: Virtual class access only ($10 per household)
Online Class: In our Online Kitchen with Chef J. Kenji Lopez-Alt
Friday, May 27, 6 to 7:30 p.m.
Join the author of one of the decade's best-selling cookbooks, The Food Lab, as with his trademark wit and humor, he delves into the science and techniques of cooking in a wok. You'll learn a little about how to care for your wok; improve your fundamental skills; and discover that you can rely on your wok to produce flavorful, versatile, and quick meals for yourself, your friends and your family.
Menu:
Kung Pao Chicken
Cucumber & Dill Salad with Yogurt & Chili Oil
Ticket options: Virtual class access only ($10 per household)
For more information on AAPI related cooking classes taking place throughout the month, please visit CentralMarket.com.