Fort Worth Community Collaborative (FWCC) is thrilled to announce a remarkable achievement that profoundly impacted the lives of over 100 community members. In collaboration with fellow nonprofits LVT Rise and Chhaupadi, FWCC hosted a highly successful community pop-up shop, distributing nearly 1,000 pounds of donated clothing and over 3,000 menstrual and hygiene products to community members at no cost.

Through the unwavering support of donors, volunteers, and partners, FWCC amassed an extensive collection of new and gently used clothing, shoes, and accessories, meeting the diverse needs of all recipients.
Recognizing the importance of expanding their reach and impact, FWCC partnered with local nonprofits to spread the word about this exceptional shopping event. Together, they reached out to individuals facing various challenges, including homelessness, job loss, and financial instability, among others.
The distribution event was an uplifting occasion, filled with smiles, gratitude, and a renewed sense of hope. Shoppers were overjoyed as they had the opportunity to select clothing items that resonated with their personal preferences and sizes, allowing them to maintain their dignity and style while navigating difficult times.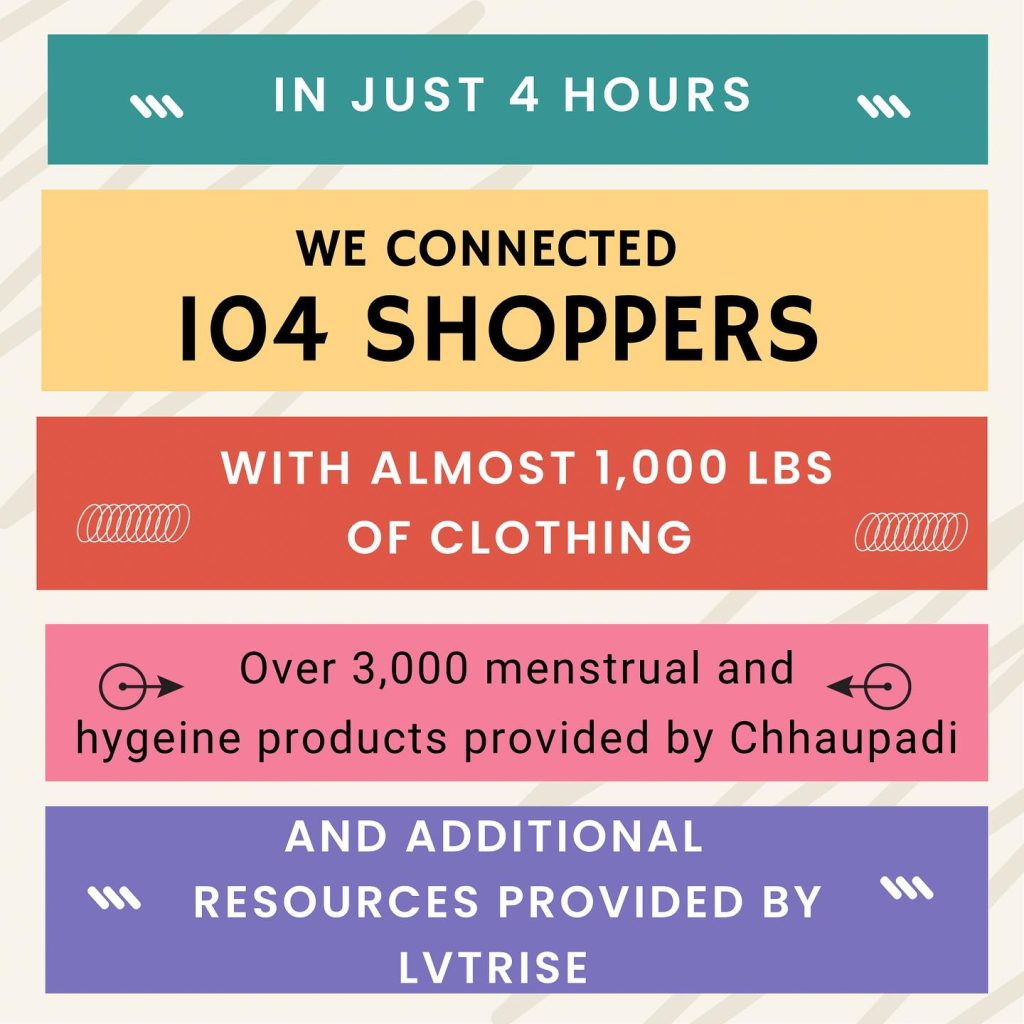 Reflecting on the success of the event, Kelly Warner, President and Co-founder of FWCC, expressed her delight: "I believe this was truly one of our best events. As a relatively new nonprofit, we are learning and implementing changes with each event to contribute to the success of the next one. When we first started hosting these events at LVT Rise, we would see perhaps thirty or forty shoppers come in. It's incredible to witness the tremendous growth we have achieved."
FWCC extends its deepest appreciation to the volunteers and donors who wholeheartedly contributed to the success of this endeavor. Their selflessness and dedication exemplify the true spirit of compassion and community solidarity.
FWCC firmly believes in the power of collective action to drive positive change, and this pop-up shopping event is just one of the many ways they strive to enhance the lives of individuals in need. To date, FWCC has provided over 2,538.15 pounds of clothing to 536 shoppers. Through initiatives like these, they aim to inspire others in the community to join them in making a lasting difference.
The next pop-up shop will take place at Fortress FW on Saturday, August 5th, from 10 a.m. until 2 p.m. Fortress is located at 1007 E Terrell Ave, 76104, in the Historic Southside neighborhood. For more information about FWCC and their upcoming community pop-up shops, please visit www.fwcollab.org.