Next Wednesday, July 6, kicks off Art Tales, the annual free summer event for kids and their grown-ups at the Amon Carter Museum of American Art (the Carter).

Join us every Wednesday morning in July for storytime with special guests from the DFW area. From 10 a.m. to noon, enjoy gallery games, create artwork, and watch performances inspired by artworks in the Carter's collection. Art Tales is a program designed for children of all ages. Every Wednesday features new stories and activities, so mark your calendars for Art Tales, Wednesdays in July at the Carter!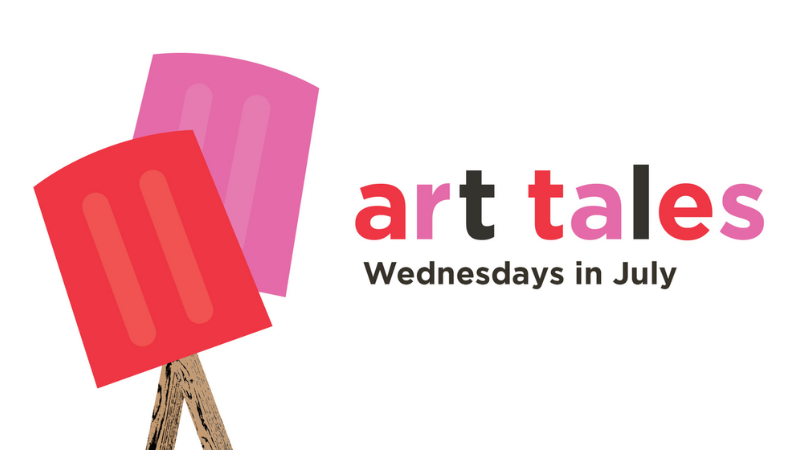 Art Tales
Wednesdays, July 6–27, 10 a.m.–noon
Wednesday, July 6
10 a.m.–noon
Art Tales: The Old Switcheroo
Wait a minute. . . who's telling the story here? Join us for a topsy-turvy morning full of tall tales, gallery games, art making, and a performance by Emmy Award-Winning musician David Chicken, all inspired by the exhibition Stephanie Syjuco: Double Vision.
David Chicken is a three-time Emmy Award-Winning musician. He is known for his high-energy, interactive performances filed with lots of movement, educational messages, and fun. David Chicken has performed his songs around the world and will be at the Carter for Art Tales on July 6.
Wednesday, July 13
10 a.m.–noon
Art Tales: All Around Town
It's a not-so-average day at the Carter! Get to know the people in your neighborhood with a morning full of stories, gallery games, art making, and a performance by musician and educator Brandi Waller-Pace, all inspired by photographs in Black Every Day: Photographs from the Carter Collection.
Brandi Waller-Pace is a Fort Worth-based musician, educator, and scholar. She is the Founder and Executive Director of Decolonizing the Music Room and is the creator and organizer of the Fort Worth African American Roots Music Festival. Brandi Waller-Pace has performed at ArtsGoggle, the City of Fort Worth's Jazz Series and Juneteenth Celebration, and more, and she has presented and spoken nationally and internationally on jazz, the Black history of early American music, and decolonizing and antiracist philosophies in music education.
Wednesday, July 20
10 a.m.–noon
Art Tales: Lightbulb Moment
Sometimes we just need a little inspiration! Let your creativity grow with a morning full of stories, gallery games, art making, and a performance by oral historian and griot storyteller Decee Cornish, all inspired by artworks in Sargent, Whistler, and Venetian Glass: American Artists and the Magic of Murano.
Decee Cornish a Texas born-and-raised griot storyteller and oral historian. He is known for his multicultural folktales, tall tales, myths, and ghost stories that help to teach and motivate young people of all ages. Cornish has been a featured teller in festivals nationally and statewide and has won awards for working as a mentor for youth. He is also a U.S. veteran and has set foot on five of the seven continents.
Wednesday, July 27
10 a.m.–noon
Art Tales: Work in Progress
Making art takes practice and patience! Celebrate the creative process with a morning full of stories, gallery games, art making, and an interactive performance by improv storyteller Chris EspinosaXYZ, all inspired by the exhibitions Justin Ginsberg: Shaking the Shadow and Darryl Lauster: Testament.
Chris EspinosaXYZ is an improv storyteller. His career has included everything from community theater to commercials to teaching. He's known for his stories that entertain and cause laughter in the entire family but that are also educational. Chris EspinosaXYZ has inspired thousands to take up storytelling and writing and will be performing at the Carter on July 27.