After closing SparkFest, Amphibian Stage's biggest event in 23 years, the summer play offering will take audiences to Victorian England with a twist.

Miss Molly is an homage to Oscar Wilde's The Importance of Being Earnest, offering the same humor and charm of Wilde's work while incorporating modern references and exploring queer themes (an act punishable by law during Wilde's lifetime). This new comedy comes from Christine Carmela and will be directed by Evan Michael Woods, two TCU alumni who were roommates when Carmela first drafted Miss Molly. Since graduating, Carmela made her Off-Broadway debut at SoHo Repertory Theatre and has accrued 6.4 million likes on TikTok – all while gaining her Masters in Screenwriting from the University of Southern California. While Woods is known as a multidisciplinary theatre artist in DFW, Miss Molly marks his directorial debut. Christine tells us why she and Evan make the perfect team.
"To have Miss Molly premiere in any other city, at any other theatre, with any other director would feel blasphemous. DFW has always been an artistic home for me; it's where I started my career as a writer and performer. Before USC and Off-Broadway, Amphibian was the first professional theatre to give me a chance when they hosted a staged reading of one of my early plays. There is not a single director better suited to bring Miss Molly to life than the person who lived in the room next door to me for most of my time in DFW, whom I consider a go-to collaborator, confidant, and friend," says Carmela.
The ties to Texas Christian University don't stop with Carmela and Woods. Not only are there several other "Horned Frog" cast and creative members, but Amphibian Stage was founded in 2000 by a group of freshly graduated Theatre TCU students. Now, 25 years later, seasoned playwright and Artistic Director Kathleen Culebro is offering her stage to a new voice from her alma mater. "It's a thrill to welcome Christine and her hilarious romp of a play to our stage. I couldn't be prouder of my fellow Horned Frog, who is clearly about to become a huge sensation. Her talent is undeniable. If you like funny, fast-paced, sexy plays with gorgeous period costumes then this is the play for you."
Logan Graye, Brayden Raqueño, and Luke Atkison make up the rest of the TCU grads involved in Miss Molly. Logan Graye, a New-York based performer, will play Genevieve Houseington. Brayden Raqueño, a Los-Angeles based performer, will play Aloysius Thurston. Graye and Raqueño were both in the first staged reading of Miss Molly at TCU in 2018. Luke Atkison, a Florida-based designer, performer, and drag artist, will act as the lighting designer.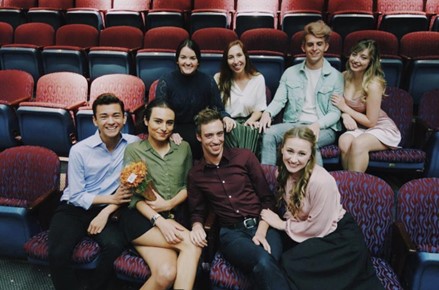 (First Staged Reading at TCU, Fall 2018. Current Miss Molly team members pictured: First Row Left, Brayden Raqueño | Right of Raqueño (green shirt) Christine Carmela | First Row Right, Logan Graye | Top Row, Second from Right (Teal Jacket) Evan Michael Woods)
Parker Gray, Executive Director of Second Thought Theatre, will play the role of Matthias Manley. Well known Dallas-Fort Worth stage performers Laurel Collins, Shannon McGrann, and Emily Scott Banks will play the roles of Baroness Ella Manley, Baroness Bertha Thurston, and Viscountess Petunia Houseington, respectively. Aaron Patrick DeClerk, a DFW-based costume designer known for his work with Trinity Shakespeare Festival, will act as costume designer. DC based (and DFW native) Paige Hathaway will design the set. Nicole Alvarez, who recently worked on Broadway production of the Pulitzer-Prize winning play Fat Ham, will design wigs and hair. Patrick Emile, a DFW-based sound designer known for work with BBC, Aivson Young, and Benjamin Moore, will design sound.