Cooking
5 Easy Weekday Slow Cooker Recipes
We all desire to find new, delicious, and quick dinner ideas, so I have compiled these 5 slow cooker recipes to make your weeknight dinner planning just a bit easier. Each of these recipes has a bit of summer flair and keeps the cooking simple. I've have also included the nutrition info as well so that you can not only feel good about what your family is eating, but you can trim that waistline as well. Enjoy!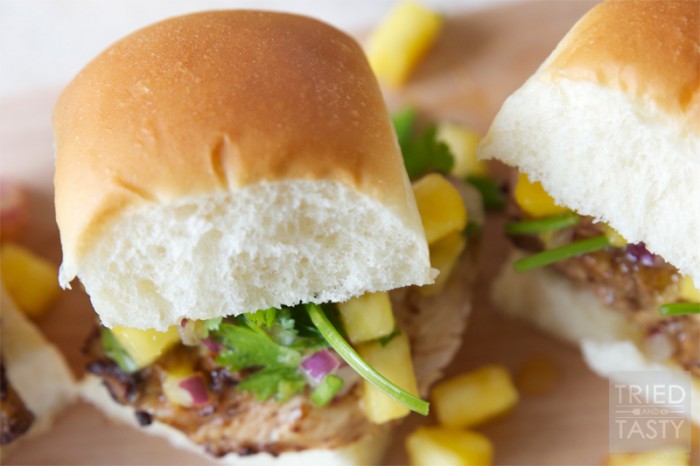 Jerk Chicken Sandwiches with Mango Cucumber Salsa
Serves 6
Ingredients
2 lbs. chicken – breast or thigh
16 oz. Jerk Marinade – store bought or homemade
1 mango
1 cucumber
1-2 Tbsp. lime juice
salt and pepper to taste
Rolls for serving – we used Hawaiian Rolls
Optional – substitute Teriyaki (Soy Vay makes a great one!) for Jerk marinade if spice is an issue for little ones
Instructions
Add the chicken to the slow cooker and pour the marinade – either jerk or teriyaki – over chicken. Cook on low for 8 hours or high for 4 hours.
Peel and dice the mango and cucumber (discarding seeds) and toss together with lime juice, salt, and pepper. Refrigerate until ready to use.
When chicken is cooked, stir with a spoon to shred.
Serve shredded chicken on rolls and top with salsa.
Nutrition per serving: Calories 272; Fat 5.1g; Carbs 26.6g; Protein 31.1g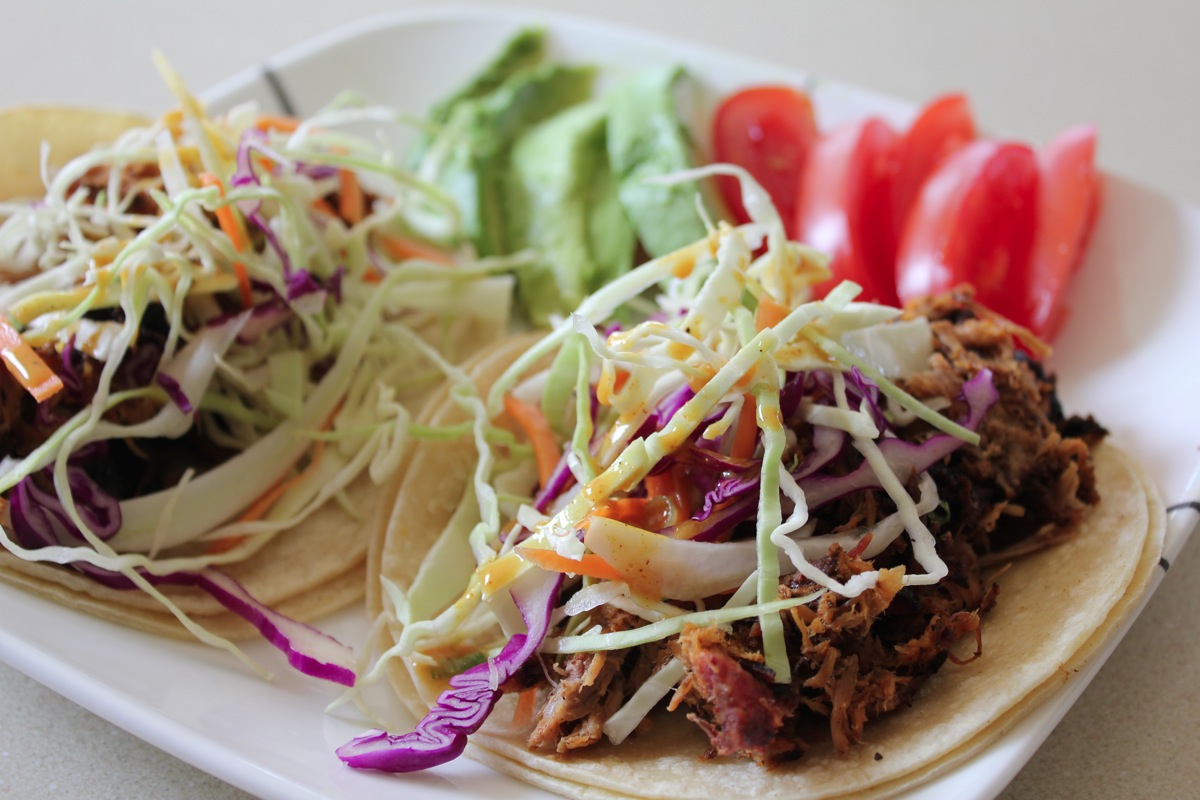 Pulled Pork with Mexican Coleslaw
Serves 12 – Great for a pool party!
Ingredients
1 tsp. dried Oregano
1 tsp. chili powder
1 tsp. Cumin
1 tsp. Salt
¼ tsp. black pepper
1 onion, diced
3 cloves garlic, minced
6 oz. can tomato paste
1 Tbsp. honey
½ cup orange juice
¼ cup lime juice
3 ½ – 4 lb. pork roast (pork shoulder or pork butt is best)
Corn tortillas for serving
Mexican Slaw – mix all together and refrigerate for several hours
16 ounce package coleslaw mix
¼ cup rice vinegar
3 Tbsp. lime juice
1 Tbsp. oil
2 Tbsp. sugar
½ tsp. salt
3 Tbsp. chopped cilantro
Instructions
In a bowl, combine first 5 ingredients and rub over meat.
Place the pork into the slow cooker and cover with onions.
In a bowl combine the garlic, tomato paste, honey, orange juice, and lime juice. Pour over pork and onions.
Cook on low for 8 hours or until pork is tender.
Remove pork from the slow cooker and shred. Pour remaining juice in cooker over meat for serving.
Serve on corn tortillas with Mexican slaw.
Nutrition per serving: Calories 502; Fat 26.4 g; Carbs 37.3g; Protein 27.8g
Honey Ginger Chicken
Serves 4-6 (nutrition info for 4 below)
Ingredients
4 chicken breasts (boneless skinless used)
½ cup honey
½ cup soy sauce (reduced sodium or gluten free if desired)
2 Tbsp. ketchup
1 garlic clove, crushed
½ tsp. ground or fresh ginger, grated
8 oz. can of pineapple chunks, reserve juice
2 Tbsp. cornstarch, may substitute arrowroot
Instructions
Spray slow cooker with non-stick cooking spray.
Mix honey, soy sauce, ketchup, garlic, ginger, and pineapple juice in a bowl.
Place chicken in the slow cooker and pour mixture over the top of the chicken.
Cook on low for 8 hours.
Once cooked, remove the chicken to a serving plate, and keep warm. Add cornstarch to the juices in the bottom of the cooker, stirring well. Allow to thicken, then pour over chicken.
Serve chicken with either rice, potato wedges, or over salad greens.
Nutrition per serving: Calories 404; Fat 3g; Carbs 72.9g; Protein 24.5g
Sausage and Shrimp Jambalaya
Serves 8
Ingredients
2 pounds andouille sausage, sliced into rounds
1 (28-ounce) can diced tomatoes
1 medium onion, chopped
1 green bell pepper, seeded and chopped
1 stalk celery, chopped
1 cup reduced-sodium chicken broth
2 tsp. dried oregano
2 tsp. Cajun or Creole seasoning
1 tsp. Tabasco
2 bay leaves
½ tsp. dried thyme
1 pound frozen peeled shrimp, thawed
2 cups white long grain rice
Fresh chopped parsley as garnish
Instructions
In the slow cooker, combine sausage, tomatoes, onion, green pepper, celery, and chicken broth. Stir in oregano, cajun seasoning, hot sauce, bay leaves, and thyme.
Cover and cook on low for 8 hours or on HIGH for 4 hours.
Once the contents in the slow cooker are done cooking, carefully remove the liquid. You will use this liquid to cook your rice in a separate pot.
Cook the rice according to package directions using as much jambalaya liquid as possible; (2 cups rice needs 4 cups liquid). Typically, I can get 2 cups of liquid from the slow cooker so I'll use an additional 2 cups water, low sodium chicken broth, or V8.
While rice is cooking, stir in the thawed shrimp in the slow cooker, cover and cook until the shrimp is cooked (about 30 minutes on low).
Once rice is cooked, drain and mix into the slow cooker. Discard bay leaves, add fresh chopped parsley if desired, and serve.
Nutrition per serving: Calories 495; Fat 37.1g; Carbs 28.2; Protein 28.7g
Chicken Pad Thai
Serves 6
Ingredients
6 boneless skinless chicken breasts
2 medium onions, coarsely chopped
½ cup chicken broth (reduced sodium can be used)
¼ cup soy sauce (wheat-free tamari or low sodium can be used)
1 Tbsp. ground cumin
3 cloves garlic., minced
½ Tbsp. fresh ginger, grated
½ tsp. ground red pepper
salt and pepper to taste
2 Tbsp. cornstarch, could substitute arrowroot if desired
2/3 cup crunchy peanut butter
1 Tbsp. soy sauce
¼ Tbsp. lime juice
4 green onions, chopped
1 package rice noodles, prepared according to package instructions
Instructions
Cut chicken into strips and place in the slow cooker.
Combine chicken broth, soy sauce, cumin, garlic, red pepper, and ginger and pour over chicken.
Cook on low for 6 hours.
Remove 1 cup liquid from the cooker and add in cornstarch, peanut butter, 1 Tbsp. soy sauce and lime juice. Blend well and pour sauce back into the slow cooker. Cover pot again and continue to cook for an additional 20 minutes.
Prepare rice noodles according to the package.
Plate noodles and top with Chicken Pad Thai and green onions.
Nutrition per serving: Calories 397; Fat 18.9g; Carbs 28.1g; Protein 32.9g
I hope that you love these recipes, and with the help of your trusty slow cooker, you can get out of the kitchen and outside to enjoy this beautiful weather!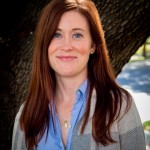 Kristen McDonald is a Texas girl who earned a Communications degree from Baylor, then fell in love and married a fighter pilot. Air Force duty called and she and her new husband moved from their beloved Texas and together they saw the world. In 11 years of marriage she has moved 7 times across the U.S. and Europe, adopted a son and begun her greatest adventure – motherhood.  Kristen is thrilled to finally be back home in Texas for good. She is at her happiest in a good pair of jeans, with dinner cooking on the stove, music cranked loud and a Gin and Tonic in her hand.