Spring in Texas is the perfect time for grilling. There are few things more miserable than standing over a blazing hot grill, flipping steaks, when it's 105°, so dust off your grill and enjoy! To tempt you, Central Market is celebrating Fire and Spice: A Global Grilling Adventure. To help you get started on your own grilling adventures, I've come up with four recipes for grilling globally, so get on over to Central Market to stock up on ingredients.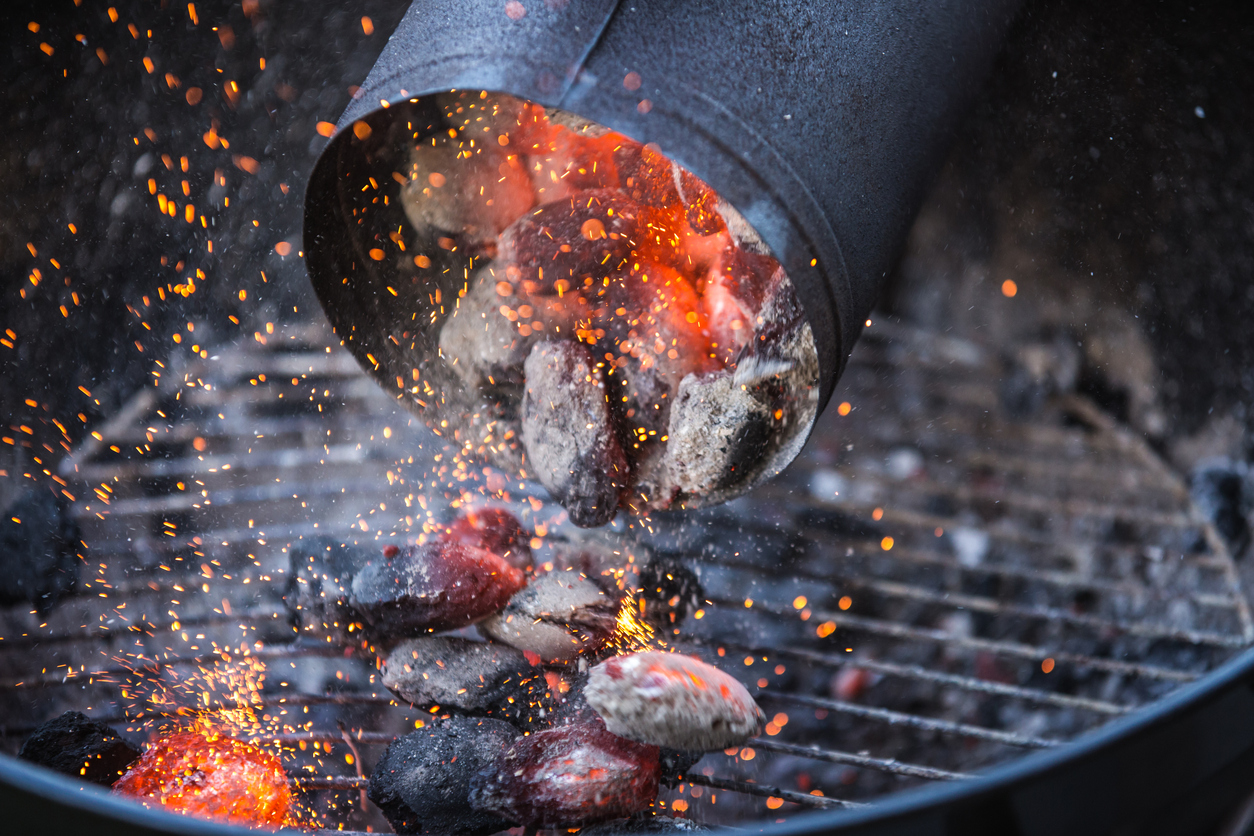 For those who are grilling neophytes (or those who might need a refresher course), I've found a couple of good grilling information pages. Central Market, of course, has a great grilling information page. It covers everything from grilling tools to ways to flavor your food. For those who are slightly more experienced but need a quick refresher to shake the dust off the grill, Epicurious.com has a good article on grill preparation.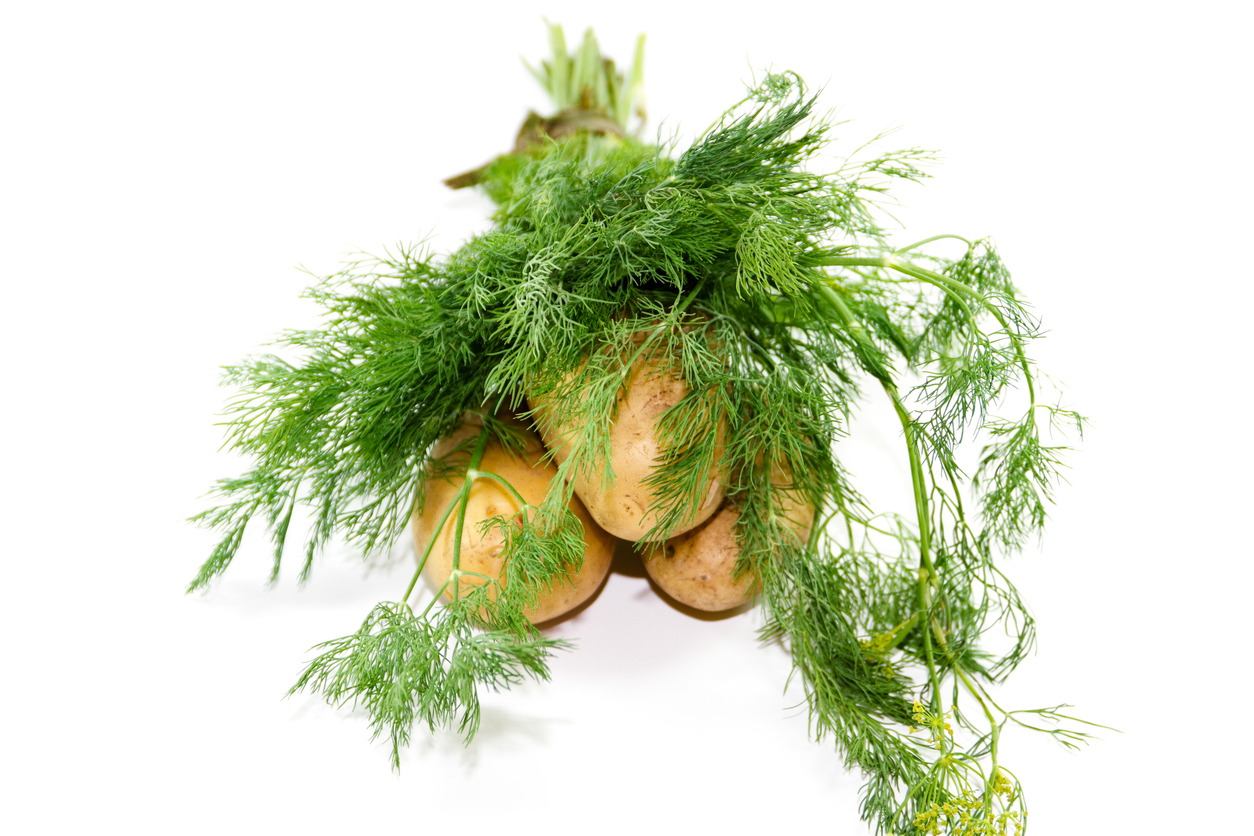 Grilled Swedish Potato Salad
Grilling Yukon Gold potatoes gives them a lovely, smoky flavor that works beautifully with a Swedish mustard-dill sauce.
Ingredients
• 2 pounds medium-sized Yukon Gold potatoes
• 1 medium shallot, minced
• ¼ cup capers, drained
• 3 tablespoons whole-grained mustard
• 1 scant tablespoon sugar
• 2 tablespoon white wine vinegar
• ½ cup olive oil, divided use
• 1 bunch fresh dill, chopped
• Salt and freshly ground pepper
Directions
Boil the potatoes in salted water until barely fork-tender. Drain and allow to cool slightly. Slice into ½-inch thick slices and gently toss with 1 tablespoon of the olive oil and salt and pepper. You can prepare the potatoes up to a day before; just refrigerate in an airtight container.
To make the sauce, whisk together the whole-grained mustard, sugar, and white wine vinegar. Slowly whisk the olive oil into the mustard mixture, as if you were making a mayonnaise. Stir in the dill and season to taste with salt and pepper. This, too, can be made a day ahead. It's also great on grilled seafood, chicken, or pork.
Grill the potato slices over a preheated, medium-high grill until grill marks form, approximately 4 to 5 minutes. Turn the slices over and grill for another 4 to 5 minutes, until the potato slices are tender. Toss the potatoes with the shallot, capers, and mustard-dill sauce. This can be served warm or cold.
Serves 6 to 8 as a side.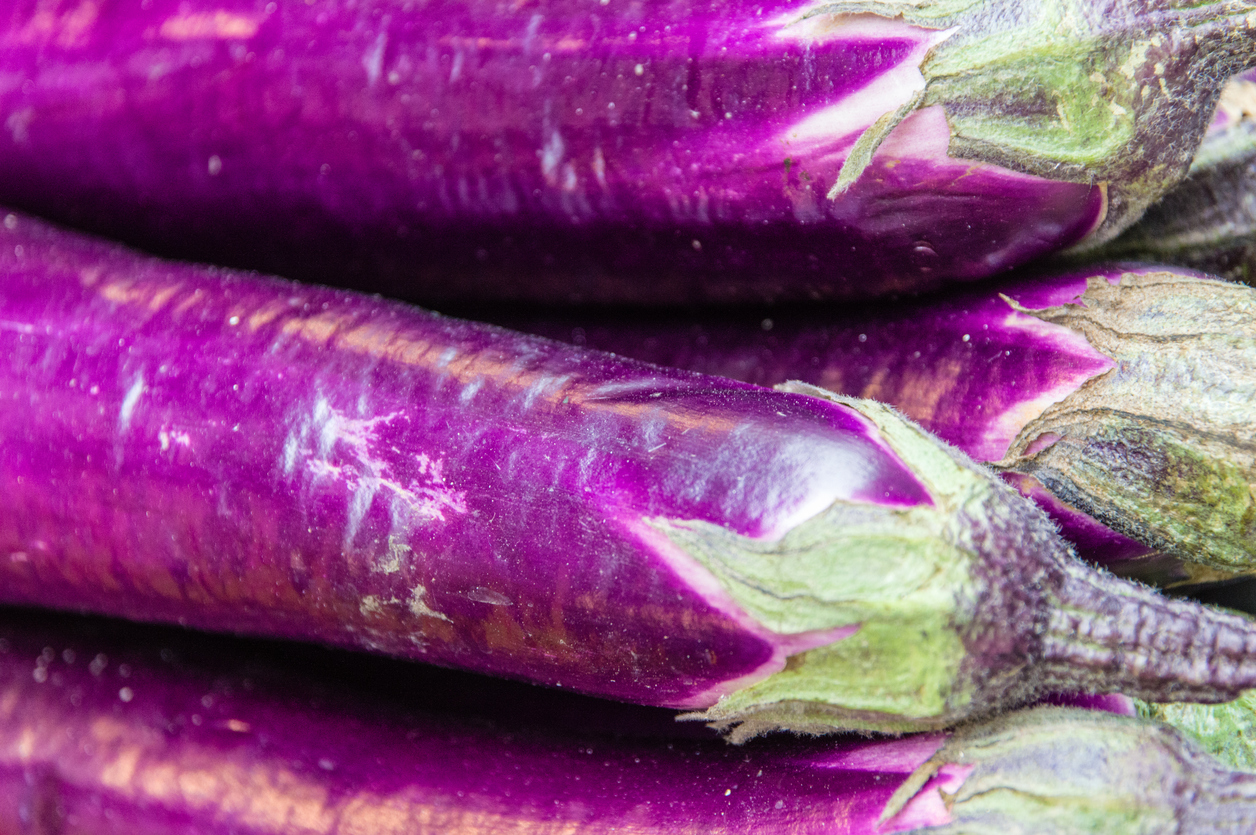 Korean Grilled Eggplant
Eggplant on the grill is one of my favorite summer meals. It is so versatile, able to take all sorts of seasonings and marinades. This Korean-inspired sauce is my current obsession.
Ingredients
• 3 Asian eggplants (the long, skinny ones)
• Kosher salt
• 1 tablespoon oil (I use a neutral oil, such as canola or grapeseed, for this recipe)
• 2 green onions, finely sliced
• 2 cloves garlic, minced
• 1 tablespoon soy sauce (you can use low sodium if you like)
• 1 scant teaspoon sugar
• 2 teaspoons unseasoned rice wine vinegar
• 1 tablespoon, more or less, gochujang (Korean red chili paste, available in most grocery stores these days)
• Freshly ground pepper
• 2 teaspoons toasted sesame oil
• 1 teaspoon sesame seeds for garnish
Directions
Slice the eggplants into ½-inch slices and toss with salt. Allow to sit for 15 to 20 minutes, or until the slices are slightly wilted and some liquid has seeped out. Pat the eggplant dry with paper towels or a clean kitchen towel and toss with the neutral oil.
To make the sauce, whisk together the green onions, garlic, soy sauce, sugar, rice wine vinegar, gochujang, pepper, and sesame oil.
Grill the eggplant slices over a preheated, medium-high grill for 3 to 4 minutes a side, or until the eggplant slices are nicely marked and tender. Toss the hot eggplant slices with the sauce. This can be served warm or cold.
Serves 6 to 8 as a side or 4 as a main course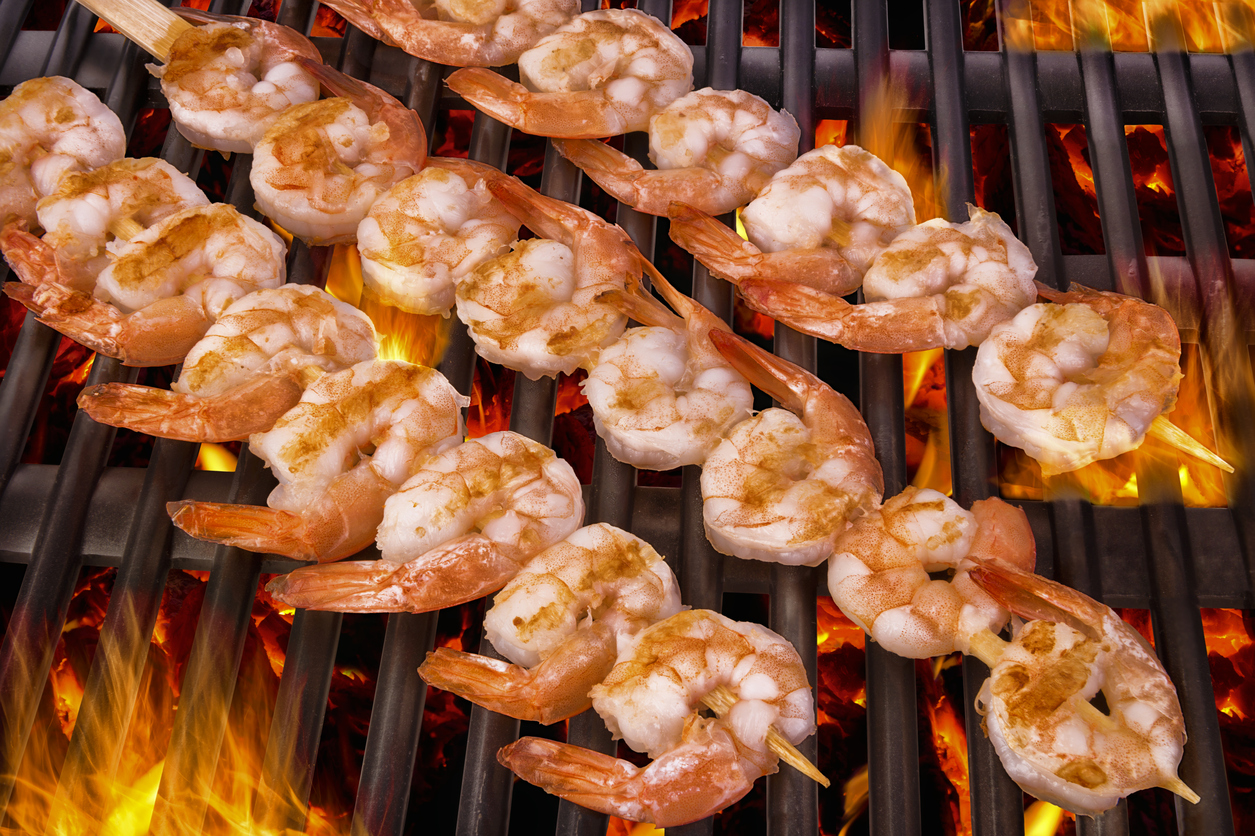 Grilled Shrimp Kabobs with Cuban Mojo
Mojo is Cuba's go-to sauce/marinade. It is a garlic citrus sauce that is wonderful on almost anything – seafood, chicken, pork, vegetables. In the summer, I usually have a jar of it in the fridge, available for quick use.
Ingredients
• 8 to 10 cloves garlic, peeled
• 1 tablespoon salt
• Juice of 6 limes
• Juice of 2 oranges
• 1/3 cup olive oil
• 2 pounds jumbo shrimp, peeled and deveined, tails on
• 2 tablespoons canola or grapeseed oil
• Salt and freshly ground pepper
• Skewers for grilling (if you are using bamboo skewers, soak them in water before use)
Directions
To prepare the mojo, the original recipe calls for making a paste of the garlic and salt with either a mortar and pestle or with your knife. While I do this when I'm not in a hurry, I'm always in a hurry, so I just grind the garlic and salt together in my mini-food processor until it's fairly paste-like. Add in the lime and orange juices and buzz to combine. Heat the olive oil in a small saucepan over medium-high heat. When the oil starts to shimmer, add the garlic-citrus mixture (be careful, it will spatter!) and cook for about 1 to 2 minutes. Allow to cool. This can be made well ahead of time; simply store in a jar in the refrigerator.
Thread the shrimp onto the skewers, being sure not to crowd them. (If you crowd anything on skewers, the outside will burn before the inside is cooked.) Toss with the canola or grapeseed oil and season with salt and pepper. Grill the skewers over a preheated, medium-high grill for no more than 2 minutes a side. You don't want to overcook the shrimp because eating overcooked shrimp is like chewing on a bicycle tire.
To serve, drizzle some of the mojo over the shrimp and have extra on the side for dipping.
Serves 6 to 8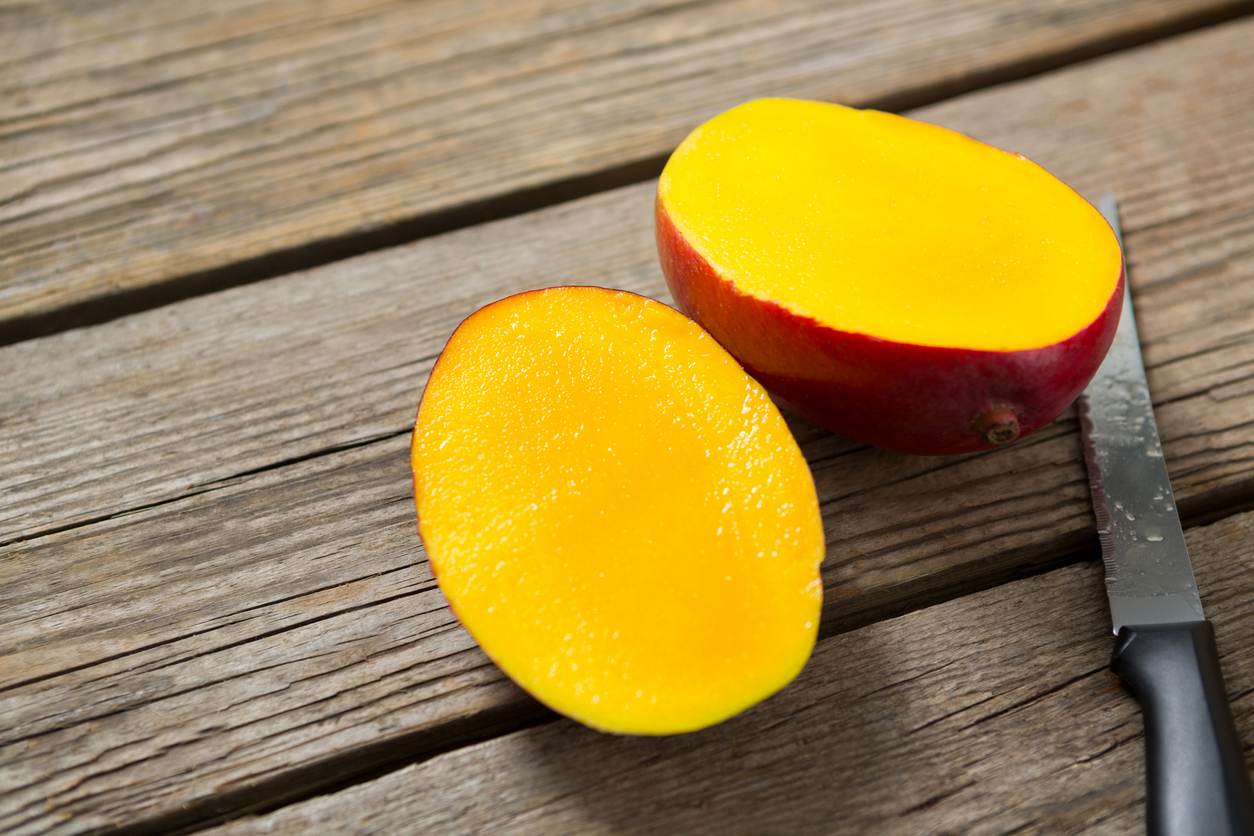 Grilled Garam Masala Mangoes with Coconut Ice Cream
Grilling fruit brings out the sweetness and adds a wonderful caramel depth. I love grilling peaches, plums, pears, pineapple, mangoes, and cantaloupe.
Ingredients
• 4 large mangoes
• 1 tablespoon canola or grapeseed oil
• Pinch Kosher salt
• 1 tablespoon garam masala (this is an Indian spice blend which usually contains cloves, cinnamon, cardamom, coriander, black pepper, and cumin)
• 2 tablespoons sugar
• Coconut ice cream
• Lime wedges, candied ginger pieces, and toasted coconut for garnish
Directions
To cut the mangoes, use a sharp knife to remove one of the wide rounded sides of the mango from the pit. Repeat with the other side. Gently remove the peel from the mango slices and toss with the canola or grapeseed oil and the salt. Combine the garam masala and the sugar in a small bowl and set aside.
Grill the mangoes on a preheated, medium grill for 1 to 2 minutes per side. (Grilling fruit is not about cooking it; you are merely allowing the grill to mark the fruit and gently warm it through.) Lay the slices out of a baking sheet and sprinkle both sides with the garam masala and sugar mixture. Return the mango slices to the grill and grill for 30 seconds a side. Serve over the coconut ice cream with whatever garnishes you wish!
Serves 8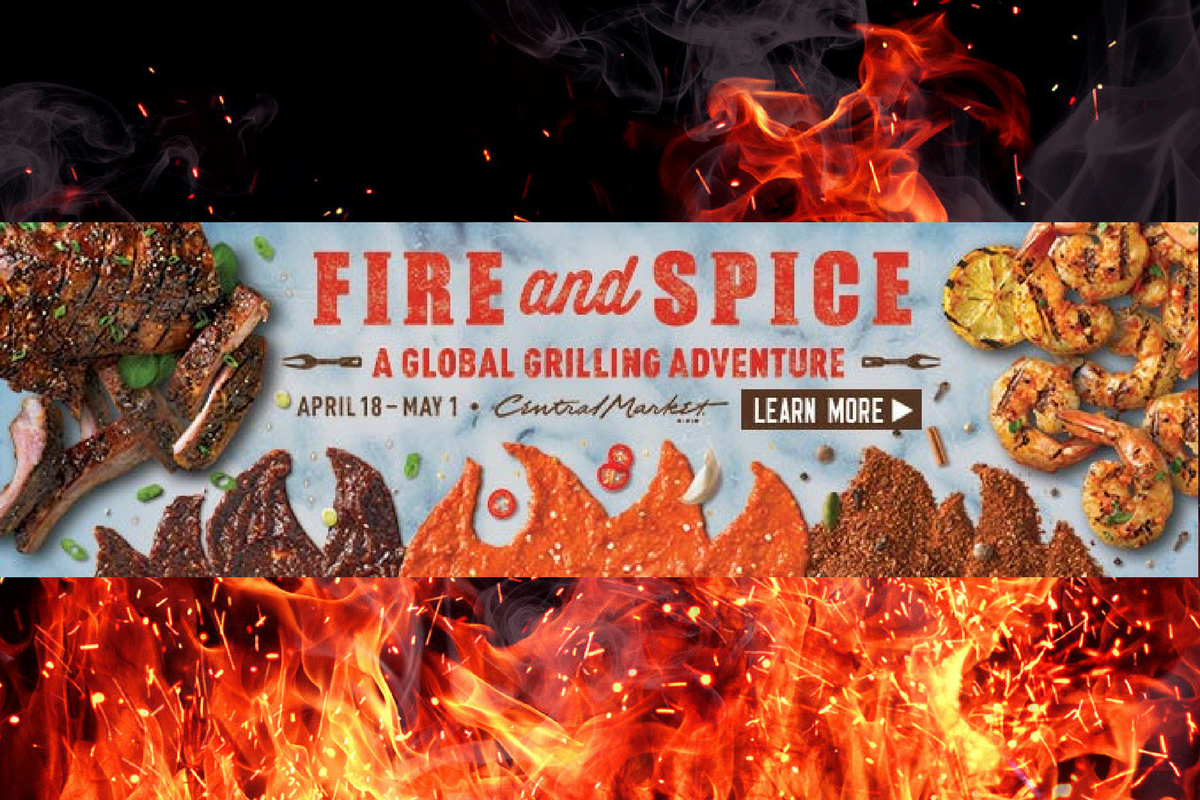 If you're not wanting to haul out the grill, you can always pick up whatever you need from Central Market. Look for Global Grilling ingredients and ideas throughout the store. Or try their Curbside Pickup if you're in a hurry!