A while back I wrote about how I was planning to end my 20 years in glasses and contacts with LASIK surgery. I'm very happy to announce I have done that! My dream of crystal clear vision has come true and I'm going to share my LASIK journey with you.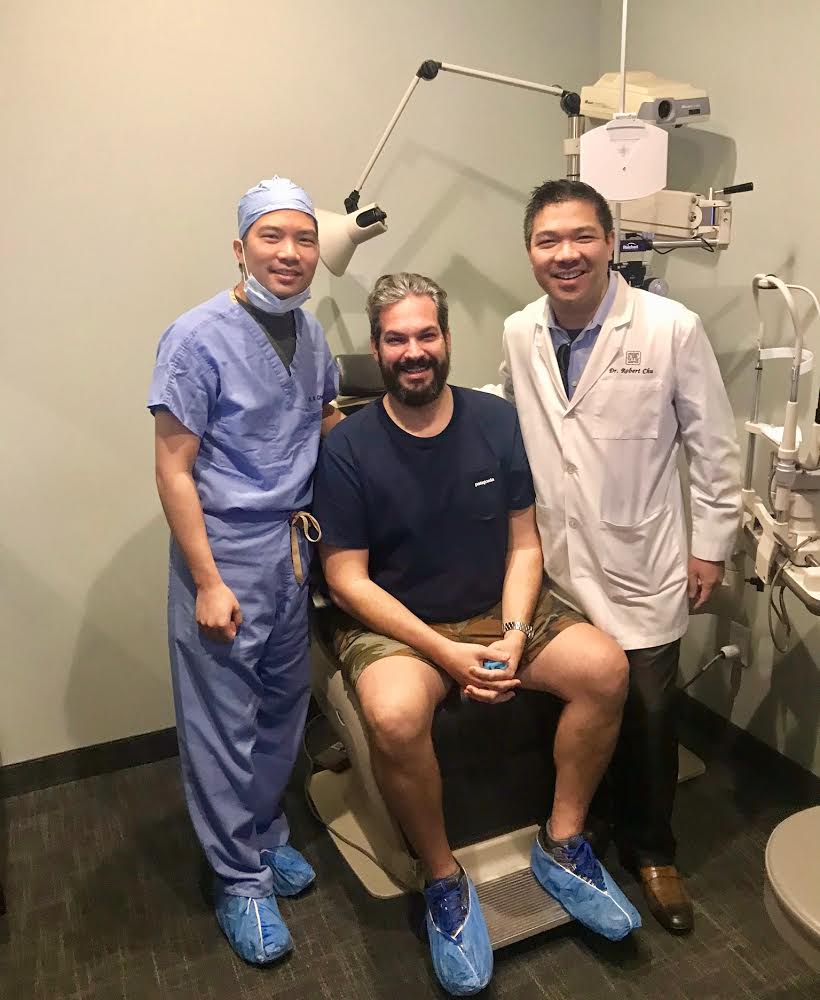 Several months ago, I mustered up the courage and made the decision to get LASIK eye surgery. I proceeded to carefully research all of the eye surgeons in Fort Worth and Dallas.  My search quickly led me back home. After evaluating, I chose to have Dr. Richard Chu of the Chu Eye Institute perform my LASIK eye surgery. After all, Dr. Robert Chu, OD (his brother, who I went to school with since Seventh Grade) and their Mom, Dr. Lena Chu, OD have taken care of my family's eyes for years. The Chu Family represents generations of eye care professionals who have devoted their entire professional careers to caring for the eyes of Fort Worth!
Dr. Richard Chu is one of just a handful of Fellowship Trained Cornea Specialists in all of DFW. This means he is one of the areas highest authorities in the cornea and is more specialized in LASIK and Refractive Surgeries than other general eye doctors. When I went to see Dr. Richard Chu of the Chu Eye Institute a few weeks after being out of my contacts I knew there was a chance that I may not have been a candidate for the LASIK procedure. While I don't know all the markers Dr. Chu looked for, I do know he spent some time looking at my eyes and evaluating my vision. I was borderline for LASIK and we discussed the pros and cons of doing PRK instead. In the end, Dr. Chu was confident LASIK would be fine and I chose to go that route. Just know, if you're not a candidate for LASIK, there are other options. Being a Cornea Specialist, Dr. Chu has many additional advanced vision correction options at his disposal.
After my free LASIK evaluation, we scheduled the procedure for a couple of days later. I admit to being a little nervous the morning of my procedure. After all, you only get two eyes and we are hard-wired to protect them. However, my excitement was greater than my apprehensions and I headed out the door.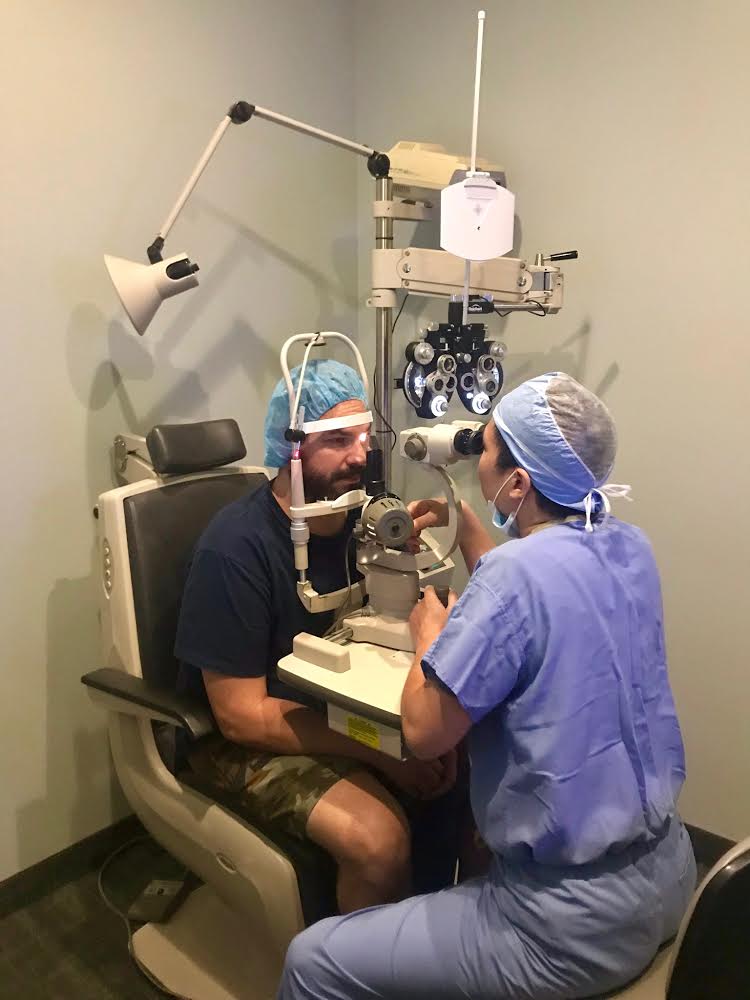 When I arrived for my procedure, I was greeted by the always friendly Chu Eye Institute staff. Dr. Richard Chu spent some more time looking at my eyes, taking notes, measuring this and that. He is painstaking in the processes leading up to the procedure, making sure everything is right before he begins, which I definitely appreciated very much. They have the most advanced high resolution measuring device called iDESIGN. I was told there are just  few of these in the country.  Dr. Chu is careful yet confident. I knew my eyes were in good hands.
A few minutes later I was led to the absolutely state-of-the-art and beautifully designed LASIK suite. Now I started to get really excited. I had waited so long for this and it was finally about to happen.
Dr. Chu went about his business in a quiet professional manner. He did some things with my eye, told me to look at the bright light above me and after a few seconds shifted my position and repeated the steps. Before I knew it, eye #1 was done! Then it was on to eye #2 where the procedure was repeated and that was it. I think I was in the LASIK room for about 10 minutes and most of that was talking to Dr. Chu and his staff before and after the actual procedure. I was blown away by how quickly and efficiently the procedure went.
I was taken to my room to recover for a few minutes, my vision was a bit blurry but I could tell things were clearing up quickly, but my eyes felt fine. Dr. Chu came a couple minutes later to take a look and said he was very happy and that the procedure went perfectly. I was instructed to administer my prescription eye-drops as well as wetting drops, take a nap when I got home, keep my eyes closed for the rest of the day and return the next day for a check-up. I was also given some eyeshields to wear at night for a week to prevent accidental rubbing of the eyes. Don't tell Dr. Chu but I only wore them six nights.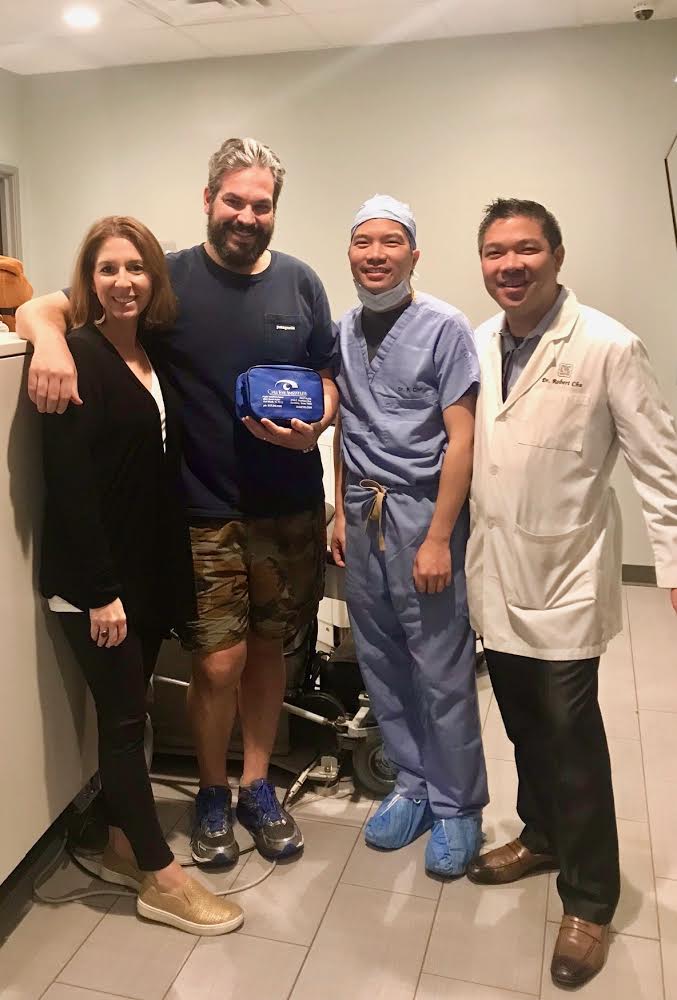 The next morning when I went to see Dr. Chu, and I drove myself, without glasses or contacts! My vision was slightly blurry, but I could see really well. In fact, when I read Dr. Chu's eyechart, I sang out the bottom row like I'd done when I was ten years old! 20-20, baby! I couldn't believe it. In less than 24 hours I'd gone from Captain Squint, to perfect vision. Additionally, a couple of months before my LASIK procedure I had started wearing reading glasses when I realized I couldn't see the date on my watch. Now, I could see the date just fine. I could read everything. No more reading glasses. I can see up close, far away and everything in between!
Dr. Richard Chu and his staff take really good care of their patients before during and after the LASIK procedure. I was instructed to return for regular check-ups at one week, two weeks, one month, three months and six months. My vision is still 20-20 and I still don't need reading glasses.  Every day I am thankful that I don't have to reach for glasses first thing in the morning, or put contacts in or take them out. Good vision is such a blessing and one that we often take for granted. It's become almost cliché at this point for those who have taken the LASIK plunge, to say that it is the best thing they've ever done for themselves. I can honestly say the cliché is true. I am so happy to be able to see without the assistance of glasses or contacts I only wish I'd done it sooner.
Now it can be your turn to get perfect vision. At 6:30 PM on May 3rd, Chu Eyeworks is hosting a LASIK Social in their beautiful new facility at 3017 W. 7th Street, Suite 210. You will hear from Dr. Richard Chu about LASIK and from me about the life changing effects of having LASIK surgery. There will be beer and wine and heavy hors d'oeuvres provided by Reata; as well as some great door prizes. Attendees who schedule a free consultation while at the event will receive up to $600 off their LASIK procedure and there will be a raffle for a FREE LASIK procedure!* This is an incredible offer from Eyeworks and will likely be the best deal you will ever get on LASIK.
*Free LASIK procedure for one eye or 50% of two eyes