I'm always struggling to find fun indoor activities that will keep the kiddos entertained for hours, that isn't too messy and is within their skill level. My kids are 7, 6 and 4 and trying to find one activity that will work for that age spread isn't always easy but this one is absolutely perfect. Bree Perez, the photographer of this shoot, suggested it to me and she was right! They had fun building the geodesic structures, and then I let them free play and build whatever their imagination desired. And of course, they had fun eating gumdrops, perhaps a bit too many gumdrops. But I'm a total pushover and if the kids are happy, I'm happy.
Here's what you need for the activity
Gumdrops (or spice drops)- $1 a bag at Tom Thumb (Target did not carry them)
Toothpicks $1 a box –colored toothpicks are fun too, I think liquor stores carry these.
Step by step instructions are at the end of the blog.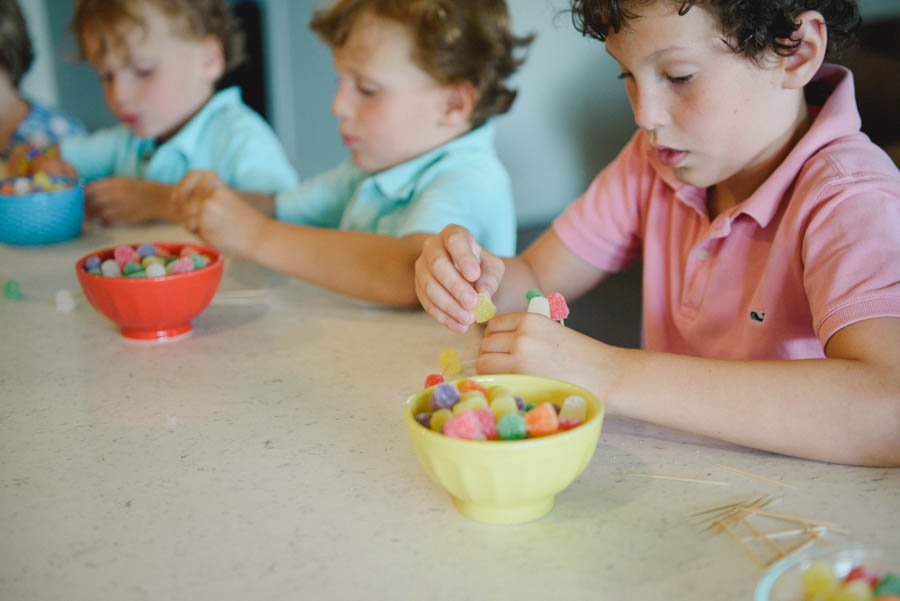 Each child got their own bowl of gumdrops and a stack of toothpicks. I first demonstrated the activity so they could see how to build the shapes, then they followed the model I made. That way I was able to help each one of them when they got stuck or if the structures lost their balance and they needed an extra hand.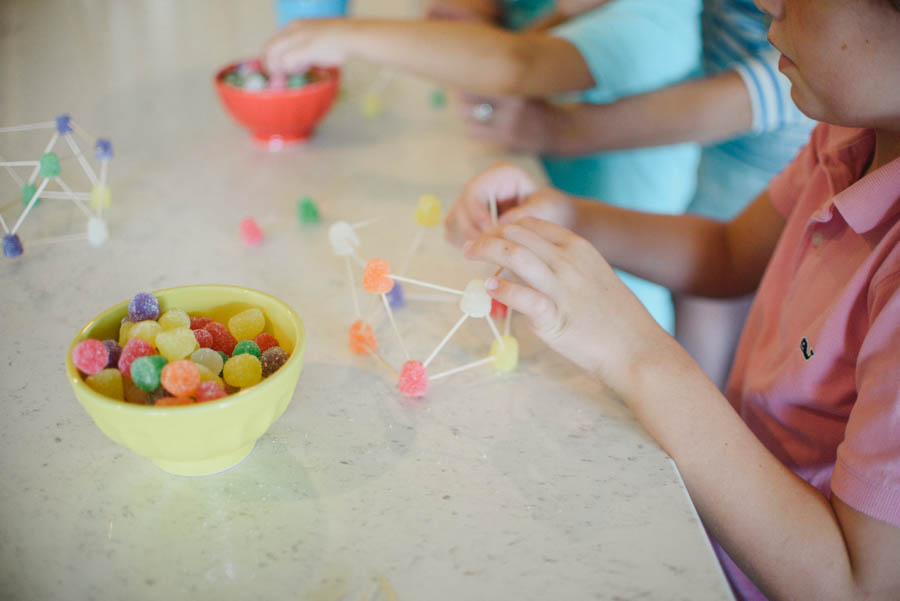 My oldest (almost 8) had no difficulty with the project and continued to build more domes as the others finished their first ones. If you haven't heard the term STEM learning, STEM is an acronym for Science, Technology, Engineering, and Math. There are so many easy learning tools around the house or that are very inexpensive to purchase to make play time educational as well.
My four year olds needed my help keeping the levels balanced but really enjoyed selecting the colored gumdrops and jabbing them with toothpicks. They were able to follow along with minimal help, but certainly enjoyed the free building play time the best.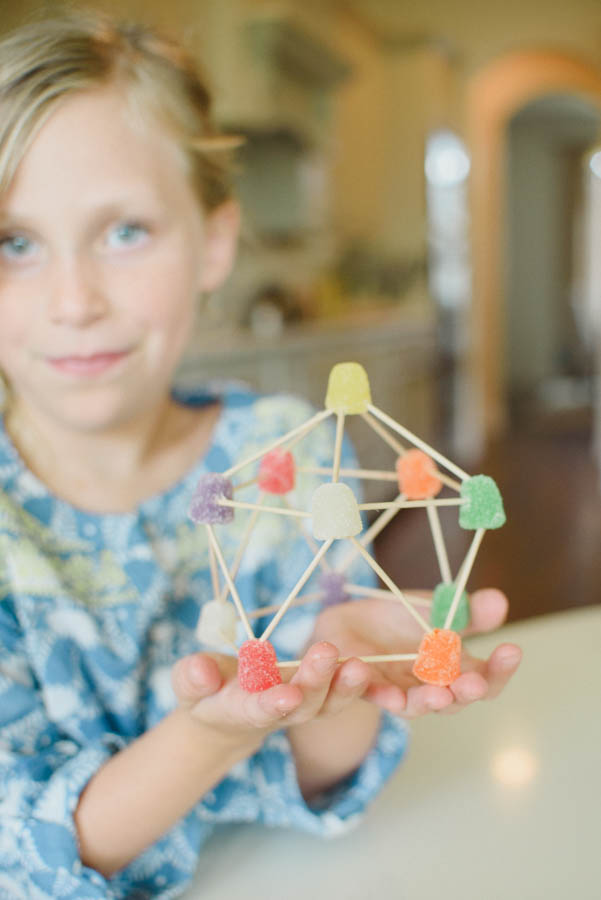 My middle child, or as we lovingly call her, the girl child, was the best listener and helper. She enjoyed both building the structures and free play. She's the most creative out of the clan and so naturally the twins copied some of her designs. My oldest felt it necessary to build the most structures. It's pretty amazing how birth order dictates so much of this behavior, but I try to let them explore what their personalities enjoy.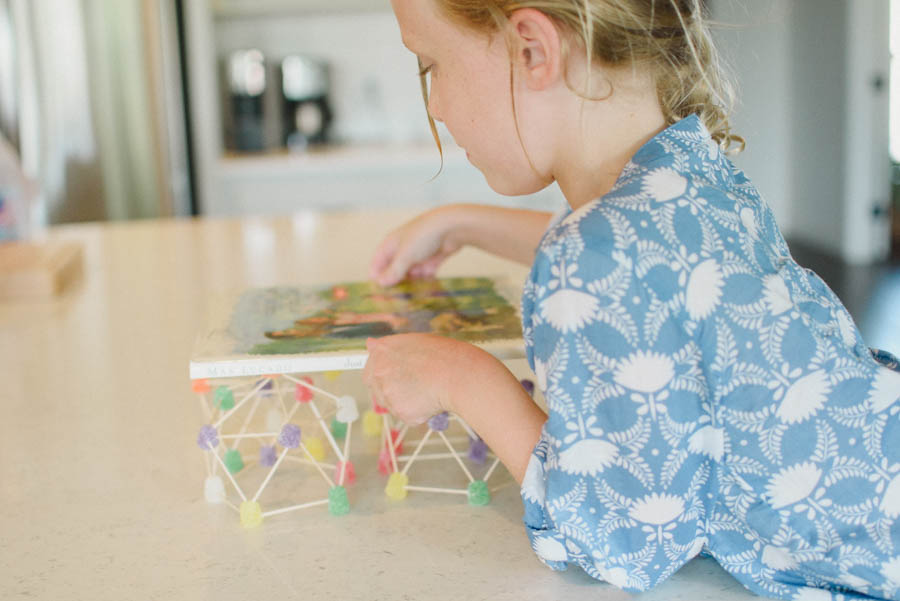 Build at least 4 domes because the last part of the activity allows you to test the strength of your children's building skills. You will want to wait at least 4 hours after they are built so the gumdrops have had time to harden. Then you can add one book at a time to have a "roof" on your structure.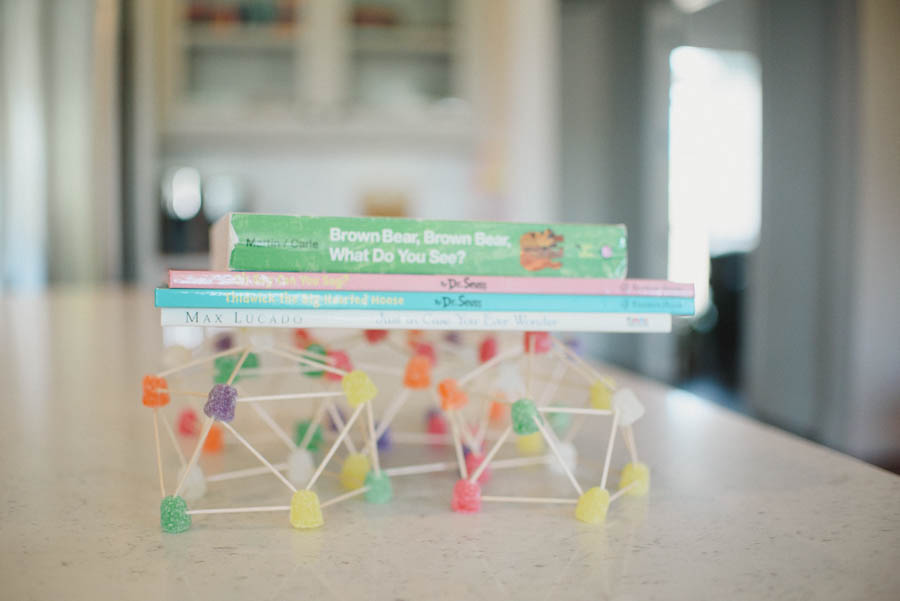 We only built one level, but I have seen very tall buildings on Pinterest. I would think they took time to let each level harden a bit before building the next or your little ones will become frustrated that their buildings keep collapsing. I'm sure with good engineering it's possible to build huge structures! I hope you enjoy this activity and if you try it out please tag us in Instagram. We are @tanglewoodmoms or you can also hashtag #tanglewoodmoms
Here is the step by step process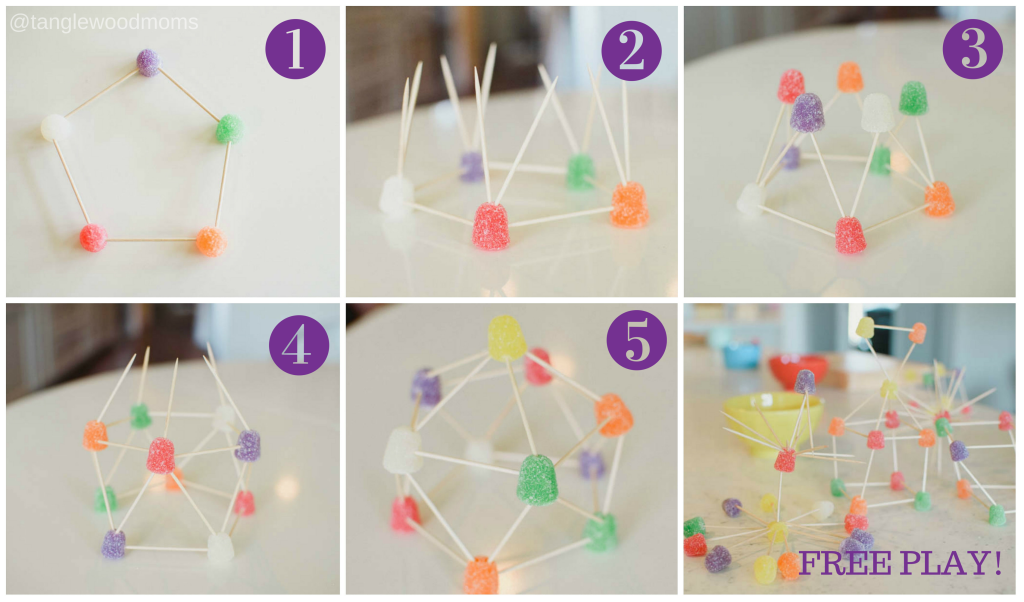 Here are some other fun learning activities with candy that I think I will try out too:
Gumdrop people game 
Candy Math 
Candy Ink 
Happy Building! xo, Victoria