I don't know about y'all, but I get into serious ruts with cooking. Yes, I was a chef for years, but now that I'm cooking just for myself and the Girlchildren, my repertoire has shrunk considerably. But just when I was sinking into the depths of despair, I remembered the Fresh Market. I LOVED the Fresh Market when I lived in South Carolina and Georgia, and I was beyond thrilled when I heard they were opening a store here in the Fort. So I grabbed the Younger Girlchild after school, and we ran over to see if we could find something for dinner before we had to go pick up her sister.
I usually choose the protein to build the meal around. The Younger Girlchild doesn't eat a wide variety of protein – pork tenderloin and shrimp are pretty much it. However, the Fresh Market has some beautiful wild caught Alaskan cod on special (they are running Fish Friday specials throughout Lent!), so I thought I'd try it. Then we headed over to the produce department. To be honest, I judge a grocery store on their produce and their fish, and boy, Fresh Market does a great job with both! We looked over what looked good and fresh, and I mentally went over the list of veggies the Girlchildren will eat. Bingo! We could bake the cod with vegetable and noodles en papillote, which is just a fancy way of saying in a pouch. We grabbed some gorgeous carrots and baby broccoli, some ginger and a shallot, and threw in some cilantro at the last minute. Did I mention the Fresh Market has to-die-for produce?
(I have been informed by the Younger Girlchild that I have to tell y'all that she is the hand model. Contact me if you want to hire her.)
The great thing about cooking en papillote is that it's quick, easy, and healthy. You can cook most proteins with vegetables and starches, so it's has the added attraction of being a really easy clean-up! There is a debate in the culinary world as to which is the better en papillote medium, foil or parchment paper. Here, before we get to the recipe, are my thoughts. Parchment paper is prettier, and en papillote means "cooked in paper", but it's harder to seal than foil. (The seal is the most important thing about cooking en papillote, because the steam HAS to stay in to cook the food.) Foil is easier to seal, but it's not as pretty. For everyday meals, I usually use foil, but since I was taking pictures of this, I used parchment paper.
So, without further ado, here is the recipe!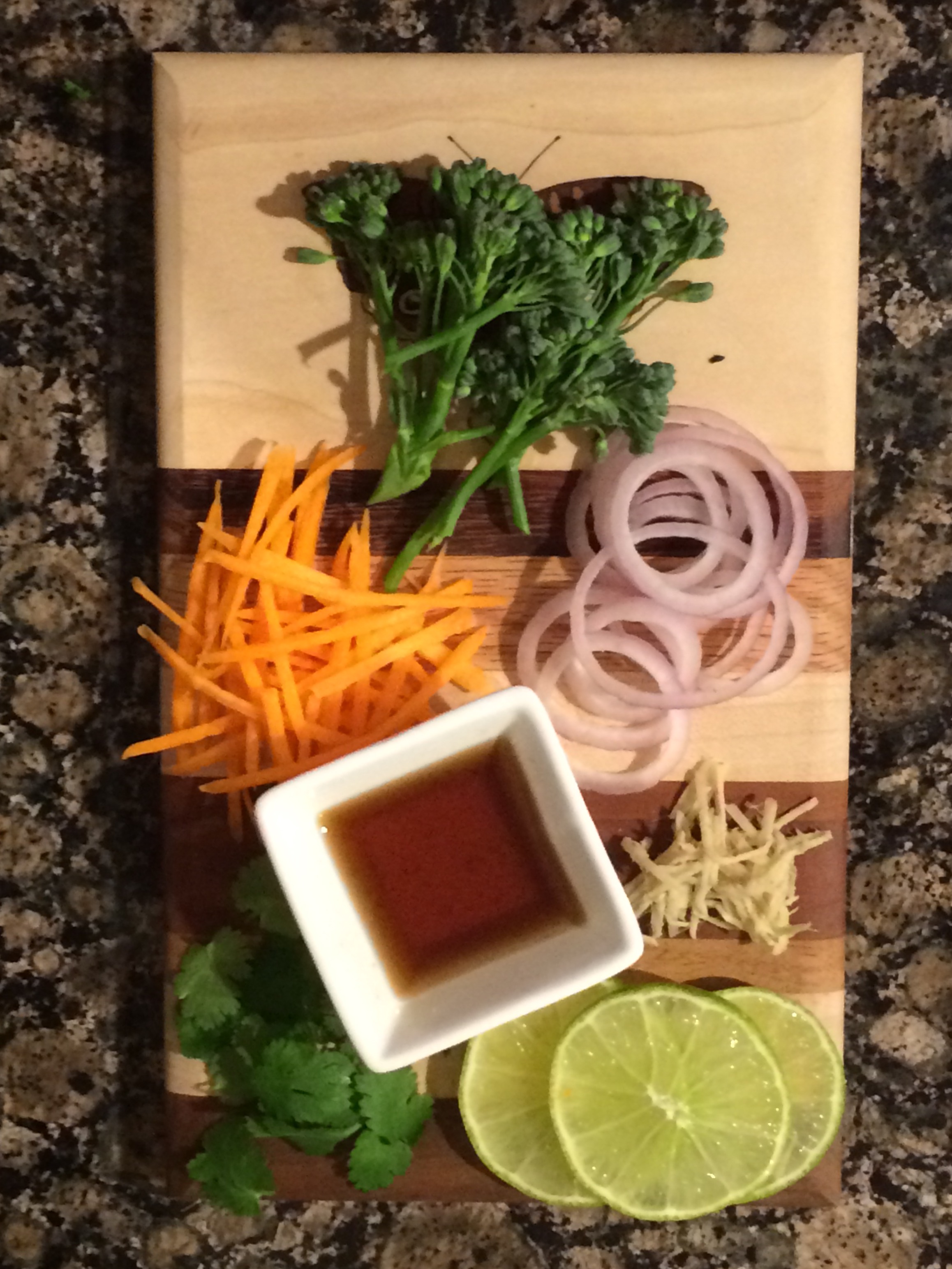 Oriental Cod and Vegetables en Papillote
Ingredients:
*Wild caught Alaskan cod, approximately 4 ounces per person
*Grated or julienned carrots, approximately ½ carrot per person
*Baby broccoli, thinly sliced on the bias, 1 to 2 stalks per person (you can substitute thinly sliced asparagus or shredded zucchini)
*Fresh ginger, peeled and grated, approximately 1/8 to ¼ teaspoon per person (to choose good ginger, look for a hand that is smooth and heavy for its size; just like in people, wrinkles indicate age)
*Shallot, peeled and sliced into thin rings, 3 to 4 rings per person
*Cilantro, stems removed, approximately 10 leaves per person
*Lime, juice of approximately ¼ per person
*Soy sauce or tamari, a couple of dashes per person
*Toasted sesame oil, a couple of dashes per person (be sure to get the toasted, which is a lovely dark brown; the untoasted doesn't really have any flavor, and we're going for flavor here)
*Noodles, cooked al dente according to package directions, ½ cup cooked per person (were I making this for guests, I would have used rice noodles, but the Girlchildren aren't real fans, so we used some whole wheat angel hair)
*Salt and pepper to taste
Okay, I hear you all saying, "Wait a minute, what's with this "per person" thing? Just wait. All will be revealed…
Directions:
Preheat the oven to 375°.
Bring a pot of water to the boil, and prepare the noodles to al dente, according to the package directions. Drain, rinse with cold water, and set aside.
While the water is coming to the boil, prepare your ingredients. Grate the carrots and ginger. Slice the baby broccoli and shallots. Quarter the limes and pick off the cilantro leaves. Portion out the cod. Put each of these into their own bowl or on their own plate, and line them up. This is going to be assembly line cooking here, and the kids will love to help.
Prepare the parchment paper or foil. In the interest of this post about family meals, I'm going describe the foil method. If you want to learn how to use parchment paper for cooking en papillote, there are some great YouTube videos out there.
You will need a piece of foil approximately 12 inches by 15 inches per person. Either use the nonstick foil, or the middle of one side of each sheet with nonstick cooking spray.
And now, the assembly line! Put 1 portion of noodles in the middle of the foil, followed by the cod, the carrots, the baby broccoli, the ginger, the shallots, and the cilantro leaves. Sprinkle with salt and pepper and with the soy sauce or tamari and the toasted sesame oil. Pull up the edges of the foil and fold over several times, allowing some space for the steam to expand. Fold the sides as well, making sure that the seals are tight.
Place the foil packets on a baking sheet, and cook in the preheated oven for about 25 minutes. The great thing about cooking en papillote is that even if you overcook the fish a little, the steam keeps it from drying out!
To serve, place a packet on everyone's plate. Moms and dads, you should probably open the packets for your littlest ones because steam burns are awful.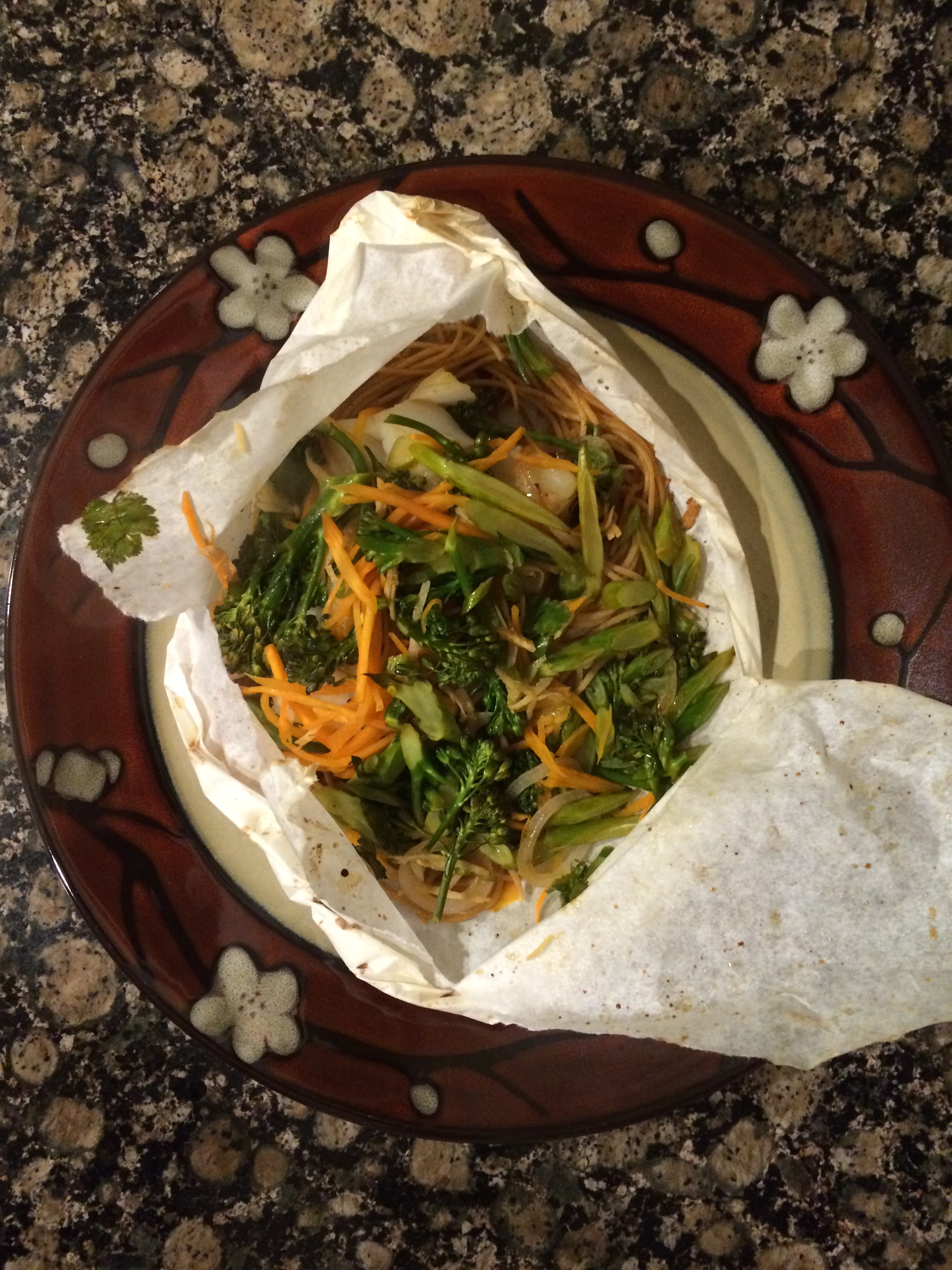 So there you have it! The Girlchildren LOVED the cod. Total. Mom. Win. And while it sounds complicated, cooking en papillote actually very easy, and it's fun for the kids to get involved in making dinner. And you can change pretty much everything about it, according to your tastes. Don't like cod? Use chicken! Don't like Asian flavorings? Use Italian! Don't like pasta? Use precooked white or brown rice! The only limit is your imagination.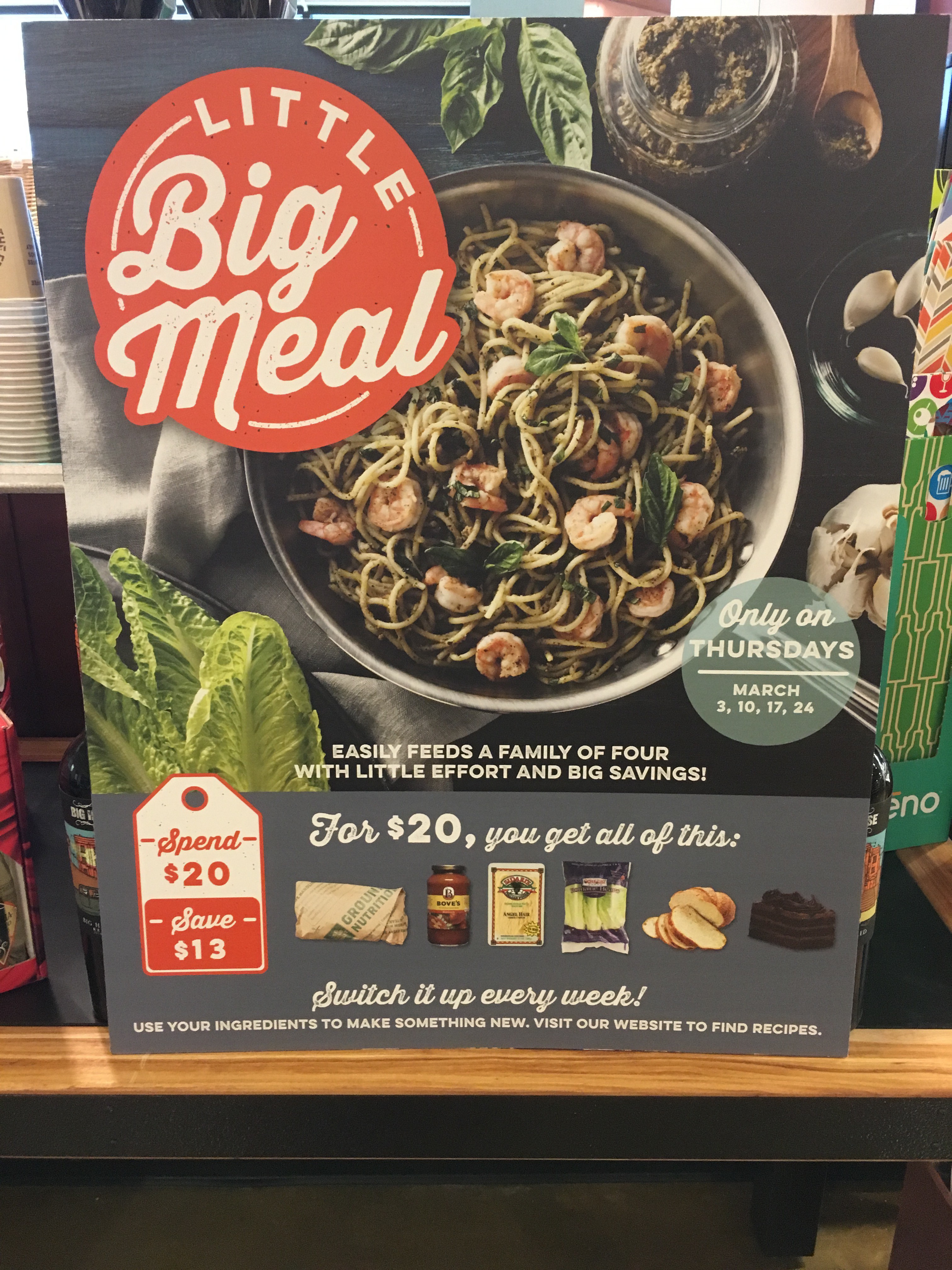 Oh, while I'm talking about the Fresh Market, don't forget their Thursday Little Big Meal special! Feed a family of four a great meal for $20!!!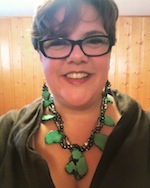 Lee DuBose is a jack of all trades, master of none. She has been a bank teller, a chef and caterer (both in restaurants and in private service), a bookkeeper, a trainer, a legal assistant, and a writer. She is a proud graduate of the University of the South with a degree in Early European History. She planned to be a professor but realized in the nick of time that professors have homework, which she never did when she was a student, so what made her think that she would do it as a professor? While she has not used her degree in her, er, varied employment history, she is fabulous at cocktail parties. Most importantly, Lee is the proud single mother of two absolutely amazing girls, to whom she refers in social media as the Girlchildren.