They say a worried mother does better research than the FBI. In the case of local mom Caitlin Faubion, research is what sent her into the business of bib making.
Faubion's baby girl, Collins, started having serious acid reflux issues last year, and not the kind of occasional mess experienced by most babies. The sweet little infant had projectile spit-up at every turn — literally, with the turn of the neck, sometimes.
"I just need[ed] something that [wa]s going to work." said Faubion, who added that most bibs fail to soak up anything a babe can expectorate—not to mention ruin the look of adorable outfits.
Concerned and distressed, Faubion scoured the internet, ordering every type of bib on the market. Dozens of bibs and many ruined outfits later, she reached for the scissors. She started chopping. As the scraps flew, the hand stitching began. Soon enough, she held in her hands her idea for the perfect bib.
The beauty of the design is that the bib isn't just soft-to-the-touch and pretty to look at. The signature collar on the bib, called the ruff, is inspired by practicality as much as the Elizabethan age, when a ruff was a common name for a fluted neckline. The gorgeous little gorget captures spit before it can dribble down the front of the wearer or the wearer's caretaker.
Another advantage of the design is that it stays in place. Underneath the bib are two tiny straps that slide comfortably over an infant's arms. The idea of a more stationary bib came to Faubion when she saw other loose-hanging bibs flopping into her daughter's face as little Collins crawled.
"We use bamboo terry cloth." said Faubion. "It's a really soft, microweave terry, so there are no chemicals used. A lot of terry cloths you have to wash a couple of times before they're ready to absorb water because of the chemicals used. So our bib comes ready to soak up almost anything. Plus, it's really sustainable, which I love."
As any good mom does, Faubion wanted to share this sanity-saving solution with other moms in need. She began the hunt for a garment-making design service that could help her create a better prototype, and she was determined to stay local. She was nearly ready to outsource to Houston, when she found T & Q Cutting Services in Dallas.
"We went through three official prototypes with T & Q." she said. "We tried stretchy straps and snaps. Eventually, we'll move to other projects, but for right now we like our current design a lot."
The bib is available in ten playfully named colors, including sherbet, rock candy, mint chip, and more, and they make for the sweetest of Easter gifts. To see all the colors available, visit the website or follow CC Cloths on Facebook or Instagram, where you can catch the Baby Collins' cute face flocked in a ruffled bib.
To feel just how soft these neck aprons are, stop on in at The Happy Lark off Hulen St. the product may be appearing in a few more local shops soon as well as retailers in San Antonio and Austin.
Finally Faubion has graciously extended a special offer to all Tanglewood Moms readers: 20% off online orders! Shop at www.cccloths.com and enter promo code TWMOMS.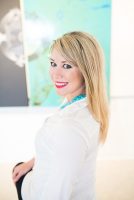 Jackie Hoermann-Elliott is the Assistant Director of TCU's New Media Writing Studio, where she teaches digital composing to Horned Frogs needing to create videos, infographics, blogs, and much more. She wrote for newspapers and magazines around the Midwest before settling down in the Lone Star State. Since she moved here in 2013, she's written for The Fort Worth Star-Telegram, Indulge, K Magazine, The Dallas Morning News, and GuideLive. Currently, she writes for those fun guys running The Fort Worth Weekly and is a valuable member of the TanglewoodMoms.com team. When she's not writing, she's procrasti-cleaning to avoid her dissertation or reading up on new trends in health and psychology research. For fun, she cheers on her husband, Mansfield ISD football coach Buck Elliott, teaches yoga at Yogali off E. Lancaster, practices poses with her amazing bonus daughter, "E," and enjoys the newest addition to the Elliot family, "Baby B."