While my childhood was absolutely beautiful, if there's one thing I wish I had've gotten the opportunity to do, it would have been to attend summer camp. I could not have dreamed of a place more idyllic than T Bar M. The mission of T Bar M Camps is to present Jesus Christ, teach His ways, and represent Him through an exciting, enthusiastic and encouraging camp and retreat experience. T Bar M has day camps, overnight camps, family camps, and retreats offering adventure and growth for all ages.
When a student spends a week at a T Bar M Camps, it's not just another summer camp. It's a Christ-centered, truly transformative experience. Depending on your child's grade, they could find themselves in New Braunfels at Sports Camp (for completed grades 1st through 6th) or on Lake Travis near Austin at Camp Travis (for completed 7th through 11th grade).
Imagine a day so full of fun that your kids actually forget about their phone, TV, or iPad. The Number One rule at T Bar M is "Don't Waste Fun," and it's easy to see the infinite opportunities for positive fun. Imagine days filled with horseback riding, archery tag, barn swings, arena soccer, boating, high ropes, pickleball, canoeing, jet skiing and so much more. Camp broadens campers' horizons and exposes them to ideas and activities they might never have otherwise experienced – free from social pressures and molded by the support of friendly, energetic staff.
"The Coaches here truly are the best thing about our camp. They are so passionate about our campers, and their commitment shows in every aspect of their work," says Randi Beth Burton, of T Bar M. Some camps call them counselors, but T Bar M calls their 115 servant leaders Coaches. These college students are widely recruited and selected through an intense process; T Bar M is intentional about investing in their coaches. Each coach attends staff Bible Study twice a week and is plugged into a smaller 'covenant group' of coaches lead by one of their leadership staff. This structure ensures that while each Coach is giving their all for their campers, they always have someone else who is pouring back into them, providing a network of support so your camper gets their best.
In an unplugged week free from devices, "challenge by choice" is a phrase you will hear at T Bar M. Coaches never want to push their campers into their "panic zone" but do want to encourage them to step out of their "comfort zone." Whether students are on the high ropes course adventure for all or connecting with other campers through Bible Study, every experience at T Bar M is carefully curated over the last 36 years for life-impacting experiences. Spots fill fast at T Bar M, so head to www.tbarm.org/tanglewood today to snag an opportunity for a summer of growth your future camper will never forget.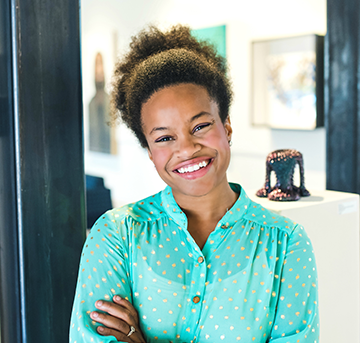 Kam Phillips-Sadler believes "you can only dream what you've seen". Upon realizing the unique outlook her experiences in areas such as rodeo and skiing provided, Kam, a first-generation college student, created Dream Outside the Box (DOTB). DOTB mobilizes collegiate volunteers to engage K-5 youth in "dream deserts". Since the creation of the program in 2009, DOTB has expanded to 11 college campuses around the country, been honored by President Obama at the White House as a "Campus Champion of Change", been featured on mtvU and CNN/HLN, and has created a subscription box service, Dream Delivered, as a social enterprise. In her free moments, Kam can be found learning to code from her husband, Cameron, or working cattle with her family.