There's a disarming playfulness about many of Jana Renée's works that also comes through in her personality. As "Dream a Little Dream of Me" wafted from a nearby radio, we discussed life and art on a recent afternoon. After spending her formative years in Saginaw, Renée attended and graduated from the Massachusetts College of Art and Design. Renée envisioned a career in book illustration in her teens years, but the allure of the bohemian life of an oil painter, steeped in tradition, yet free to capture "the very age and body of the time" (to quote Shakespeare), redirected her muse.
Early on, she began a series of paintings that she now calls Cravings. The topics, often depicting open mouths licking lollipops or ice cream, reflect her childhood desires for sweets that she was rarely allowed to satisfy, given her health-conscious family.
"When I was a kid, I was too nervous to look at people's eyes, so I watched their mouths," she said. "There is such a sweet intent with lips. All we do is eat or give sweet kisses" with them, she said.
Her most recent series, Reverie, marks a return to formal figurative portraits — but with a few personal twists. Reverie, which translates from the original French to "dreams," depicts individual women reclined in blissful states of sleep, accompanied by cloud- or forest-laden backdrops. The works exude peace and escape, reflecting something Renée said she desperately needed at the time.
"It was a response to everything that was going on in the world, especially politically in America," she said. "It stressed me out so much that I just wanted to take a nap — to take myself somewhere else."
Thanks to the help and encouragement of local artists Jay Wilkinson and Hillary Dohoney, Renée has decided to make Fort Worth her home. The Fort Worth artist community is very supportive, she said, although she and many local artists often struggle to connect with patrons. Her day job, fittingly enough, is as a commercial painter largely doing residential work.
"It's like a meditation," she said, referring to the long hours she spends doing repetitive painting work. "It's like my Zen zone. I think of ideas. Then I'll come to the studio and start painting those ideas."
(I'd be remiss if I didn't mention Renée's many other talents. Besides portraits, she has done all types of commission work. She is also an incredible graphite drawer, muralist, and singer-songwriter.)
Jana is one of the featured artists in ART HUNT, a collaboration with Tanglewood Moms and Regan Hall Art for Spring Gallery Night, Saturday, March 24. And you will soon be able to view and purchase Renée's works on Madeworthy Marketplace.
This article is part of a monthly series of artist profiles made possible through a partnership between Tanglewood Moms and the artist-led nonprofit, Art Tooth.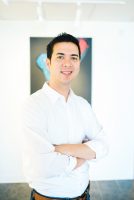 Edward Brown is a writing tutor and piano teacher. He is also an award-winning writer for the Fort Worth Weekly and volunteers for numerous Fort Worth nonprofits.