To experience David Park: A Retrospective at The Modern is to witness a life that was soaked with a powerful amount of artistic energy and tragically cut short. Janet Bishop, San Francisco Museum of Modern Art's Chief Curator arranged a collection of work depicting the arc of a career, which reached its apogee with the fresh emergence of figurative art from out of the mid-century cult of Abstract Expressionism.
The first Park retrospective in more than thirty years showcases phases of a young artist exploring his talents through watercolor, social realism, and silkscreens, as well as a Picasso-inspired period, all of which feature his mesmerizing use of the picture plane as well as a magnificent array of colors. Alongside artists including Richard Diebenkorn and Elmer Bischoff, Park's abrupt mid-century transition has been marked anecdotally by the account of his taking as many of his abstract paintings as he could fit in his car out to the dump, because, as he would later remark, abstraction was "insufficiently troublesome".
The artist was also known to have said, "The East Coast was never my medium." As a young man, Park migrated from Boston to the West Coast, where he would eventually teach at the San Francisco Art Institute and influence flocks of artists with his devotion to his work. Departing from the program's abstract figurehead, Clyfford Still, his Bay Area Figurative Movement was a shot in the arm to the art world.
Much of this legacy can be seen in the relationships he fostered with his friends and students and the level to which he engaged them artistically as a mentor. A classically trained pianist – further heightening his creative engagement – Park also played piano in a jazz group of fellow artists. Two of the most striking pieces in the show visually refer to this musicality, one depicting his view of the group from behind the keys, and the other, his final completed canvas, a beautifully rendered cellist, whose form dynamically pushes beyond the frame.
With bold perspectives and a stunning sense of figure construction, Park's work – starting in 1950 and running through the decade until his death from cancer in 1960 – represents a powerful sense of stillness. Fields of color dress the canvases in a serene ambiguity until eventually, in later works, they are completely unbound by the natural order. His long brush motions are so impressive that, as Bishop describes, "It is almost hard to believe the strokes will resolve themselves." Gestural movements are complemented by the most succinct flicks of the wrist to suggest faces and emotions. The magnificent "Standing Male Nude in the Shower" from 1955 possesses many of these qualities and beckons from across the gallery with its vibrant brick red body.
As his health failed and his strength diminished, he continued to find new artistic horizons, whether by using felt markers on a thirty-foot long strip of shelf's paper or the small gouache paintings that display the expressive minimalism of Park's work in his economical use of strokes and lines. Despite great pain and difficulty, it is clear that the artist simply wanted to continue painting as long as he could – a testament to the passion an artist can have for their craft. David Park: A Retrospective at The Modern Art Museum of Fort Worth runs through September 22nd, 2019.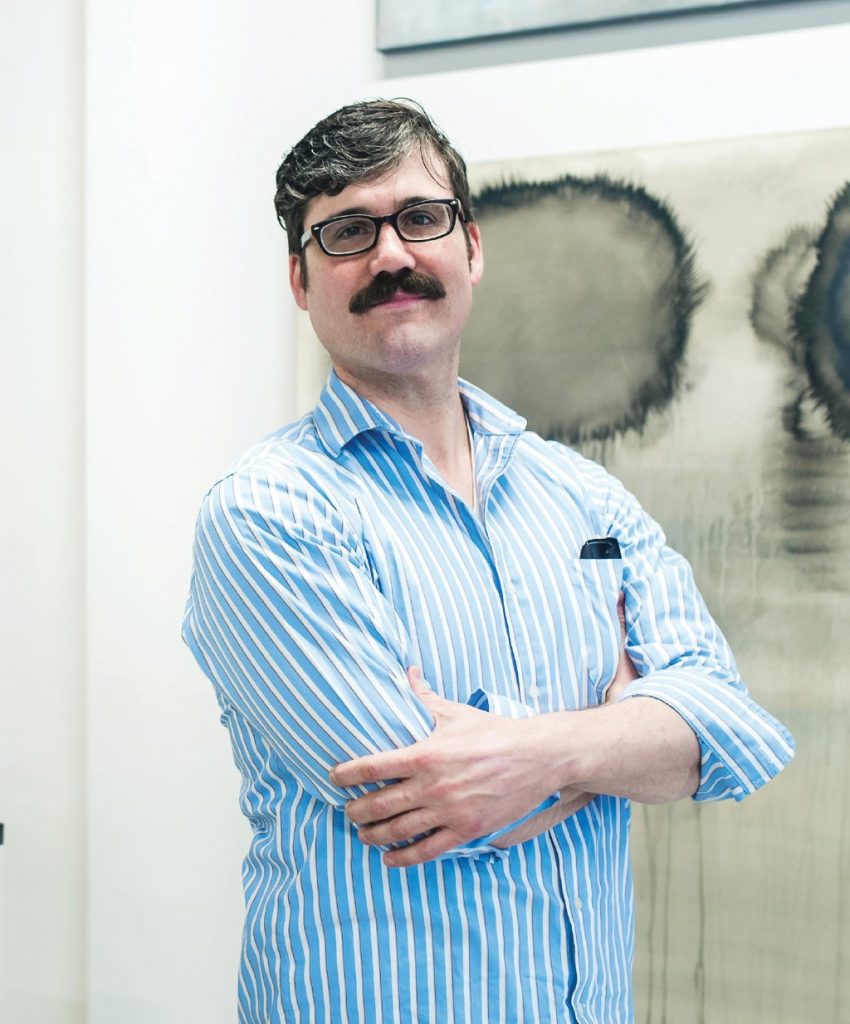 An Austin native, Lyle Brooks relocated to Fort Worth in order to immerse himself in the burgeoning music scene and the city's rich cultural history, which has allowed him to cover everything from Free Jazz to folk singers. He's collaborated as a ghostwriter on projects focusing on Health Optimization, Roman Lawyers, and an assortment of intriguing subjects requiring his research.