On the final Sunday of February – before a packed house – The Modern Art Museum of Fort Worth welcomed an exceptional experience based around the profoundly moving portrayal of a road trip into our state's most cherished landscape in The Legend of Big Bend. Incorporating the work of filmmaker, David Barrow, as well as the accounts of historians and poets alike, the show is scored richly by the incomparable Justin Sherburn and performed by his "chamber rock" ensemble, Montopolis. The Austin-based group has been touring the show around the state in conjunction with Big Bend Conservation Alliance.
It was a particularly sweet homecoming for Sherburn, who grew up in the Arlington Heights neighborhood of Fort Worth, where a waiting job at Sardine's Ristorante Italiano introduced him to local jazz legend Johnny Case. Case's 28-year stint made him a landmark of the city's incredible jazz history, but for Sherburn he was a teacher and mentor, "I never studied music formally.  I attended jazz combo classes at Tarrant County Community College. I was a waiter at Sardine's and learned how to play jazz primarily by listening and watching Johnny Case – the house piano player.  Johnny also gave me my first jazz gig – Monday nights at Sardines."
Picking up a gig playing piano at the Hyatt after he moved to Austin, the composer found another musical sensei in the form of Glover Gil, swing music genius, who would eventually hire Sherburn for his own band. "He was at the bar and started obnoxiously applauding after every song. He invited me to replace him in his group, 8 ½ Souvenirs so he could pursue Tosca." Tosca and the subsequent Glovertango would give him not only his talented string section but also his wife, Sara. He and the cellist were recently married, the ceremony was officiated by none other than Glover Gil. Sherburn's adept ear and broad musical experience are on full display in his score, The Legend of Big Bend, comprising the textures of various styles fluidly and playfully shaping a rather enigmatic narrative that dazzles listeners throughout.
Epic cabaret rock group, Small Stars, the side project of Fastball's Miles Zuniga, brought Sherburn to Big Bend for the first time when they played Starlight Saloon in Terlingua. He warmly recalls, "We drank way too much tequila, and howled at the desert moon into the wee hours."
It was important for the composer to find a collaborator who shared his passion for depicting the unique environment, he gratefully acknowledges, "I really struck gold with David Barrow. His intimate knowledge of west Texas allowed him to make the most of his time out there. I was surprised because he took off on his first trip just a few days after our initial conversation about the project."
Stories, poetry, the historical and legendary, are interspersed from interviews of a range of sources conducted with collaborator Emily Lofaro, these oral accounts trace the magnetic pull Big Bend and its surrounding areas have always had for human beings. Once these elements found their places alongside Barrow's footage, Sherburn set out to compose the score informed by an array of sounds: from Aaron Copeland and Ennio Morricone to the enigmatic blind street musician known simply as Moondog.
From there, the band works the pieces out, as Sherburn explains, "My string players in particular are used to sight reading much more complicated music than what I write, so we spend very little time rehearsing. The rhythm section rehearses very much like a garage band. We actually have very few rehearsals with the entire group which makes our performances thrilling and a little nerve racking for me."
Conducting as he performs behind a cockpit of piano and synthesizers, Sherburn leads the group masterfully with a choreography of cues and gestures. The various layers flow together, enriching one another in a unique exploration of space and time, the thrill he refers to is certainly palpable in the audience. In order to learn more details, check out https://montopolismusic.com/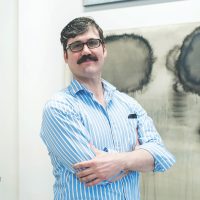 An Austin native, Lyle Brooks relocated to Fort Worth in order to immerse himself in the burgeoning music scene and the city's rich cultural history, which has allowed him to cover everything from Free Jazz to folk singers. He's collaborated as a ghostwriter on projects focusing on Health Optimization, Roman Lawyers, and an assortment of intriguing subjects requiring his research.