Ask anyone who's bought or sold a house and they will tell you it was one of the most emotional and anxiety-provoking things they've ever been through.
A house, after all, is not just a structure made of cement, wood, and bricks. It's the place you rest your head at night, raise your children, and gather with family and friends. This is why it is so important to choose the right realtor to represent you when buying or selling that home. Amy Trott with Briggs Freeman Sotheby's International Realty is the person you want by your side the next time you decide to list or shop for a property.
Amy Trott grew up in Denver, Colorado, but her heart belongs to Fort Worth. She attended Texas Christian University and graduated with a degree in Fashion Merchandising and a minor in Business. She later opened her own high-end boutique, A. Hooper & Co., specializing in quality women's clothing, jewelry, and accessories. Her business thrived in our community; it was awarded "Best Women's Clothing Store" by FW Weekly. However, upon discovering she was having a second child, Amy did what many women professionals do at some point in their career and sold her business to dedicate more time to her growing family. What followed were eight great years at home with her two kids.
Amy's passion for design, business, and all things beautiful collided throughout those years at home as she worked on and off on smaller business ventures with friends: organizing closets, as a personal shopper, and an interior designer. She realized that real estate would be a good fit for her professionally as it requires a talent with numbers, problem solving, business, customer service, a 'good eye,' and the ability to simply get things done to succeed. Because of her boutique business, Amy's background in providing quality service to Fort Worth's most discerning clients made joining a firm like Briggs Freeman the best move for her. I asked her what clients should look for in any realtor and what one can expect from the services she provides:
"It's all about relationships. It's extremely important to build a rapport with both your clients and other realtors and professionals in the field. We socialize, spend time getting to know one another. My clients and colleagues know that I'm honest and upfront with them because we've already built a trusting relationship. I also know how to get things done. I'm a nice person, but I'm assertive, I know how to negotiate things like price and repairs on behalf of my clients, in fact, that's my favorite part of the process."
I also asked her about how she felt about the current market and housing trends in Fort Worth. She replied, "I'm thrilled to see how Fort Worth is thriving and growing, for instance, the new luxury condos and high-rises downtown. Once construction is complete of the new Dickies Arena the city will be even more appealing. I really believe that Fort Worth is a wonderful place to raise a family, I always say it's a big small town, so friendly. Apparently a lot of other people are beginning to notice this."
All of this growth can make finding a property challenging. It's not easy to find homes that are totally move-in ready, in the right neighborhood, and within budget. It's no surprise that pristine properties that are completely updated sell at premium prices. Amy's advice is to look for a home that can benefit from a little elbow grease. Don't worry if you find this somewhat daunting; Amy has a knack for solving design challenges, and she loves taking the extra time to help clients visualize themselves in the perfect home.
The Trotts are very family-oriented. Not only do they enjoy local family outings, they also love to travel together, hunting and fishing at their ranch in Palo Pinto and getting away to the beauty and peace of Caddo Lake to unplug. Amy is also very active in the community. She's a board member of Canwick and a member of the National Charity League, a non-profit organization that's committed to community service, leadership, and mother-daughter relationships. Juggling everything is no easy task. I asked Amy if she has any personal or professional goals for the future, and she said, "Keep striving, balancing, putting family first but at the same time taking care of my clients and providing them great service and customer satisfaction."
Maintaining a balance between our personal and professional life is something we all strive to achieve. Amy's got the routine down. It's her dedication to family, community as well as her clients that makes Amy Trott stand out as a terrific Fort Worth realtor; she knows how to get it done. If you're looking for someone to -represent you in the sale of your property or if you're searching for that perfect family home, don't hesitate to go to her website or give her a call at 817-300-1100.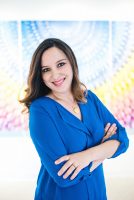 Christy Ortiz is a Fort Worth native, and is proud to say so. She earned her bachelor's degree from UT Arlington in Interdisciplinary Studies. She taught for FWISD for eight busy years before switching gears to stay home with her two small children. Her hobbies are interior decorating for friends, photography, and flying kites with her kids. Her South American roots and love for the Spanish language and Latin cultures add to the diverse voices of our group.